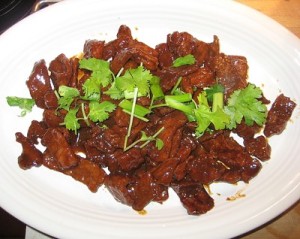 I made this Vietnamese recipe last weekend for my wife and brother. They really liked it. The recipe is for Vietnamese Caramelized Pork. In Vietnam, we always eat this pork with rice. It's an easy recipe for you to make for your family.
Ingredients:
1 lb. pork
4 Tbsp. sugar
3 tsp. salt
2 Tbsp. caramelized coconut sauce*
1 Tbsp. cooking oil
3-4 garlic cloves, crushed
1/3 cup water
fish sauce (optional)
1/2 tsp. red pepper flake (optional)
cilantro leaves
dash pepper
Directions:
Marinate 1 pound pork with sugar, salt, and caramelized coconut sauce. Let sit about 15 minutes.
Heat a pan on medium and add a tablespoon of cooking oil and the crushed garlic cloves to the pan. Heat and stir fry for 2 minute until the garlic turns a light brown, then add the meat.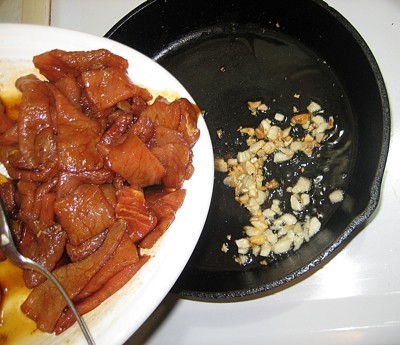 After the meat has been cooking for about 2 minutes, add 1/3 cup of water,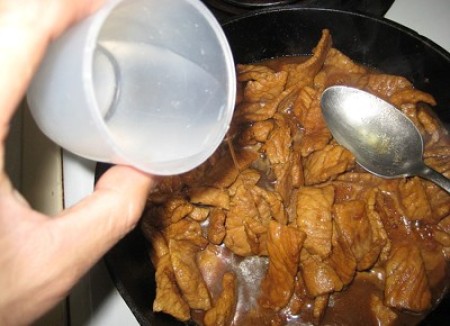 Cook for about 10 minutes, stirring occasionally. Taste the sauce. If you would like it saltier, add a splash of fish sauce. If you would like it spicier, add 1/2 teaspoon of chili pepper flakes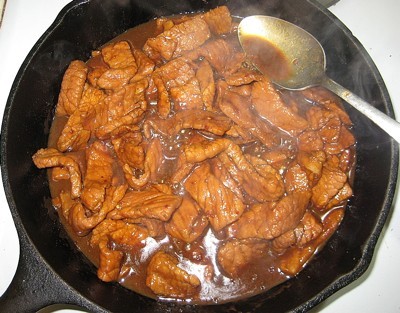 Cook for another 15 to 20 minutes to let the sauce boil down. Remove from heat and place the meat on a serving dish. Add cilantro leaves on top and sprinkle with a dash with pepper, if you want.
Serve with rice and vegetables.
*Note: You can get caramelized coconut sauce from an Asian market, but if you do not want to go though the trouble of finding it, you can make your own caramel sauce by heating 2 Tbsp. sugar on medium. Once the sugar changes to a dark brown, add 1/4 cup water and remove from heat immediately.
By Viet
Read More

Comments