Our Granddoggie, Sadie Belle is right at 7 years old now. We never knew her actual birth date, but we celebrate it on Nov 25, the day before our SIL's birthday. That is pretty close to being accurate.
She is a Boxer. Our oldest daughter and SIL got Sadie when she was a baby about 4 months old, we guessed.
Sadie loves to run and play with everything she can find. She loves to "help" with everything you do, and ends up in the middle of laundry, carpentry projects, and most definitely all cleaning projects.
She has a rope swing, a soccer ball (slightly deflated so that she can hold it with her teeth. She is a great Frisbee player, and the best sleeping buddy.
She loves to cuddle and go for rides to the post office and the bank.She sits in the front seat of the pick-up truck, then when the driver gets out, she moves over and sits in the driver's seat. Everyone in the tiny little town knows her and speaks to her, calling her by name, maybe asking her how her truck is running today.
She gets a doggie biscuit at the bank and post-office and of course,those are her favorite destinations. She takes her guard dog position very seriously though, and will not allow anyone in her yard until our daughter or SIL says, "OK Sadie. It's OK."
Basically a house dog, she is allowed to go out and play with supervision in their totally fenced-in yard, and considers the electric wheel chair "her own private car" which keeps her feet dry when she goes out first thing in the morning. She does not like getting her feet wet and she does not like her toe-nails trimmed. She is getting better about that though since our daughter started filing them with a small emory board just the same as she uses herself. Sadie kinda likes that. I guess it's a "girly" thing. Sadie has done so much for our daughter and SIL since they retired.
They have to have things to do all the time, and she is always thereto play or run or just watch TV and cuddle with. She adds a lot to all our lives and knows every family member.
The photos are of Sadie playing with a battery-operated turtle that a friend sent to us from SC. Sadie had never seen a turtle before butshe wants to "talk" to every other animal she sees and "taste" of itwhen she can as well. After playing with the turtle which moves its legshead and tail for quite a while (trying to coax it into running with her),the turtle lifted up its head as though to kiss her, so she kissed it.She so wanted that turtle to play chase with her though, but she also likes to give kisses.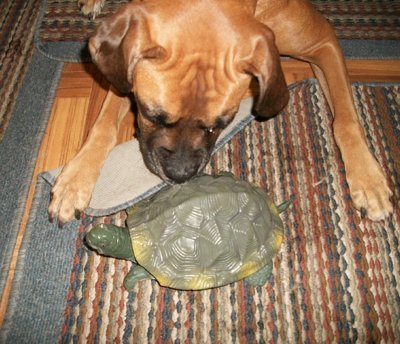 Note how shiny and beautiful her coat is. Our kids cook everything Sadie eats so they know exactly what she needs and likes best. She can tell time as good as most people too. She knows her breakfast is at 8am, and she'll get them up at 7:30 to make sure it's on time. Again at 4:30pm, she'll tell them it's time to start cooking her dinner. It's to be ready at 5pm sharp or she's at her bowl looking into it like "where's the beef?" She is truly the smartest dog we've ever seen.
By Julia