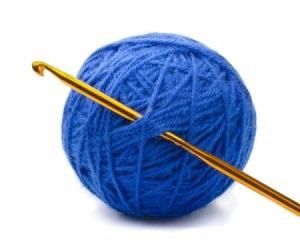 Crochet is a very versatile handicraft that can be used to create beautiful clothing, linens, toys, and more. Whether you are a beginner or an experienced craftsperson, there is always a new tip that might prove to be useful. This is a guide about crochet tips and tricks.
Ad
---
Solutions: Crochet Tips and Tricks
Read and rate the best solutions below by giving them a "thumbs up".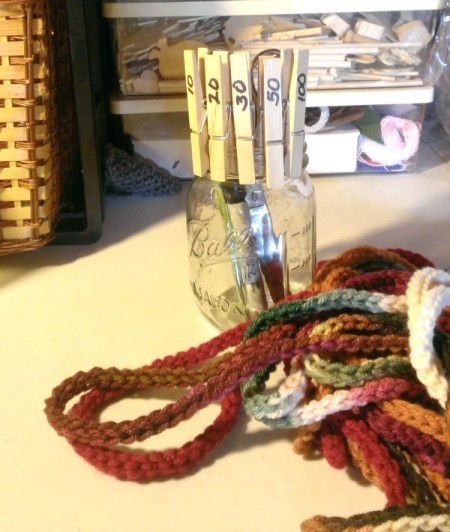 Recently, I did a project where I had to count stitches to make sure the chains were all the same length. Well, they sure weren't. I often have to compete with visiting kids and their video games, radios, videos, dogs...you name. It is hard to find quiet.
When I realized the project would literally have to be started over, I came up with a system that has really helped. I hope it helps you too.
With some dollar store clothes pins and an old jar (cup, soup can, etc.). I marked one side of the pins with 10, some with 20 and 25 on the backs, then 50 and 75 on each side of 1 then 100.
My chain was to be 200 long, so when I reached say 25, I put that pin on the jar. Then when I did that again, I would take off the 25 and put up 50. When I got to 100, I took the 50 down. When I got to 150, I put the 50 back up on the right side of the 100. When I got to 200, I took them all down.
I know you can purchase stitch markers but that requires you stop and put something, even a little length of yarn in a stitch. I find this distracts me less and I can keep my hand on my hook, and my mind on the task at hand.
Hope this helps you as much as it does me.
PBP
Source: Nope just frustration!
Link: N/A
I had heard of using the tags/closures for bread packages to mark your projects while knitting or crocheting, but came upon another use for the little white tags while crocheting. I just started working on projects for Project Linus and usually have several projects going at the same time. I was using different size crochet needles and was switching back and forth on projects. I would forget what size needle I was using (I sometimes don't use what the pattern calls for because of the gauge). I decided to use the tags to mark the needle letter/number on them and attach to the project I am working on. That way I can start other projects using the same needle, but now I don't have to wonder was I using J or K, etc. It saves so much time instead of trying to figure out what needle you used.
By HerkDia [28]
When crocheting things like a bed spread, you can buy tobacco string and use it like crochet thread. It comes on a cone and a lot cheaper then the crochet thread. You can buy it at the stores that sell seeds and feed for cattle. The thread is cotton.

By Doris from Randleman, NC
Whenever I know I'm going someplace (like the doctor's appt I have today!) I always take a small carry-all with me that has a small amount of yarn and a crochet hook. If I need a pattern I copy it on my scanner and print it out to take with me.
Then, instead of sitting in the waiting room reading all those magazines that only make me hungry (they all have so many delicious looking recipes in them!), I crochet however many blocks as I can during my wait. When I get home I put the blocks all in a larger container to be kept until I have enough to make a new afghan with!
By Cricketnc from Parkton, NC
When making something where you have bought more than one skein of a given color, save one of the papers wrapped around the skein, and write on it near the color name, what you made with that color. If you should run short of yarn or want to make another item in that color, you won't have to try to remember what the color was.

By Linda L from Bloomington


Just today after about 45 years of crocheting! I was at the end of a row and was starting to pull the yarn up so it wouldn't easily pull out until I got back to working on my pineapple afghan that I was making; I saw my "clover" plastic safety pin that I use to mark stitches when knitting; and, I decided to put that on the last stitch I was working on and pulled the yarn down instead of up and it held fast and didn't go through the hole and kept my place with out unraveling a few stitches as it has sometimes when someone other than myself moved the item. I thought this was the neatest thing. I plan to tell my daughter whom I taught to crochet many years ago.

By Sheila S from Leominster, MA
My mother is in her eighties, and was crocheting an afghan of cats. The pattern consisted of about 8 rows, each one different, and then a repeat of these 8 rows. She kept getting lost in the pattern, so I took index cards and printed each row of the pattern on a separate index card. This way she could work from the first card, slip it behind the others, do the second, etc. There were color changes after each set of 8 rows, so I used colored index cards and repeated the pattern rows on different colors for each color change. She was able to keep her place without confusion with these cards.

By Harlean from AR
I make a lot of crocheted doilies and when it comes time to block them I use the cardboard from cakes that I have purchased and saved. This cardboard has a shiny surface on one side so the doilies do not stick.

By Barb
I was making a hat using the cluster stitch, and I was worried that I would not have enough yarn. The regular cluster stitch uses 3 yarn overs then pull through 4 loops. We'll I left off 1 of the yarn overs and pulled through 3 loops. The stitch still looks great and I had enough yarn to finish. This could work for popcorn stitch and any other stitch that calls for multiple yarn overs or grouped stitches. Be careful if you change gauge when you alter the stitch. Be sure to still make a swatch if needed.
By Cynthia [6]
In a knitting blog, I read about acrylic yarn being a low-cost option. Well, it is - and to make it more interesting in small projects you can mix it with other yarns, even wool ones. I have been using very fine yarn in combination with worsted acrylic in my scarves, and adding novelty yarns as accents. The color combination of the yarns on a fairly big (15) knitting needle, is tweedy and very interesting. You can also use up all sorts of odds and ends of yarn. Everyone is getting scarves from me this Xmas!
By Pamphyila
I am the owner of a Yahoo craft group and help to lead a local community craft group in Frankfort, Kentucky. In our area group and on our web site, we always try to help each other make projects become a little more enjoyable to make.
I discovered many of my group's members were having the same troubles crafting hand-made yarn projects. Those who are visually impaired and even some of our seniors find that it is very difficult to see where to place the next stitch while using black and other darker colored yarns. One day, I took on the task to try and find a remedy.
I eventually discovered that if a crafter places a white towel or pillow case under the project being worked, the white shows through the small holes previously made, thus making it easy to see where those next stitches go.
Another problem faced was similar, the difficulty seeing where the stitches go while using thick yarns to knit or crochet. I found that if I use a second strand of lighter weight yarn in a contrasting color, along side the thick fluffy yarn strand, the light fingering weight yarn becomes a guide to where I need to place the next stitch.
Overcoming frustrating obstacles like those mentioned, makes all the difference between a work in progress (WIP) and a completed hand crafted project, made with pride and satisfaction.
By Lora from Frankfort, KY
Here are some basic crochet abbreviations:
alt = alternate
approx = approximately
beg = begin(ning)
bet = between
BL/bk lp = back loop(s)
BLO = back loop only
bo = bobble
BP = back post
BPdc = back post double crochet(s)
BPsc = back post single crochet(s)
BPtr = back post triple crochet(s)
CA = color A
CB = color B
CC = contrasting color
ch(s) = chain(s)
ch- = refers to chain previously made/worked
ch-sp = chain space
CL(s) =cluster(s)
cm = centimeter
cont = continue
dc = double crochet
dc2tog = double crochet 2 stitches together
dec = decrease
dtr/dtrc = double triple/treble crochet
ea = each
est = established
FLO = front loop only
foll = follow
FP = front post
FPdc = front post double croche