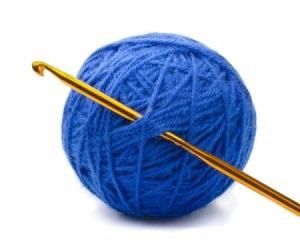 Solutions: Crochet Tips and Tricks
Read and rate the best solutions below by giving them a "thumbs up".
I had heard of using the tags/closures for bread packages to mark your projects while knitting or crocheting, but came upon another use for the little white tags while crocheting. I just started working on projects for Project Linus and usually have several projects going at the same time. I was using different size crochet needles and was switching back and forth on projects. I would forget what size needle I was using (I sometimes don't use what the pattern calls for because of the gauge). I decided to use the tags to mark the needle letter/number on them and attach to the project I am working on. That way I can start other projects using the same needle, but now I don't have to wonder was I using J or K, etc. It saves so much time instead of trying to figure out what needle you used.
By HerkDia
Whenever I know I'm going someplace (like the doctor's appt I have today!) I always take a small carry-all with me that has a small amount of yarn and a crochet hook. If I need a pattern I copy it on my scanner and print it out to take with me.
Then, instead of sitting in the waiting room reading all those magazines that only make me hungry (they all have so many delicious looking recipes in them!), I crochet however many blocks as I can during my wait. When I get home I put the blocks all in a larger container to be kept until I have enough to make a new afghan with!
By Cricketnc from Parkton, NC
Just today after about 45 years of crocheting! I was at the end of a row and was starting to pull the yarn up so it wouldn't easily pull out until I got back to working on my pineapple afghan that I was making; I saw my "clover" plastic safety pin that I use to mark stitches when knitting; and, I decided to put that on the last stitch I was working on and pulled the yarn down instead of up and it held fast and didn't go through the hole and kept my place with out unraveling a few stitches as it has sometimes when someone other than myself moved the item. I thought this was the neatest thing. I plan to tell my daughter whom I taught to crochet many years ago.

By Sheila S from Leominster, MA
My mother is in her eighties, and was crocheting an afghan of cats. The pattern consisted of about 8 rows, each one different, and then a repeat of these 8 rows. She kept getting lost in the pattern, so I took index cards and printed each row of the pattern on a separate index card. This way she could work from the first card, slip it behind the others, do the second, etc. There were color changes after each set of 8 rows, so I used colored index cards and repeated the pattern rows on different colors for each color change. She was able to keep her place without confusion with these cards.

By Harlean from AR
I make a lot of crocheted doilies and when it comes time to block them I use the cardboard from cakes that I have purchased and saved. This cardboard has a shiny surface on one side so the doilies do not stick.

By Barb
Give a "thumbs up" to the solution that worked the best! Do you have a better solution? Click here to share it!
Questions
Here are questions related to Crochet Tips and Tricks.
What does "spc' stand for in crochet?
By Tina
---
Most Recent Answer

By William C. A.12/27/2013
SPC stands for "space"
I have been stitching an absolutely gorgeous afghan by Terry Kimbrough. I am not understanding how the edging instructions translate. The sentence is [sc, ch7, (sc, ch5) twice] in corner ch5 sp. Does this mean repeat everything in brackets and parentheses twice or just what is parentheses? Help please.
By Susan
---
Most Recent Answer

By Myrna12/20/2013
I played with the directions to see what it looks like both ways. I would conclude the directions mean to do all twice; otherwise, there is only one long petal while all others remain same size and it looks odd. But if you are making squares to join together, then the one longer chain loop is probably to join the other squares with. If it isn't a square to join with others, then I would create all as a repeat inside the [brackets/parenthesis) two times which gives a floral pattern and a fuller one.
This is the best I can do for you w/o seeing the pattern/directions. Hope it helps you.
The pattern reads "work shell of 1dc, ch1, 1dc" in next stitch. I am confused as to into what stitch I am crocheting the last dc.
By Rita S.
---
Most Recent Answer

By Mistie10/20/2011
Absolutely right. In the next stitch work 1 dc ch 1 1 dc. These three steps are what is going to create your shell look, that's why they must be in the same stitch.
What does the crochet term "ss" mean? I have a pattern I am working on and the ss term is used with no explanation. My pattern did not provide a guide. It has something to do with the popcorn stitch, but that is all I know.
By Kate H.
---
Most Recent Answer

By Cathy Yeater05/24/2011
slip stitch
What does this mean: Ch1, sc in end of next row, *2sc in end of each next 2 rows?
By sumr from CA
---
Most Recent Answer

By Cricket [201]03/30/2011
Since you didn't mention knitting, I'm assuming you aren't knitting. These instructions are not uncommon in a crochet pattern. Here's the translation.

At the end of the next row you work, chain 1 then single crochet one stitch.
At the end of each of the next 2 rows, work 2 single crochet in the last stitch.

If you're still confused send me a message via ThrifyFun and I'll try to explain it better.

Have fun!
How do you cast off from a U stitch on an afghan?
By Wizzo49
---
Most Recent Answer

By Lee Taylor [10]12/14/2009
I don't know what a U stitch is, but I was always taught to cast off "in pattern"....so whatever you would do if you were going to knit that row, you cast off the same way. Hope that helps. I'm just a newbie knitter.
Need some help from crocheters please! I've just started to crochet so I don't do complicated stuff. Just finished making a round rag rug which wasn't difficult BUT the whole thing has buckled and looks frilly round the edges. I've undone it and tried working looser but that didn't work so I undid it again and tried working tighter but still no joy! please could anyone tell me what I'm doing wrong? It's so disheartening when you are new to a craft and you try so hard to get it right and nothing works! I love my new craft but if I'm incapable of doing a simple round, then I may as well give up, which would be a shame! Any suggestions, please? I got the pattern from Yarn Lovers Room on the internet. It said it was easy, so if I cant do an easy pattern, then I cant do crochet!

Cettina from Malta, Europe
---
Most Recent Answer

07/31/2011
I find it easier to relax and not make anything tight unless it calls for it. Just keep practicing and soon you will be a master. :)
If you could help me with my scarf, I would appreciate it. I started my scarf and I have ran out of yarn. How do I attach more yarn to the end?

Erica from NY
---
Most Recent Answer

By Andee in AZ (Guest Post)02/02/2007
I often just run two pieces of yard together if it doesn't look like it will cause too much bulk. Otherwise, I pull out some stitches and go back to an edge and tie in there or run two threads form there.


I can embroider, knit, quilt, needlepoint, but cannot crochet. My problem is I have one hand. My left. I have a thumb on my right. I am normally left-handed. I want to learn to crochet. Does anyone have any help for me?

Diane from Milwaukee, WI
---
Most Recent Answer

07/31/2011
Buy a hand brace came to thought. attach the crochet hook to it with duck tape or some sort of something to secure it. I am right handed and do most the work with my left and hardly move the right at all. the hand brace you can get at any pharmacy store.