Felt is often used in all kinds of craft projects; it comes in many colors and easy to use in crafting even for children. This is a guide about felt craft projects.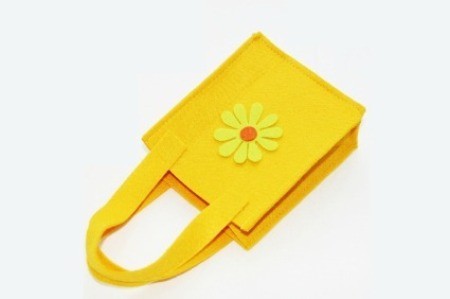 How about making a special pair of booties for that special baby? They are sure to become a keepsake.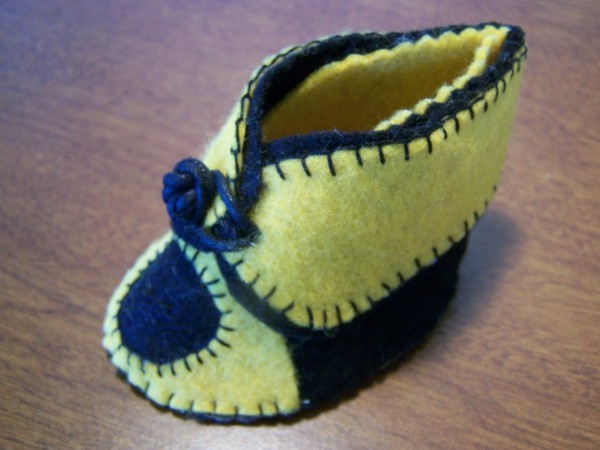 Approximate Time: 2 hours
Supplies:
good grade of felt in two colors
fusible web
iron
thread and needle
floss to match
scissors
2 snaps or Velcro dots
optional cord or ribbon
Instructions:
Print out the pattern pieces. For one pair of booties trace the following onto the fusible web reversing one full set of the cuffs for each bootie: two main body pieces, two toe pieces, two soles, and four 1 by 4 inch strips.
Cut out your fusible web pieces outside the lines and fuse to the felt according to the following directions:
In my finished bootie color 1 is black and color 2 is gold. Fuse one color 1 to one color 2 for the main body; do the same for both cuffs. You will have two main bodies with one color on one side and the other color on the other side. You will have four cuffs two of each pattern piece with color number 1 on one side and color number 2 on the other side. Refer to the picture if you need to. Cut out your fused pieces. You might want to cut one of your main body pieces out with pinking shears for a decorative touch.
You now need to decide which is going to be your outside color. I used both colors for the sole also, that way I could put it on whichever way I decided. Fuse the toe piece to the outside color of both main body pieces. Do your decorative stitching around the toe.
Bring the two straight edges together forming the shoe; sew the edges with either a machine or by hand. Fold the sole in half lengthwise and mark with a pin at both ends; pin to the main body and stitch together using a blanket stitch or whip stitch which ever you are comfortable with.
Fuse one of your small strips of web between your cuff sets; you should have two shorter cuffs and two longer cuffs with color number 1 on one side and color number 2 on the other. Starting at the top back of the shoe stitch the shorter cuff to the outside of the shoe, lining up the top edge and doing a blanket stitch until the main body starts its curve down. Repeat for the longer cuff on the other side. Repeat for the other bootie.
You can either put a snap set under the front ends of the cuffs or Velcro. I fashioned a sort of frog for mine. Feel free to experiment until you come up with something you like.
By Ann from Loup City, NE
I have tons of felt scraps from various felt projects and couldn't bring myself to throw them away. So, using only scraps, I made a variety of felt food for my daughter, using basic doll stuffing as filler for some of the "puffier" food.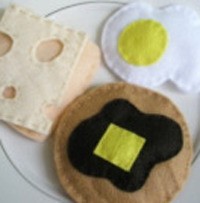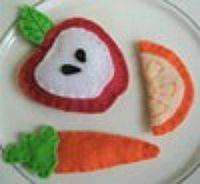 Any type of food can be made, depending on the size and color of your scraps. Fabric scraps can certainly be used too. The simpler the better when it comes to children.
By April from Albany, GA
By lalala... 731 97
My mom and I recently made this fun toy for my son. It turned out cuter than I ever imagined. :)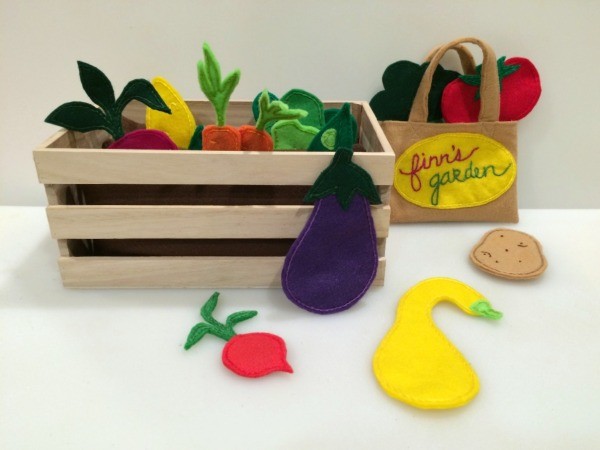 By Anne Davies 22 12
Would you like to inject a fresh feel to your holiday decorations? If so, try making something with an Oriental flavour for the festive season.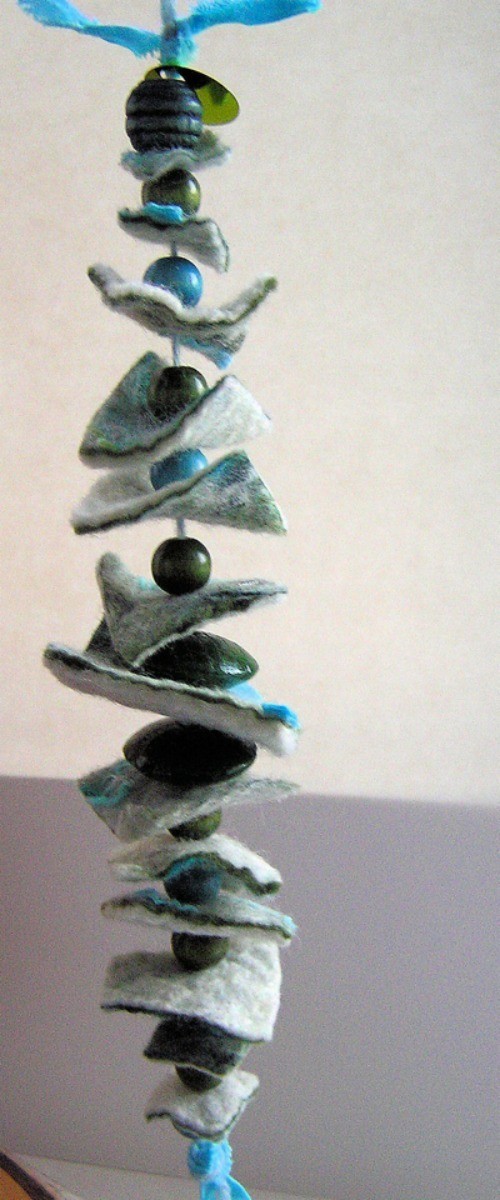 By lalala... 731 97
My mom and I created these felt fruits to go along with the Felt Veggie Garden that we made for my son. These are great to take along in the car or make a nice addition to a play kitchen. :)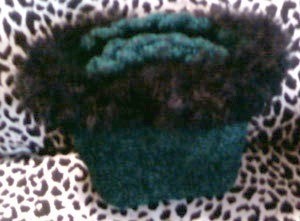 No Knitting Required! I'm a cheater, I made a felted purse out of a really too bright mens XL sweater I bought at a second hand store. Has to be 100% wool, no blends.
After I purposely shrank it by washing it in the washer (hot water), and drying it in the dryer, I cut off the arms to use for handles later. Then I turned it so that the waist band is now the top, I laid it flat and cut a straight line from side to side through both layers right above the neck hole.
Note: Here's where you have to decide which side is the prettier side and turn your felted sweater accordingly, all sewing should be done on the wrong side to hide the work.
I sewed up the cut sides and along the newly cut bottom, then I folded in my corners until I got the width of my purse right. I pinned them, sewed them across the widest part and tacked them down along the bottom seam of the purse, make sure you center this. This might be called "the bag technique". I turned the bag right side out and folded the waist band down over the edge, just to where the ribbed stitching ended or the colors changed.
I got one sleeve, cut off the inner felted seam and laid it flat. I cut two equal strips 2 inches wide, these are your handles. I folded each strip in half length wise and sewed the sides together, you'll have two 1 inch rope style handles. I pinned them inside the purse and stitched them so that the work would be hidden under the folded over-hang of the waist band, make sure NOT to stitch down the waist band. Adjust the handles to your preference before you stitch.
I sprayed the purse with warm water, and stuffed it with plastic trash bags to dry after I had gotten it to the shape I like most. On the first bag, I got a crochet hook and added eyelash yarn in the same color as the waistband to it's entire width, right to the point where the colors changed. On the second purse, I added beaded embellishments to the waist band, because I like shiny things. Because the waist band is knitted in rib stitch, it never really felted tight, but I made it work.
Hmmm, what did I do with the other sleeve? Why I made a jacket for my Chihuahua of course. :-) I'm not just Fickle, I'm thrifty too!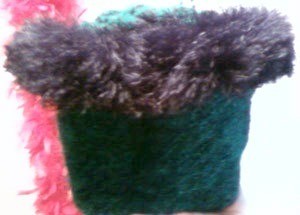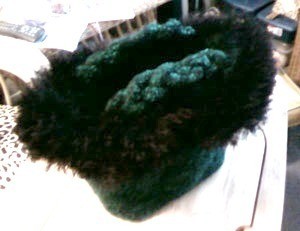 By ficklephonebug from Bakersfield, CA
By Anne Davies 22 12
Oh Christmas tree, Oh Christmas tree!
Thou tree most fair and lovely!

Oh Christmas tree, Oh Christmas tree!
Thou tree most fair and lovely!

The sight of thee at Christmastide
Spreads hope and gladness far and wide

Oh Christmas tree, Oh Christmas tree
Thou tree most fair and lovely!
O Tannenbaum, ('Oh Christmas Tree'), is a traditional German Christmas carol.
If you want to add a fun touch to your decorations for the holiday, why not have a go at making your own little felt trees. All you need to get started is some thick felt, together with a few basic items such as buttons and fabric scraps. In no time you'll have lots of trees to 'spread hope and gladness far and wide'.
Approximate Time: 45 minutes
Supplies:
thick felt (alternatively: felt an old jumper by washing it on a hot wash in the machine. The result is a very dense material that will not fray.)
scraps of printed cotton
a sewing needle
pins
a pair of scissors
a fabric pen or pencil
embroidery yarns
buttons, beads, etc.
Instructions:
To make a cone shape out of felt, firstly tie a piece of string or bias tape to a pen/pencil. Then pin the other end of the tape to the corner of a piece of felt. Draw an arc from one side of the felt to the other, to make a quarter circle. Cut out along the arc line. Fold the felt into a cone shape and stitch a small seam to secure the straight edges. Turn the finished cone to the right side.
Cut some circles in different sizes out of printed cotton. Pin and sew the circles to your felt cone. A blanket stitch is shown in the photograph, but use any type of embroidery stitch you feel looks good. If you prefer not to sew, why not glue buttons, beads, and other embellishments to the felt, instead.
Repeat steps 1 and 2 above to make more trees. Try making your trees in a variety of different sizes and colours.
Arrange your trees to decorate your home. You can even use a group of trees as a centerpiece for a dining table during the festive season.
Crafty Tips:
Make your own felt. Use a paper-mache cone as a form for your tree; cover it with cling film, wrap wool tops around the cone and felt with soap and water in the usual way. Let dry.
Stitch or glue a fabric tab to the base of your tree on either side. Turn your tree upside down and hang it from the tabs. Your tree now becomes a cone decoration that you can fill with sweets or small toys!
By Anne from The United Kingdom
An inexpensive homemade felt hat that holds any shape you like!
Approximate Time: Less than 2 hours, plus drying time
Supplies:
Craft Store Felt - at least twice the surface area you want to create
Elmer's Glue-All Multi-Purpose Glue
Medium Size Paint Brush
Styrofoam or Cardboard - Enough to make a mold for the hat
Sewing Machine (depending on how complicated you want the hat to be)
Sewing Needle
Thread
Ribbon (not necessary, but recommended)
Sewing Pins - at least 20
Webbing or an old tie
Instructions:
These instructions are adaptable to any kind of hat, but they detail a multi-color fedora since that will cover the most complicated aspects of hat-making. If you just want a bonnet, your life will be much easier!
Make or find a mold of the shape of the hat you want, but don't worry about a rim until step 8.

For example, if you want a spherical hat, you could find an (EXPIRED! - it will get stabbed) soccer ball the size of your head. If you want something more complicated, you may need to make a mold out of Styrofoam or cardboard.

To make a mold out of Styrofoam, either find a piece as big as the hat you want to make, or glue together many layers until they are as big as the hat you want to make. Once the glue dries, then in a sink, outside, or on a tarp (unless you want to vacuum for the next hour), take a knife and carve it to the shape you want. Be sure to make the base of the mold the same size as your head (use a tape measure or have a friend do a side-by-side comparison).

Tip: Don't be generous when you carve. You can always take more off, but you can't put it back on.

To make a mold out of cardboard, tape the cardboard in the shape you want (for a top hat, tape it into a cylinder). Again, be sure to make the base of the mold the same size as your head.

Shape the felt to cover your mold. If one sheet of felt won't cover your mold, you need to either stretch the felt, sew two pieces together, or both. If your mold is cylindrical (a top hat, a fedora), you need to sew your felt into a cylinder of that shape. The final product should stretch tightly onto your mold, and look exactly as you want it to look when it is done.
Do it again so you have two of the same felt template.
Stretch one layer of felt onto your mold and smother it in glue.
Stretch the second layer of felt over the first and pin it down with sewing pins. If you have any indents in your design be sure to pin those down. DO NOT use thumb tacks as I did -- the circles from the tack will show on the finished product.
Wait for the glue to dry. Overnight is probably best.
If you plan on reusing the mold, carefully and slowly remove the felt from the mold. You may need to slip a knife between the mold and the felt to get it off. If this is a one-time project, you can be a little less polite.

Notice that, since the glue is dry, the felt holds its shape.

If you want a stiff rim, do the same process as above to create it. To size the inside of the rim, trace the outside of the hat onto some felt, and then trace 1/3 inch inside of that circle for seam allowance. Don't glue the allowance together.
If you want a ribbon: Pin the top of the rim's seam allowance onto the outside of the hat.

If you don't want a ribbon: Pin all of the allowance to the inside of the hat and forgo steps 14 and 15.

If you are using an old tie, rip out the thread and take out the webbing. Now, take your webbing (from the tie or the store) and sew it in a circle so it fits around your head.

Webbing keeps the hat from stretching.

Pin the webbing between the inside of the hat and the bottom of the rim's seam allowance.
Test fit the hat, being careful of the pins. It should fit exactly as you want it to. If not, keep pinning until you get it right.
Sew the rim and webbing on by sewing around the bottom of the hat. If you are using a ribbon, this can be a hideous stitch; if not, it should be beautiful.
Pin the ribbon on all the way around the hat, over the outside layer of seam allowance. If you want, wrap another length of ribbon vertically around where the original connects to itself, and pin it flat to the hat. This will hide all the seams.
Sew the ribbon on. I recommend doing it by hand.
Walk tall and proud with your new felt hat!
By Quixotic Ducky from Tacoma, WA
I made Christmas stockings from felt for my grandkids when they were born. I want to remove an iron-on applique on one of them. Any suggestions for doing this without ruining the stocking?
By Jan
---
Most Recent Answer
I saw an old instrument case made out of felt, it made me think that we don't use that as much as people used to. And what a great material for simple crafts! You could make cases for all sorts of things; eye glasses, electronics, and so on, very easily by tracing out the form on felt, leaving extra and simple sewing the edges. Everyone needs more eyeglass cases. A good Christmas gift.

By Pam from Los Angeles
I have 1000s of small sizes of scrim felt 2 inches to 4 inches square plus 100s of cones and 3 foot long tubes. I also have cones of yarn for 1/3 of the whole sale price.
I want to give them to schools and park districts in my area, but they don't know what to use them for. I need ideas for these items. Maybe the cones could be made into x-mas trees or angels, yarn for dog Scotties, felt?
Any information on other crafts for these items will help. I would also like information on craft sites that help show how to make things with the items.
I hate to throw out this material ever year.
Thank you.
Can E-mail photos if needed.
By Martin R