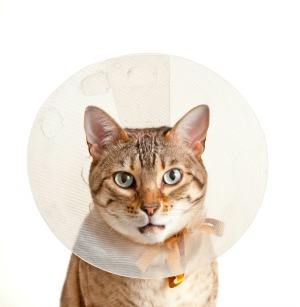 Depending on where the wound is located, it can be a challenge to make it impossible for them to scratch at it and help them heal. This guide is about keeping a cat scratching its wound.
Solutions
Share a solution for this guide today!
Questions
Here are questions related to Keeping a Cat from Scratching its Wound.
My cat Poppy has a large wound on her neck close to the top of her head. A collar would not help because of the position of the wound. She scratches the scab off almost as soon as it has healed and it keeps bleeding. She scratches so much that the fur has come out around the wound.
She is an indoor cat and we have another who is also indoor. I think Poppy may have been hurt by the other cat, but I'm not sure. I would like to know how we can stop her scratching so the wound can heal?
By Tara from Aberdeenshire
---
Most Recent Answer

By mmblespop12/23/2011
We fashioned a kitty turtleneck out of an old tube sock with very loose elastic in the cuff. Cut off the sock toe just below the heel or farther down depending on the cat's size. Cut armholes in on either side of the heel. Pull sock down over the cat's head, get paws and legs through the armholes. Makes it harder to take off. Hope it works!
A few days ago I noticed a really bad scab on my cat's jaw. Now today I woke up and he'd been scratching it so much that it basically formed a tiny hole. My mom won't take him to the vet because we have no money or gas.
I've been doing all I can by cleaning it and trying to wrap it up, but it's difficult due to the placement of the wound. Tomorrow I might be having a friend's mom take me to her vet. But does anyone have any suggestions on how to keep him from scratching until then?
By Meagan H
My cat had surgery on his neck and he scratched off his stitches. I took him back to the vet and they put in staples and gave me a collar to use. Three days later he scratched out his staples by getting under the collar, and no I couldn't make it tighter.
The position of the wound makes it impossible for the collar to work, because it to rubs the wound. So I called my vet again, and they had me take him to an emergency clinic. They wrapped it with soft cloth and pulled out the two staples he had left in. I got him home, and he's already scratching off this wrap and getting to the wound! Any ideas on something that would help or work?
By Julie
---
Most Recent Answer

By vanna12/19/2011
Buy some gauze cut them into little squares, place tape over with tape sticking out at both ends and then lay tape the other directions that it sticks out at all four side. Put your cats paw on the gauze and fold the (white tape) over from the sides first then the front....it works. And it's cheap :)
We adopted a cat about 6 weeks ago from an adoption center. He had a small scab on his neck, which he quickly scratched off. We took him to a vet (holistic), who gave us a spray and a cone to keep on until he healed completely. Well, the cone didn't keep him from reaching that spot, so I made a collar for him to wear. Finally, the scab was healed. So I took him to have his nails cut.
I took off the collar and within minutes, he was bleeding from the same spot again! What can I do to keep him from continuing this behaviour, so he doesn't have to wear a collar 24/7, forever? Thanks for any advice. Oh, the vet and shelter cleared him health wise. The vet suspected initially that he may have been allergic to the flea drops and he was microchipped as we left the shelter, but that should have been lower on his back, not on his neck, right?
By Jeff L.