Treating a Pet's Wound
Solutions
Share on ThriftyFunThis guide contains the following solutions. Have something to add? Please share your solution!
After seeing one great tip about cornstarch, I thought I should share mine. A year or so ago, one of my dairy goats had a scurr (an incompletely removed horn that grows back poorly) that was becoming uncomfortable and pressing on her head. My husband was attempting to cut it off cleanly when it suddenly fell off, spraying blood everywhere!
I thought quickly about what might make it stop while I pressed on the wound (it wasn't slowing down a bit) and told him to run for the cornstarch. I figured that if it would thicken gravy, it would coagulate blood. A good dash of cornstarch shut off the blood like a faucet!
After the fact, I checked and found that this is the main ingredient in the bloodstopper powder you can buy from a vet supply store. It can be a very handy thing to have around animals or accidents!
By Gina Johnston from MT
If your pet gets a laceration or bite, DO NOT use hydrogen peroxide. This will cause the wound to open more. Instead use a little soap and water or, better yet, use betadine liquid. (It's about $14 a bottle, but you can use it on your wounds also.) Betadine is an antiseptic wash. As dog bites are nasty, let your vet determine if the wound should be closed. Many times they need to be left open to drain. I recently leaned this the hard and expensive way.
Source: my vet
By Pam from Davie, FL
Questions
Ask a QuestionHere are the questions asked by community members. Read on to see the answers provided by the ThriftyFun community or ask a new question.
My dog has been treated for over a year with medicine to heal a huge wound caused by licking his paw, but it still is raw, bleeding, and swollen. Our vet can't seem to get it to heal. We put a cone on him except when he goes outside to potty and when he eats and drinks, but nothing will heal it. He's 12 yrs old and I don't know what else to do, even our vet is puzzled. Do you have any ideas or suggestions?

Answers
November 8, 2017
0

found this helpful
Best Answer
A wound that doesn't heal is a concern, whether on an animal or human. I would find another vet. It could be a type of skin cancer.
Answer

this Question

...
My Shih Tzu is having this kind of wound. I don't know what is it. Just look at the pic and his having another one. What's the cause and how can I cure it?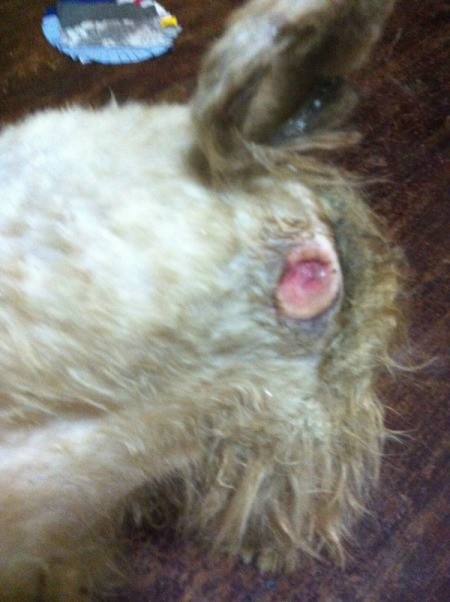 Answers
October 5, 2015
1

found this helpful
This looks like an infection of some type, especially as a new one is forming. if so, he will need prescriptive antibiotic treatment with a veterinarian as no home remedies will stop the infection.
Please take him to your vet now as the problem is spreading and the longer he has this infection, the more his immune system is compromised.
October 7, 2015
1

found this helpful
This must be SO painful for the wee dog. Expert vet care should be advised. Please take the dog for help.
October 7, 2015
0

found this helpful
Your dog needs to see a Veterinarian as soon as possible. This type of infection can get worse and threaten your dogs life.
April 3, 2016
0

found this helpful
If it was black first . It may have been a brown eclouse spider bite . This happened to my cat
Answer

this Question

...
My dog was scratched by our new roommate's cat. They seemed to coexist unless the animals get too close together. The cat scratched my Pomeranian under her eye and it was bleeding. The eye itself doesn't look damaged, but under her eye bled a lot. I'm doing a saltine rinse on the wound a couple times a day to prevent infection.
I also have no money to take her to a vet :( I don't want anything bad to happen to my dog. She's an older dog 5-6 (age is unknown due to abandonment of original owners).
Answers
August 30, 2015
0

found this helpful
I do not know what a saltine rinse is? If you mean saline, rinsing will not prevent an infection and bleeding "alot" is a bad sign!
You must find the money to take your dog to a vet immediately to check on the eye. You state the eye does not look damaged, however, you are not a vet and, I assume, have no medical training. Something happened as your dog bled "alot". Any delay can further damage the injured area and may cost more in the long run.
Pets are like people, they need proper veterinary check ups, vaccines, proper diet, and illnesses and accidents happen. If you are not able to afford veterinary care, you should not have a pet.
August 31, 2015
0

found this helpful
You mean saline. Anyway, that's a good start. But now it needs to scab over and heal. Start using triple antibiotic ointment (NOT the cream) on the scratch and in the eye. As long as the eye looks clear and nothing gets red, swells up, etc. it will probably be okay.
Of course, you are risking something happening to the eye, but since you have no money there is little else you can do at this point.
Let your roommate know he needs to trim his cat's claws.
Answer

this Question

...
I have a 10 month old kitten. He is a house cat and does not go out. He is so funny and forever jumping up on the most unusual places. A few weeks ago I noticed his eye was swollen and took him to the vet. She said that he had torn his cornea on something and gave him a shot and some medicine. It's all better now.
While we were at the vet's my daughter mentioned that she had felt a lump in the middle of his back towards his tail. The vet looked and said that it was a cut that was healing, but to keep an eye on it and not to worry.
This evening I came home and noticed that the hair and scab around the cut on his back had come off (I assume during one of his many jumping and running games around the house) and the cut is now open.
No scab has formed yet and it's not bleeding, but I am worried as he is our baby. I wonder if I should bring him back to the vet. He seems fine and is his usual funny self.
I just wonder how long it takes for a scab to form? He has FIV so I now his immune system is not like healthy cats so that's why I am worried. Any advise would be welcome. Thanks.
By Molly from Europe
Answers
October 19, 2010
0

found this helpful
A quick phone call to your vet should give you the answers you need.
Answer

this Question

...
Related Content