For those who enjoy feeding backyard birds, suet is a great choice for attracting a variety of beautiful species. "Suet" is a word referring to the hard fat from beef (or sheep), generally around their kidneys or loins. But for bird-feeding purposes, "suet" has now come to mean a rendered fat which hardens into a cake, and to which different things can be added and served to wild birds. Thus, a "suet cake," which is usually offered in a small wire cage. Yet even this can be misleading as suet is sometimes offered in plug feeders, in mesh bags, spread on tree bark or special ridged feeders, or crumbled on a tray feeder. Despite this, I will use the term "suet cakes" in this article. Before making your suet cakes, you will need to determine how you will serve it, and any of the above ways are fine. But using a "suet cage," which can often be found cheaply (about $2) and easily (even at some dollar stores) is the usual way to start.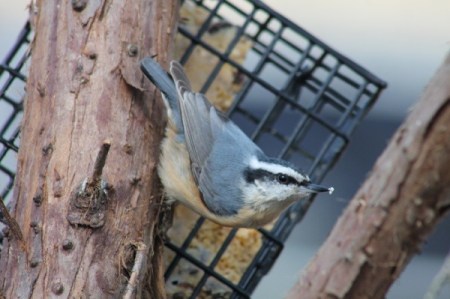 Suet cakes attract a great variety of birds, especially in winter when birds are in special need of fats. These can be bought, but it is easy and economical to make them at home and birds usually prefer the homemade variety!
To make suet cakes, you need a rendered fat which will harden when cooled. This could be actual beef suet, bacon grease, lard, or even vegetable shortening. For a small batch, use about 1 cup of one of these fats, melted. Mix in one cup of peanut butter, cheap is fine! I buy my peanut butter for birds from discount (bent and dent) grocery stores, and I try to find chunky peanut butter because the birds like the peanut pieces. The fat and peanut butter will be melted together in the microwave or a saucepan.
I almost always use a little bit of cornmeal here, to create sort of a "dough" that will hold its shape well. To the one cup each of melted fat and peanut butter, I will add about 2 cups of plain cornmeal as a "binder."
Now is the time to get creative with additives! I look through my pantry to see what I have: bread crumbs, stale cereal, stale crackers, dried fruits, and nuts. Almost anything that birds would like can be added to the suet cakes. These will bulk up the cake, help it hold its shape and firmness, and be a treat for the birds. I usually only use things which I can buy cheaply, or this would not be "thrifty," and I often use items which no longer appeal to humans, but which would be fine for birds (thus the stale crackers and such). Chop any big additives up so the birds can handle them easily, and stir them in well so they don't settle to the bottom. Mix in the additives only to the point that the suet dough is still malleable so it can be packed into containers for hardening.
Many people choose to add bird seed to their suet cakes, but I do not. I already offer bird seed in other feeders. I like for the birds to be able to eat this suet without having to shell seeds. So the only exception is when I have "shelled" seeds, such as sunflower hearts.
After mixing your ingredients, pack into small containers to harden. Almost anything can be used, including the plastic shell left from commercially bought suet cakes. I use plastic food containers that are generally the same size as my suet cages. I have also used foam egg cartons to make small suet hunks that I can add to a suet cage as needed and which also fit nicely into a plug feeder. Pour into the molds and let harden in fridge or freezer. It's now ready to use!
If you are offering your suet in another way besides a suet cage, you may want to consider this before pouring into a mold. Suet "balls" have become popular and there are special feeders made to hold these tennis-ball sized hunks. You may be able to find a mold which can make this shape if desired. Or, you may choose to spread some of your still-warm suet on tree branches or a ridged feeder. I keep pieces of heavily ridged tree bark wired on our feeder tree for this purpose.
I have found that our yard birds prefer homemade suet cakes "by far" over the store-bought variety. However, this homemade suet is best served only in cooler weather, as it can melt or turn rancid in warm weather. I offer homemade suet from October to April here in Tennessee. For warm weather suet feeding, choose the store-bought suet cakes marketed as "no melt." It is still important to check these often in warm weather, as they can also spoil if left outdoors over prolonged periods. But despite common misconception, birds will eat suet all year round!
***One more note about suet. Many magazines and online articles will suggest that you "ask your butcher" for pieces of raw beef suet to render at home. However, many modern meat markets now receive their meat pre-packaged or at least partially cut and trimmed. My husband is a meat manager in a grocery chain, and most beef fat trimmings he does have are used in his store-ground beef. Because of this, many meat markets do not have excess beef trimmings. Feel free to ask your butcher, but please be understanding if they do not have extra beef fat to offer. ***
The bird in the photo is a red-breasted nuthatch, enjoying some of my homemade suet.