Read and rate the best solutions below by giving them a "thumbs up".
Bird Feeder Suet Recipe
Bird feeder suet recipes and tips from the ThriftyFun community.
Bird Feeder Suet Recipe
Here is a recipe I found online. It looks easy and I plan to try it myself.
Not-So-Sloppy Summer Suet
4 cups cornmeal
1 cup all-purpose flour
1 cup peanut butter
1 cup shortening
Combine all the ingredients; mix well. Put in an onion bag or suet feeder, or pack in pine cones or into the bark of trees. Then watch the birds enjoy this hearty feast.
* From Birds and Blooms newsletter, July 2006
By Kathy
Corn Meal and Peanut Butter
Mix corn meal and peanut butter together and form it in suet holders that you recycle. I do this all the time, and the birds love it, even better than the store bought one, they seem to like them better too.
By Rosa
Any Kind Of Nuts Will Add Protein
The peanut butter is for added protein, so you can use any type of nut butters (almond, cashew, etc.), or make your own. You could also use sunflower or pumpkin seed butters, or try millet, flax or sesame seed butters. The birds won't mind.
By Susanmajp
Cheap Suet Cakes
I don't make my own suet cakes, but our Kroger store sells some for 69¢, and I use them all summer. I store them in the fridge, but even in the hottest months they don't melt and fall apart, but they do get softer in the heat of summer. I was going to try making my own, but for the price, I just buy Kroger's. I do know that you have to use Beef Suet, it doesn't melt as easily as the fat you trim off steaks and roasts. But that means you have to find a butcher to supply you with Suet.
Feel free to post your ideas below.
---
Save Grease for Suet
I save all of the left over bacon grease, and grease from frying foods, put it in a jar in fridge, (dated of course). I also save the square suet container from feeding birds suet in summer. In the winter, I reheat the "saved" grease, add raisins, nuts, peanut butter, cornmeal, oats, cracker crumbs, birdseed, sunflower seeds, etc. Mix it all together and put in the saved suet holders from summer. Presto, homemade suet cakes for the birdies, that fit in the suet holders. The birds love it, and it saves a bunch of money in winter time, when the birds really need our help eating good food to keep up their energy in the cold, cold winter!
By Rosa
---
Home Made Suet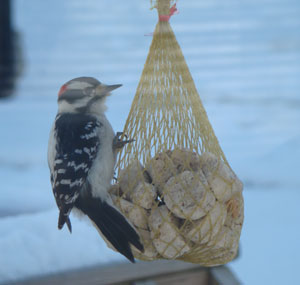 Homemade Suet In An Onion Bag
One way to make suet is to save the fat cut off of your meats. If I don't have enough to make a large batch, I've frozen the fat until later. Then I render that fat and add to that various things such as stale cereal, bread, cracker crumbs, oatmeal, you name it, anything grainy. I'll add the ingredients to the rendered fat. Mix it up until it's rather thick then pour it into a sandwich container. Place it in the fridge and when it has hardened, I pop it out and put it in a wire suet holder.
I've also used small muffin cups and then placed these in recycled onion bags.
Have fun!
The birds love this. I've never made anything and placed it out for them that they didn't eat.
By Teena from IN
---
RE: Home Made Suet
Please explain "render" to me, I'd like to make some for the birds using this method. (02/13/2008)
By Dede
RE: Home Made Suet
What a thoughtful idea! Rendering is cooking the fat and harvesting what rises to the top when refrigerated, right? (02/13/2008)
By Nancy
RE: Home Made Suet
Render= cooking the bits of fat until all the grease is out of them and they are floating in the grease. I use bacon fat left over from frying bacon. I also add any of the following: birdseed, oatmeal, bits of fruit and nuts, cornmeal, etc. I also make these in muffin pans and put out "cupcakes"for the squirrels, away from the birdfeeders. Cuts down on the critters raiding the birdfeeders :0)
Maggie O in Bloomington, MN (02/13/2008)
RE: Home Made Suet
Please do not use onion bags or any other plastic netted bag. I did this for many years until one time, in the cold winter months, a bird got its' leg tangled in the netting. I was home at the time and was able to cut the netting away from the bird's leg. It was very traumatic for me and the bird.
If I wasn't home, the bird would have suffered and most likely died. So, please invest in the wire cages, they do last for a very long time. Please pass this information to any of your friends who feed the wild birds. (02/14/2008)
By Brenda
RE: Home Made Suet
Here is a site that will explain rendering better than I can.
http://waltonfeed.com/old/soap/soaprend.html (02/14/2008)
By doccat5
---
Bird Feeder Suet Recipe
Would anyone out there know how to make homemade suet? We have lots of beautiful birds around in the winter and we try to keep them happy. Thanks. Barb from Mountaindale, NY
---
RE: Bird Feeder Suet Recipe
Suet is beef fat, so you can't really "make" your own. You can get it from a butcher and then use it as is, or melt it with seeds and such to make suet cakes for the birds. Butchers also sell it to make Christmas puddings, but most people don't bother with this any more, and use an alternate source of fat. I think the idea of feeding suet to the birds came from years ago when people had access to it because of doing their own butchering. It is not as popular as pork or bacon fat for cooking, and so was an "extra" thrifty, low cost thing that one could use to feed the birds. (10/27/2008)
By louel53
RE: Bird Feeder Suet Recipe
Thanks for asking Barb and thanks for the recipe Kathy, I'm going to try it. (10/30/2008)
By Lori
RE: Bird Feeder Suet Recipe
I think they just like the suet itself. Be cautious of peanut butters or bacon fat, as they contain a lot of salt, and can put the birds into a premature moult. That can be deadly to them in the winter. (10/31/2008)
By chickadee101
RE: Bird Feeder Suet Recipe
I used to boil a little water and then melt 1 cup crisco shortening in it and then stir in 1 cup sugar and enough oats to make it thick. Then I would cool it a little and put it out on the fence in a margarine container. :)
Here is a website that has other recipes for suet:
http://www.ourbetternature.org/suet.htm
Most of their recipes add peanut butter and cornmeal and flour. I never added those but it could be a great idea to do that. When I would put the suet out in a margarine bowl attached to the fence, then all the wild animals would come up from the neighborhood, possums and all, they all expected it at a certain time. Remember if you start feeding them in the winter to keep it up because they will be expecting that as a source of nutrition. (02/06/2009)
By Robyn Fed