This confection is usually appreciated for any occasion or as a gift. This page contains peanut butter fudge recipes.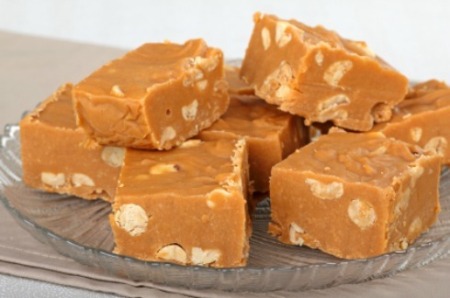 I have been trying to find these forever. It's a no-cook peanut butter fudge made with three ingredients: smooth peanut butter, granulated sugar, and white corn syrup. I can't remember the amounts.

Joan from Chesapeake, VA
In the past someone told me how to make peanut butter fudge using vanilla frosting, they do not remember the recipe and I have lost how to make it. Can anyone tell me what this recipe might be? Thanks,

Happy Holidays - Lisa
---
Best Answers
By guest (Guest Post) Flag
June 1, 2006
Use 1 tub vanilla frosting
1 jar of peanut butter
Combine in bowl and add confectioners sugar until you get the consistency that you want.
---
By guest (Guest Post) Flag
March 26, 2008
Just two items for Peanut Butter Fudge
Vanilla frosting (peel off seal). Microwave for 60 seconds.
Pour into bowl add Jiffy Smooth Peanut Butter 18oz jar.
Stir fast and pour into small pan. Refrigerate for a few minutes.
For a 13x9 you will need to double up.
Note this is just a small batch.
---
October 31, 2012 Flag
I make this with cream cheese frosting and a jar of any peanut butter and blend with a hand mixer. Spread into a pan and either eat instantly or refrigerate. No microwave needed.
---
This fast and simple recipe yields tasty peanut butter fudge with a surprising "nut-like crunch" that will confound all who try to guess what it is! It is also very inexpensive to make, because it does not require butter or nuts!
Ingredients:
2 cups sugar
1/2 cup milk
5 Tbsp. creamy peanut butter
7-oz. jar marshmallow creme
24 saltine crackers, broken into small pieces (but not crushed)
Directions:
Mix sugar and milk in a saucepan and bring to a boil. Cook for 5 minutes, stirring occasionally to prevent scorching. Place all remaining ingredients in a bowl. Pour hot mixture over them and mix thoroughly. Pour into a buttered or sprayed pan (I use 2 pie tins). Let cool in refrigerator. Cut and enjoy! Ask folks to guess what makes the subtle crunch!
Note: I have stirred in a handful of semi-sweet chocolate chips just before pressing into the pan, for a nice change. It makes a marbled look and has a flavor similar to a peanut butter cup.
Servings:
varies by size cut
Time:
5 Minutes Preparation Time
5 Minutes Cooking Time
Source: Tennessee Farm Bureau Members Magazine
By Shawna from Paris, TN
Does anyone out there have a tried and true peanut-butter fudge recipe using marshmallow cream? Also, how I can freeze it?
Thank you very much.
By Carol W.
---
Most Recent Answer
By Babette 36 233 Flag
November 20, 2013
I Have Never Tried Freezing It
Big Bach Peanut Butter Fudge
Ingredients
2 LB. Skippy supper chucky peanut butter
4 cup sugar
1 1/3 cups can milk
1 Jar marshmallow cream
24 oz. cocktail peanuts w/oil ( not dry Roasted )
2 tsp. vanilla
Instructions
Cook milk, sugar to soft ball stage add remaining instructions beat till mixed pour into buttered 9X13X2 pan.
or
My recipe for Peanut Butter Fudge
Ingredients
1 cup peanut butter chunky
2 cups sugar
2/3 cup can milk
1 cup marshmallow creme
1 tsp vanilla
Instructions
Cook milk, sugar to soft ball stage. Add remaining ingredients. Beat till firm. Pour into buttered 9x9x2 pan.
---
I could never make fudge that I didn't have to put in the freezer and eat with a spoon until I tried this, now I have finally got it right.
Ingredients:
1 can of cake icing, chocolate or vanilla
equal amount of peanut butter
Directions:
Put mixture in microwave for 1 minute, pour in buttered pan and refrigerate.
Source: Church cookbook
By aloneandtired from ThornHill, TN
Fudge lovers, here is a very nice recipe.
Ingredients
1 (12 ounce) package peanut butter flavored chips
1/4 cup margarine or butter
1 (14 ounce) can Eagle Brand Sweetened Condensed Milk
1/2 cup chopped peanuts (optional)
1 (6 ounce) package semi-sweet chocolate chips
Directions
In heavy saucepan, melt peanut butter chips and 2 Tbsp. margarine or butter with 1 cup sweetened condensed milk. Remove from heat; stir in peanuts. Spread into was paper lined 8-in square pan. In small heavy saucepan, melt chocolate chips and remaining 2 Tbsp. margarine or butter with remaining sweetened condensed milk.
Spread chocolate mixture on top of peanut butter mixture. Chill 2 hours or until firm. Turn fudge onto cutting board; peel off paper and cut into squares. Store loosely covered at room temperature.
Source: Eagle Brand Recipe
By Raymonde from North Bay, Ontario
Ingredients
1 3/4 cups graham cracker crumbs
2 sticks of margarine, softened (1/2 lb.)
2 1/2 cups of powdered sugar
1 1/2 cups Reese's peanut butter
Directions
Mix all these ingredients together and pat into a well greased 9 x 13 pan. Put in the refrigerator for 1 - 2 hours.
For topping, melt a 1 lb Hershey bar and spread on chilled peanut butter mix. Return fudge to refrigerator until the chocolate has set.
Cut into inch pieces by dipping a knife in hot water after every cut.
Also, as 1 lb. Hershey bars can be expensive, I use the Hershey's chocolate chip pieces.
By Louise from Port Charlotte, FL