Popsicle Stick Craft Ideas
Popsicle sticks are great for making kid crafts and other projects. This is a guide about Popsicle stick craft ideas.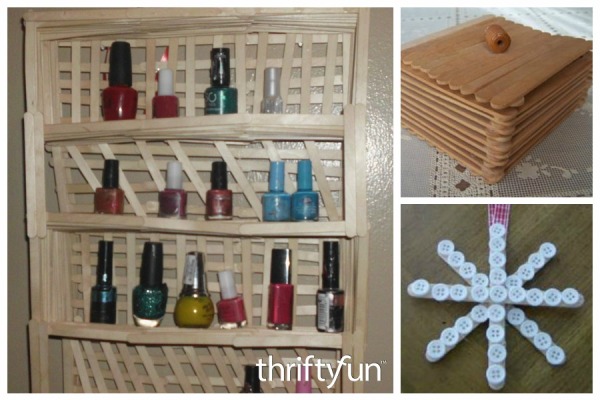 Filter

: All Articles
Sort

: Relevance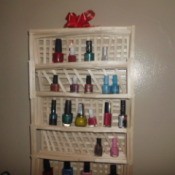 I use this to put my nail polish in.
Glue three popsicle sticks together. You will need two of these, and one on each end to form a rectangle. Keep building it until you have 14 layers. You will need three of these boxes.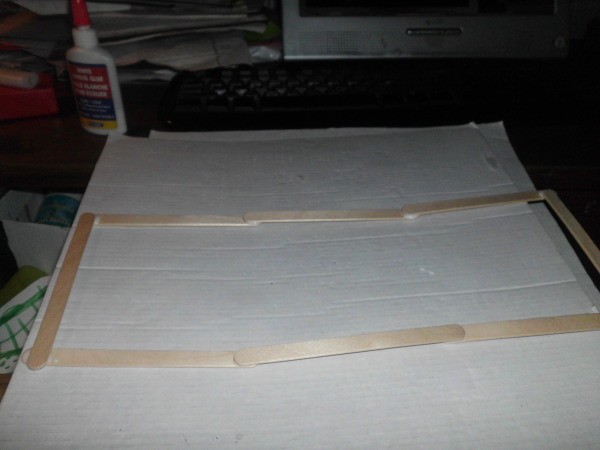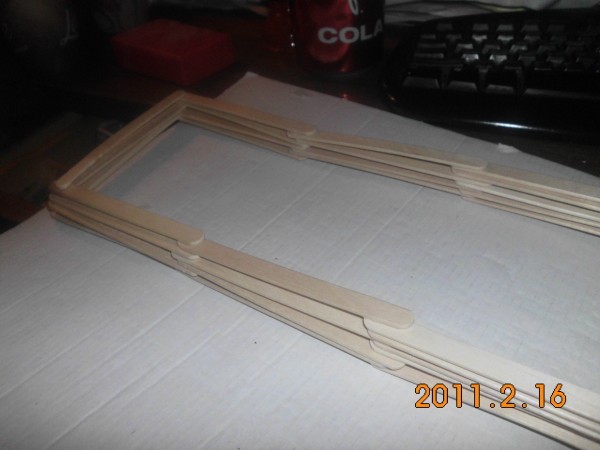 Once done, attach each box together with 2 Popsicle sticks. When dry, turn over and do the same to the back. Reinforce by building a fifteenth layer around the two sticks.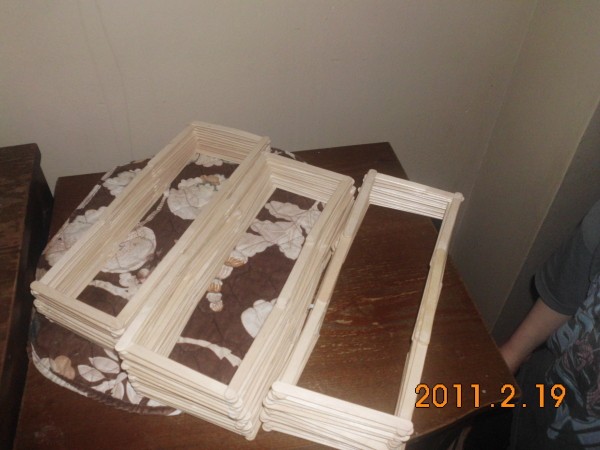 Then, depending on the pattern you want, start filling in the back the way you want them.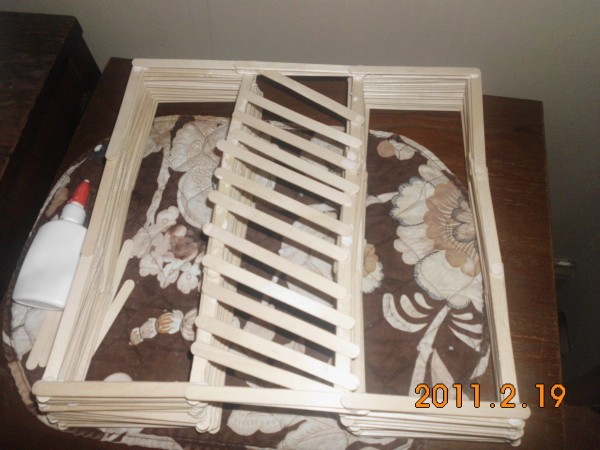 I put some on diagonally, then added some sideways. I did some straight then added some sideways. It will all depend on the way you want it to look.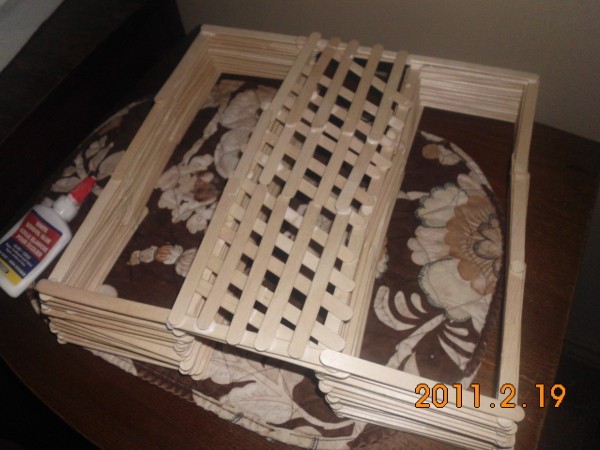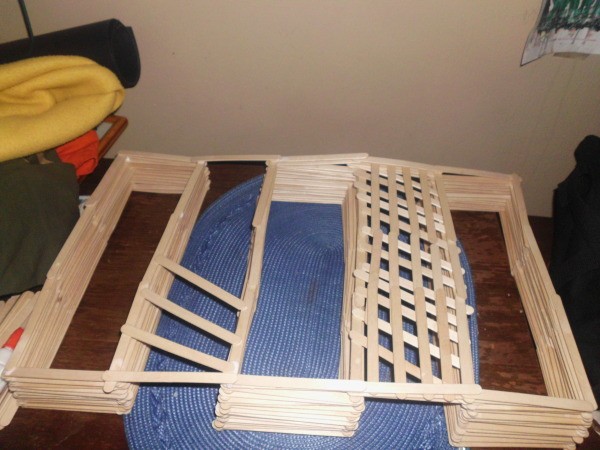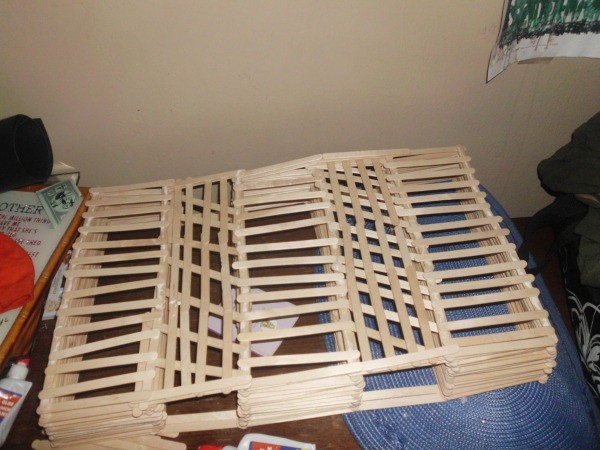 When dry, hang up.
By coville123 from Brockville, Ontario
This is a guide about making a clothespin and Popsicle stick plane. Use clip style clothes pins and Popsicle sticks to create a cute little wooden toy plane.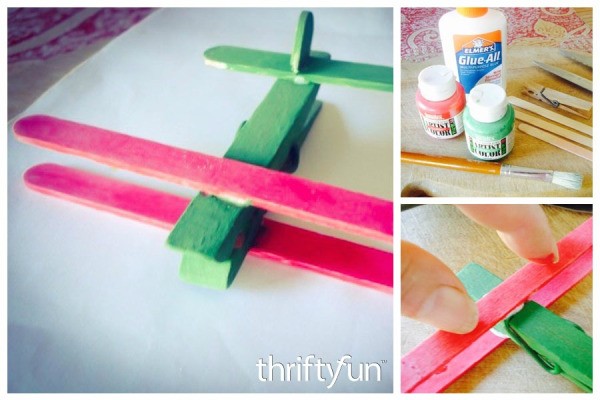 This is a guide about making a Popsicle stick wishing well. Popsicle sticks have been used in crafts for decades.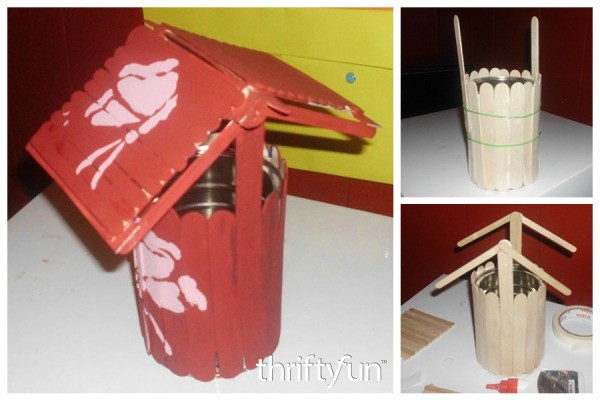 Easy box to make using Popsicle sticks layered and glued together to put trinkets in such as coins, jewelry, coupons, memorabilia, photos, receipts, pins, buttons, etc. Great Father's Day gift. My daughter made this for her dad at Girl Scouts.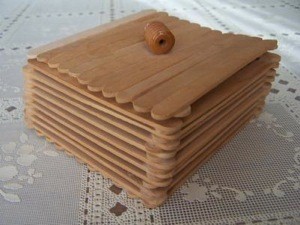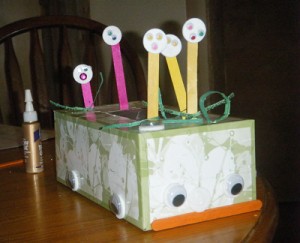 This was a spur of the moment craft created when a three year old noticed a sheet of felt circles I had sitting around. As they were self stick pads for the bottom of chair legs and I had extras, I began to think what he could stick them on.
I grabbed some Popsicle sticks and googly eyes and we had little puppet people in no time. We twisted some bread ties to make arms.
After this, I cut some slits in the top of an empty Kleenex box and we stuck the people in. We added some felt circles and googly eyes and we had wheels and head lights.
Note: I like to use tacky glue for the eyes, as it dries fast enough for kids to play with right away.
By Angel P
This is a guide about making a popsicle stick bow and arrow. A simple craft made with a few things found around the house, that can be fun for inside or outside play.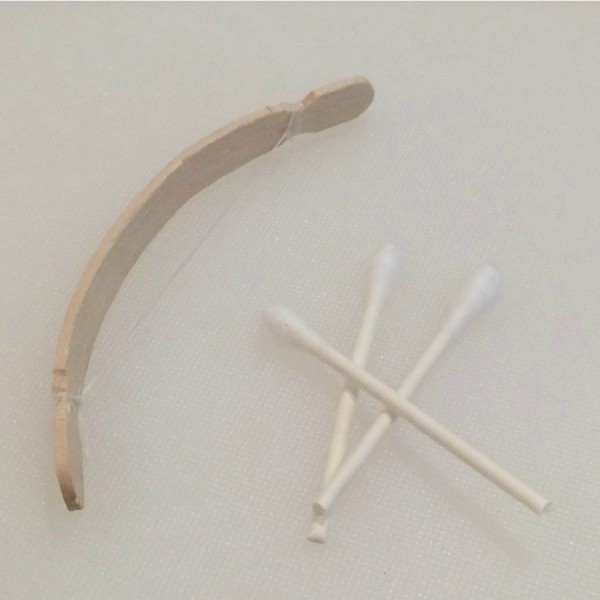 This was a craft project that I did with my 3 year old (the first two parts, anyway). The first part was blowing tempera paint bubbles onto paper with a straw. Then we made the Popsicle stick frame and decorated it. Finally, we used tempera paint to stain the unfinished shadow box.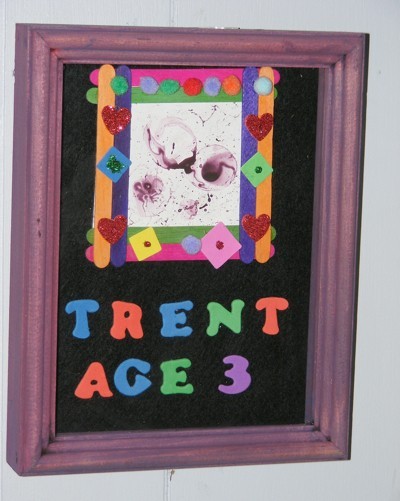 I make picture frames out of Popsicle sticks that are absolutely beautiful. I paint the sticks then decorate further with glitter or stickers.
I am looking for Popsicle Christmas tree ornament instructions.
By Nancy from Defiance, MO
November 4, 2009
0

found this helpful
I submitted this idea last year but submitted it too late for it to get posted in time for others to make them for Christmas but I think you'll like this easy idea and your question gave me the idea to submit it again ;-)
Can you make earrings from ice cream sticks? That was the challenge a friend was gave me.

Back then as a student, I would make jewelry out of anything that caught my attention. A worn out tubing from an old sewing machine. A broken plastic stick. Shells. Paper clips. These would be transformed into costume jewelry behind closed doors in my hostel room. How I did that, the things I used. All that was top secret, while I was still selling my hand made jewelry.

Now that I have long since quit making jewelry and have other sources of income, I am willing to share my secrets with you.

My friend who knew my hobby had just finished an ice cream with 2 sticks. I bet with her I could make earrings out of those. She took on the bet and gave me the ice cream sticks. I set off to work.

First, I washed those sticks thoroughly with plenty of soap and water. The last thing you want on your earrings are lots of ants running over them because of left over ice cream.

Now, those ice cream sticks were made of wood. Wood is a very versatile material that can be transformed into virtually anything. The ice cream sticks were way too long to be worn as they were, so they had to be broken up. Out came my trusty old pen knife.

For the next 2 or 3 hours or so, I slowly, patiently sawed those ice cream sticks into smaller pieces, about an inch long per piece.

Now I have lots of wires I used for jewelry making. They look like gold and silver, but they are of much cheaper materials. Everyone knows they are not gold and silver, and I warn them that the gold colored ones will tarnish, but the color turns into a bronzey shade that still goes well with my choice of materials.

I use these wires to join the pieces of ice cream stick with the rest of the design. I chose some black plastic beads as they are light and they go well with gold and that combination would look great on my pal.

The next challenge was to get these wires through the sticks. I did not have a drill. Can you imagine the chaos if the school authorities were to hear drilling sounds coming from a hostel room. We were supposed to be studying anyway. All I had were pin, needles, and a metal pencil box. I used a pin as a nail and a metal pencil box as a hammer and spent the next 2 hours or so slowly hammering holes near the edges of each wooden stick. Once the pin penetrated right through the stick, I would slowly twist the wire securely, right through the hole and twist the ends together to secure them.

Now came my trusty can of gold paint. I lined the floor with old newspaper, placed the pieces of ice cream sticks with the wires secured in them and spray painted both sides of the sticks. Spray one side first. Leave it an hour or 2 to dry while I go out for some fresh air. Spray the other side and let it dry while I go out for more fresh air. Come to think of it, there were rumours going on about me glue sniffing.

I could never fathom then how they could think about such a thing. Now I realize the closed doors to hide my trade secrets and all those spray paints I use for my jewelry gave people the wrong impression.

Finally, with everything in place, I would string the wire through my chosen beads and then through the bottom hole of the stick above it, forming a long chandelier type earring. 2 of those made a pair of earrings that would look stunning on her. The final wire at the top of each earring would be twisted and looped into the eye of an earring hook, and twisted above the bead again to fasten it securely.

The final result was a pretty pair of black and gold chandelier earrings.

Later, I met her again with the rest of our pals. Our gang of girls having our regular chats. I proudly presented her with these earrings. While the rest of the girls were admiring my latest works, she was laughing away as she knew the origins of these earrings.

I do miss those days. Have not seen them since we left the hostel as we are from different countries. You know who you are. This is what I have been up to lately.

I have since stopped making earrings. It is a lot easier on my hands buying them instead.

Janice
I am looking for popsicle stick crafts.

Billy from Henderson, NC
By guest (Guest Post)
Flag
December 29, 2008
0

found this helpful
You can buy them at Wal Mart. Duuuh, you can get anything at Wal Mart.
I was running out of ideas on miniature furniture to make for a dollhouse when I came across this idea. Look in a Log Cabin book or magazine for pictures of furniture and log cabins. You can duplicate it using popsicle sticks, a glue gun and pruning shears to easily cut the sticks in half.

Another place to look for ideas is a book on how to build wood furniture with step by step illustrations. It has opened up a whole new world on making dollhouse furniture and even landscapes for the outside of the dollhouse. Popsicle sticks are just like miniature 2x4's and the possibilities are endless.

By shedrivesz
Answers:
Dollhouse Furniture Made From Popsicle Sticks
Popsicle sticks also make great hardwood floors for dollhouses. (03/11/2005)

By cjgeo
Dollhouse Furniture Made From Popsicle Sticks
Thanks, this is a great idea! (05/30/2006)
Dollhouse Furniture Made From Popsicle Sticks
Wooden coffee stirrers make better wood flooring than Popsicle sticks. They are thinner, and more "woody" looking. I found some (not cheap) at the supermarket last week, but they can usually be found in bulk at distributors.
They can also be used for a more "weathered" look on Tudor type wall finishings too. (06/01/2007)

By ThisOldDollhouse
Dollhouse Furniture Made From Popsicle Sticks
I like the idea - especially since you said that they are like 2 x 4's. Takes the guessing and figuring out, and leaves the fun in! (04/21/2009)

By ksallen
Dollhouse Furniture Made From Popsicle Sticks
Great idea! Has anyone any photos or instructions on how to make the furniture? (10/03/2009)

By h.arnott
Related