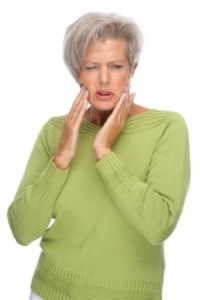 Getting your mouth accustomed to false teeth can be uncomfortable. This guide is about remedies for pain from wearing dentures.
Solutions
Share a solution for this guide today!
Questions
Here are questions related to Remedies for Pain from Wearing Dentures.
I don't have any gums left from wearing dentures and I just broke the bottom plate before Christmas. So I didn't eat Christmas, but had to the next day. It's been 9 days and my gum is so sore on one side. I'm just wondering if any one knows how long it will take to heal. I can't afford to see a dentist. Thank you.
By Sharon from Knox, TN
---
Most Recent Answer
11/12/2012
I found this great place in, <a href="http://www.drsandstrom.com/cosmetic-dentistry-mesa/dentures.asp"> mesa az</a>. to get a check up, or even complicated oral work done.
Are gums supposed to throb after having all teeth pulled? I had all my teeth pulled out and they immediately put my dentures in and all I can say is I had 3 days of extreme pain. When I went back into the office on Monday they fixed the dentures and I had immediate relief.
The problem was I was back in that office 3 times within one week. I finally got relief when they put a soft liner on them, but now I deal with gums throbbing. Is that normal? I took antibiotics, prescription mouth rinse, rinse 3-4 times a day with warm salt water, and take 1,000 mg of Vitamin C.
It has now been 2 weeks and I am still on soft foods, but have managed to add some mashed potatoes and noodles along with the pudding, yogurt, and ice cream. I am still having problems with the gums aching most of the time. Can someone tell me if this is normal and how much longer will they hurt? They told me to wear them 24/7 for 2 weeks although I take them out to rinse my mouth and today makes 2 weeks. I can't wait to keep them out all night tonight to give my mouth a rest.
By DMBDD
---
Most Recent Answer

By susanmajp05/03/2012
1) Of course you are going to be in pain, you have a mouth full of open wounds. It will take a while for full healing.

2) It is typical for a temporary denture to be put in you mouth after several extractions. You are not supposed to take it out because doing so can cause problems, like dislodging the blood clot forming in each socket that enables healing to take place, and if you are in pain now, you do not want dry socket on top of everything else. Your gums are swollen.

3) Leaving the dentures in will also help the gum line to form into the shape of the denture. As it heals, the socket will fill with bone. If it conforms to the shape of the inside of the denture, you will have fewer problems being fitted later.

4) Getting the temporary or permanent denture adjusted is normal, and it takes differing amounts of visits to get it right for different people. Everyone's mouths have differing anomalies that must be worked around, some are in places that are more sensitive than others. How well you follow your dentist's/surgeon's advice will also have different effects on the healing process.

5) If you are having this work done after a trauma (death of a spouse, etc), you may have additional physical problems to deal with. For some reason, a trauma affects the healing process and a person's emotional state exasperates problems.

6) Everyone handles pain differently and some handle it better than others. I minor problem for one person can drive another up the wall.

7) Your general health can also effect your overall capacity to heal or the amount of pain you may feel after surgery. If you have a problem with inflammation, your healing time might take a lot longer and you may be in more pain.

8) As with any extraction, limit all sucking action through straws, on popsicles, etc. Doing so can cause dry socket - something you do not want.

Several other things can cause problems, but remember, in the overall picture, it is only a few weeks and a small period of time in your life. Getting dentures isn't easy for most people - that's why we encourage children to take care of their teeth. Sometimes though, no matter what you do, this inconvenience falls on you shoulders. Take care and remember it will get better.
I had all my teeth pulled and dentures put in a little over a week ago. I have been able to take out my top plate and put it in with no problem. I finally got my bottom plate out last night and now I can't get either of them back in. It hurts way too bad! Any suggestions on making it a little less painful for getting them back in?
By chellbell from Duncan, OK
---
Most Recent Answer

By K9cats09/17/2009
Hello,
Your gums are swollen from the procedure. I had the same problem (my daughter is a RDA and works for our dentist) and my Dentist had to do a few adjustments until they fit properly. This is very common, please call your Dentist.
It has been one week since they pulled all my teeth and fitted me with dentures. I am in so much pain I can't stand it. So I took the bottoms out. My top ones are fitting OK and there's only a little pain, but those bottoms, wow. I can't take it. I heard that you're not supposed to take them out. Why? I go back to the dentist tomorrow. I'm going to see if they can make them fit better, or is it too late? Did I mess it up by taking them out?
By B. Carter
---
Most Recent Answer

By dusty678804/18/2012
I imagine your gums are swollen and soon they'll be back to their normal size. Warm salt water works wonders on all kinds of mouth problems. And ibuprofen should help with inflammation.
I just had 10 teeth pulled, all upper. I have been able to keep my teeth in, but my mouth is very sore. Monday will be a week. I went in to the dentist to file down sides of the false teeth, but have noticed the right side hurts like hell. I go back on the 18th. I have been able to wash my mouth out, but have stitches. I put Orajel on the right side, but still can't keep the teeth in long.
By Suny from Paulina, LA
---
Most Recent Answer

By drmeidl04/16/2013
Mine hurt a lot too, bnut you just have to tough it out. It does get better. I didn't get my dentures in until my gums had healed a while. It depends on the dentist, some have you put them in right a way. I have had mine for over 25 years. You would think they would have better system by now.
I just had 26 teeth pulled on Wednesday and wore the dentures the first night and then took them out the second night. Now there seems to be little pieces of bone coming out of the extraction sites and it hurts too touch even with my tongue and I can't get my dentures in. What can I do?
By sr
---
Most Recent Answer

By louel5304/22/2013
Please go back to the dentist. I don't know if there is anything special about having all the teeth out, but I do know that there can be little pieces of bone or root that are working their way out from an extraction. I had only one tooth taken out, and then felt this with my tongue. It was, in fact, a little sliver that the dentist had to remove.
I had all of my teeth pulled and had almost 2 months of healing time before the fitting process for my dentures. I have my dentures now after several fittings, but my top plate is so painful I can't bear to put them in. I have 2 raw spots on both sides and there's a gap between the roof of my mouth and the dentures so I can't talk. Please can anyone tell me of any relief I can get for this pain?
By Renee
---
Most Recent Answer

By Lily May05/22/2013
I agree with the back to the dentist advice. For sore gums gargle with "a dash of sea salt in warm water".
I had all my teeth removed on 2/23/13 and dentures put in right after the extractions. I've since gone back for my realign and the tops fit perfectly, however the bottom on the left side were I had a molar pulled is still painful when chewing. I feel it digging into my gum in the back. The dentist is wonderful, he told me he has to wait until the bone and gums shrink some more before they can do another realign. I just want to know if there is something I can use as a cushion back there so it's not so painful when I eat.
By Crissie B
---
Most Recent Answer

By jennifer.cash.9207/08/2013
Benzodent is my best friend since dentures. It not only instantly took the pain away but also acts as a denture glue.

I have had these for over 5 years and they still do not fit right. They are painful in the upper right, like they are poking into my palate. I keep having them adjusted, but that only lasts a couple days then it hurts to wear them again. What can I do? The dentist has run out of options!
By JCH from Lincoln, NB
---
Most Recent Answer

By susanmajp07/13/2013
Did you have your teeth removed 5 years ago and these are your first dentures/partial? Sometimes a tiny bone chip is missed or breaks loose during or after surgery. The denture rubs against it and it causes pain. Ask your dentist if this could be the problem. I'd check with another dentist for a second opinion. He could find something that was missed.
I had my teeth pulled 2 weeks ago. I put dentures in for 24 hours after my teeth got pulled. Now I have sore gums when I put my teeth in. The teeth are all adjusted. What can I do to cut the pain?
By Tom
---
Most Recent Answer

By angdolan7911/28/2013
I also had my teeth pulled 2 weeks ago. Ibuprofen (prescription strength - It lasts much longer than 800Mg over-the-counter), has totally diminished my pain, and shockingly makes a notable decrease in swelling. Rinsing frequently, rinse very, very gently, as to not dislodge blood clots). However, in my experience I have found I must rinse with plain water before replacing my teeth, or I find my gums are very, very sensitive and hurt so badly. (I haven't heard this from anyone else, so it may be just a personal thing, but worth a try at least!)

I do salt water rinse at least 3 times a day, immediately following with a plain water rinse but after I started rinsing with plain water to remove the salt, I haven't had the pain or sensitivity. It truly feels better when my teeth are in. I take them out only long enough to brush.

Also, if your teeth don't fit securely, using a powder adhesive is a miraculous way to decrease pain. It prevents the denture from moving and irritating your sore gums. (obviously if they don't fit secureLy, you should call the dentist, but during the time your gums are shrinking and you're waiting for the next reline, adhesive powder can become your best friend! Try using the minimal amount to do the job, I looked for tips online how to use the powder correctly). Sorry this was so long but hope it helps:)
It's been one week since all my teeth were pulled and I was fitted with dentures. When will I be able to close my mouth properly?
By Jana
---
Most Recent Answer

By frugalsunnie08/15/2013
I agree with RedHatter and Chef - you really should speak with your dentist if you are having trouble closing your mouth a week after having the teeth out and the dentures in.

While your mouth is likely still a bit swollen from the removal, the immediate insertion of the new plate(s) should have helped keep the swelling to a minimum and the fit should be tight enough to close your mouth comfortably over the plate(s). The dentist will have checked this when he/she fitted the new plate(s).

However - you don't define 'close my mouth properly' and I am wondering if you are experiencing what I did when I was getting used to having something artificial in my mouth.

I felt the same way about my upper plate - I just didn't feel I could naturally close my mouth after being fitted (same day as the removal), I felt I could if I 'forced' myself but I felt I really had to think about it to get the lips to close and the jaw to come together comfortably.

It's hard to explain the feeling but basically because these weren't my 'born-with' front five teeth (I lost mine to an impact injury) the plate felt huge and differently shaped than the originals; dang thing just felt wrong!

And that feeling made it really hard to believe my mouth was closing properly.

My dentist warned me this might happen and how to cope with it. So I went back and looked at pics of me from before. Doing that reassured me the new teeth were really exactly like the 'born-with' originals. Many of the before pics were profile, non-smiling and smiling, candid from several angle pics so I had a good selection of befores - I used a hand mirror and the bathroom mirror to check the after appearance was the same as before.

My dentist was right that it was mostly psychological in other words, stimulated by the weird sensation of something 'foreign' in my mouth. To be honest it took me about six months to really get myself comfortable with having this upper plate.

If what I've related doesn't apply to what you're going through, you really need to contact your dentist to be re-seen. Please update to let us know how it works out!
I had all my teeth pulled except for two on the bottom, and had dentures put in immediately. I received no stitches, bled like crazy, and was sent on my way. I returned to the dentist three days later and I couldn't get my denture bottom back in. My gums are cut up, swollen, and hurt badly. It has been a week now, and still can't get it in. What should I do?
By MC
First let me point out that I have been wearing full dentures for 43 years without any real problems. The dentures that I have been wearing for the past 22 years (yes, the same dentures). I just had a new set of full dentures made at a VA clinic. After going through the entire procedure (9 visits) the problem is as follows.
The dentures look really good. After some adjustments the upper dentures work good and are causing no problems. The real problem is the new lower dentures. They are at least of 1 inch longer in the rear. I cannot eat or drink anything with these lower dentures in. I have had them readjusted by the dentist several times. They cause pain in the rear of my mouth and continually make feel like I am gagging.
I have explained this several times to my dentist and the same answer is always provided. It takes time to adjust, keep wearing them no matter what. Deal with the pain and in time they will fit without any pain. I feel like I am putting on a size 18 shoe when I only require a size 11. I know my dentist is tried of me complaining about the lower dentures not working. I have considered trying to trim the length of the lower dentures since the dentist won't do it. I know I should not try to do this, but it seems the only way I am going to be able to wear these new lower dentures. Any suggestions on what can be done or how to trim the dentures myself? Thanks for any advise that can be provided.
By James P.
---
Most Recent Answer

By Lizzyanny12/07/2013
Your dentist sounds arrogant or incompetent (or both). If they wont make a proper denture for you, you need to go elsewhere and it seems like you have fiddled around with this guy long enough.
I had 4 teeth pulled and upper dentures fitted 3 months ago. The left hand side has always been a bit uncomfortable but liveable. Yesterday the gums were pretty sore so I left them out for the night. This morning however, the gum tissue is way too sore and tender to put in my dentures. Any advice is greatly appreciated.
By Rob