Tenderizing meat, either manually or with a solution, makes for a tasty dish. This guide is about how to tenderize meats.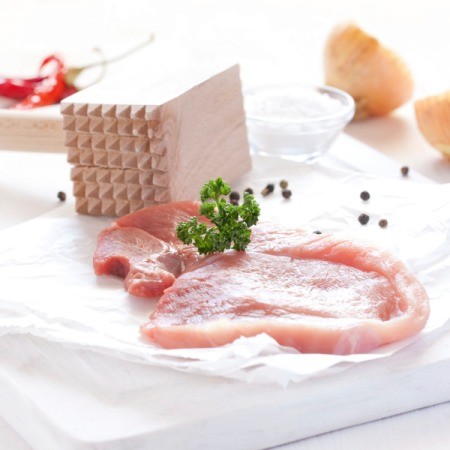 By Donna 2
I was trying to buy a flank steak, but accidently bought a beef brisket. My husband says they are very tough and marinating won't help.

I'm not fond of chemicals,Is there a way to tenderize this without buying equipment?

I would LOVE a melt-in-your-mouth recipe to make my husband proud!

Thank you,

Thriftyone
---
Most Recent Answer
January 25, 2013
Personally I like to smoke it first with about 10 ounces of Hickory (not mesquite) chips. Smoke it for about 2 hrs or so. Then remove it from the smoker. Wrap and seal it in foil, shinney side in(to prevent the foil from retracting the heat) and bake it in the oven for an additional 4 to 6 hours at 250 degrees f. Wrap it in foil so it cooks in its own juices. If you dont have a smoker skip that step. Comes out nice and juicy very tender.
---
By bo 2
I am looking for meat tenderizers for beef, (e.g. minute steaks and other less tender meats).

Bo from Ontario
---
Most Recent Answer
By John Betmanis 1 Flag
May 2, 2009
Bulk Barn has meat tenderizer for about a buck for 100 grams. The seasoned stuff is a bit less and the plain white stuff a bit more. (The active ingredient is probably more costly than the seasoning used.) This works in 20 minutes, just like the Magic Creations Beef Marinade Zehrs had for 99¢/25 grams, but don't have anymore. I use about a tablespoon in enough water to cover the steak after perforating it with a fork. I buy the seasoned tenderizer, but you could probably cut it with the plain stuff if you find the seasoning a bit much.
---
By Irishwitch 390 18
Tenderize meat by adding equal parts strong brewed tea and double strength beef stock to a tough pot roast or stew. The tannin in tea is a natural meat tenderizer.
By JodiT from Aurora, CO
By Irishwitch 390 18
Tenderize meat with equal parts of strong brewed tea
and double strength beef stock for a tough pot roast
or stew. The tannin in tea is a natural meat tenderizer.
Source: Mom's cooking files
To tenderize a pork loin or pork butt, put 1 gallon cold water , 1 can of regular Pepsi, Coke, or any dark soda, and 1/2 cup table salt in a large enough container to hold the meat. Add garlic and your seasonings. Put the pork into the mixture and marinate overnight. Roast the pork on a rack at 350 degrees F until meat thermometer registers 165 degrees F.
Source: My son, the chef. He is Cordon Bleu trained.
By crogrannie from Santa Monica, CA
Use 2-3 Tbsp. of vinegar to tenderize meat. I add to my favorite marinade or, if I am not using a marinade, I mix 1/4 cup canola oil, 1/2 cup water and 2-3 Tbsp. vinegar (you can also use red wine vinegar but it takes 5-6 Tbsp.)

By Lisa from Waynesville,NC
When making stews or soups, and the meat will not get tender, try dipping a large wet tablespoon in your baking soda box and stirring it into your pot. It will foam up and disappear, with no effect on the texture or taste, tenderizing your meat. It really works!

By Jayme from Mansfield, TX
Can meat tenderizer be added during the cooking process if I failed to put it on earlier?
By cnml
---
Most Recent Answer