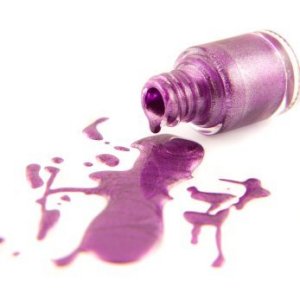 Nail polish can be difficult to remove from carpet, especially if it has already dried. Check out these tips for getting the nail polish stain out. This is a guide about removing nail polish from carpet.
Ad
---
Solutions: Removing Nail Polish from Carpet
Read and rate the best solutions below by giving them a "thumbs up".
I spilled dark wine fingernail polish on my light bedroom carpet. Panic! I grabbed polish remover and poured on it and rubbed with a rag and made a worse mess. By now it was almost dry. Help! Someone said to use Windex of all things. I had an off brand window cleaner, but tried it and in a couple of minutes the carpet was like new. I didn't think it would work, but it did. Remember this just in case.
By Diane H. from Louisville, TN
I hope this helps, I knocked over a container of nail polishes onto my light blue bedroom carpet. Needless to say some of them broke, hot pinks, lime greens, etc. After I blotted up what I could with a napkin, I used a bottle of liquid hairspray, a brush, and after scrubbing a bit it came out in no time. Be generous with the hairspray, I literally poured it on. Any kind will do.
By Sandy F. [1]
Give a "thumbs up" to the solution that worked the best! Do you have a better solution? Click here to share it!
Questions
Here are questions related to Removing Nail Polish from Carpet.
How do I remove dark blue nail polish that spilled all over my beige Berber carpet?

Marquita

Ad
---
---
Most Recent Answer

By Talyor12/07/2010
I just spilled teal blue in my bedroom carpet. I jumped up and ran into my bathroom to get every cleaning product. Nothing worked. Then I jumped on my lap top and typed it up on ask.com and saw to use nail polish remover which I have very little of. Too my surprise I read a blog where someone used windex and it worked better. It all came out! Yes. It works better than nail polish remover!
Darling great grandsons spilled nail polish on Mommy's new microfiber couch, also on nylon carpet. What can she do to remove it?
By Mimaw Shirley
Ad
---
---
Most Recent Answer

By Carolyn H.09/22/2015
How to remove the nail polish from carpets
How do you get nail polish out of carpet?
By Nancy from Bluffton, IN
---
Most Recent Answer

By Doodlebug_di06/13/2011
I have not tackled a problem like this but perhaps maybe, the use of acetone would be the way.. But be sure to test on an out of sight, never to be seen place to check that the acetone will not melt the fabric.
How do I remove dry blue fingernail polish from tan carpet?
By Maria from Salem, OR
---
Most Recent Answer

By Jaime [1]03/30/2011
My daughter spilled red nail polish on light blue carpet a couple years ago. We went to the store and bought acetone nail polish remover. I'd test an area before doing this.

We poured the acetone on the spot (it was a big spot) or you could pout it onto an old, clean rag. DAB it, don't rub it in. You will have to use a lot of rags. It took about an hour to get the entire stain out, but after the carpet dried, you couldn't tell anything had been spilled on it.
The top broke off of a hot pink nail polish and spilled on my light blue carpet. What should I do:( ?
By S.M.
My daughter dropped a bottle of red nail polish on my tile floor and I can't get it out of the grout spaces. It also spilled on the carpeted stairs so it's also on the carpet. What can I use to remove the nail polish?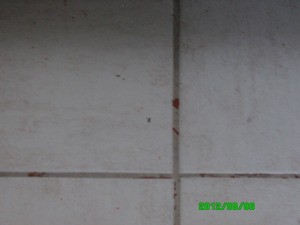 By Cheryl from Chatsworth, CA
What is the best way of cleaning red nail polish from carpet?
By Kathie
Last night a bottle fell off the dresser hit the floor and busted. It was late I didn't know anything to do, so today I tried nail polish remover and glass cleaner. So far I'm having no luck getting out the stain, does anyone have any suggestions?
By Becky
How can you get different nail polish colors off of carpet? The carpet is light brown.
By Joey K.
Archives
Thrifty Fun has been around so long that many of our pages have been reset several times. Archives are older versions of the page and the feedback that was provided then.
My ferret spilled blue nail polish on my beige carpet! How can I get it out? I tried nail polish remover but it didn't help. Can anyone help?
Dana from PA
---
RE: Nail Polish on Carpet
My lil one just spilled her red nail polish on my tan carpet! I sprayed it with shaving cream and let it sit for a couple minutes and wiped it up with a towel! I can't see it anymore! (05/25/2006)
By Candis
Thanks
I spilt hot pink nail polish on are carpet so we used nail polish remover, windex, shaving cream, and water. Now you can barely see it. (06/04/2006)
By Tiana
RE: Nail Polish on Carpet
My granddaughter spilled black nail polish in the center of a berber carpet just as they were leaving the house for work/camp. My daughter only had time to blot it up with paper towels. She called me from work, asking what could be done. Thriftyfun to the rescue! I printed out this question and its responses. She used Windex, and the stain came out. Thank you on her behalf. (08/14/2006)
By jean
Nail Polish: Awesome & Elbow Grease
I faced this challenge after 16 month old son dropped & broke a bottle of dark burgundy nail polish on beige carpet which also splashed onto computer case & USB port as well. On the carpet, first I tried nail polish remover & it wasn't working fast enough. We didn't have the name brand "Windex." Ran to the Dollar Tree & bought some "LA's Awesome" mentioned in a previous post. With hot water, old rag, lots of elbow grease, Prayer and the "Awesome" it came out in about 30 minutes_ of Spray, scrub, pat, Spray, scrub, pat. Computer: just used the nail polish remover, q-tips, and all is well. Hope this helps someone. Thanks Thrifty Fun! (08/26/2006)
By Kelly
RE: Nail Polish on Carpet
I spilled pink nail polish 3 months ago, in the office of a rental property I was renting. With over $1500 at stake, I was in desperate need of divine intervention. So, I went to work, well my husband tried to help, but he almost managed to set the house a fire, by using gasoline! Anyway, I pulled out the shampooer, pulled up the fatal liquid and fumes and sought "Google, " were I found all of your advice. Using a combination of the Windex, WD-40, Carpet Detergent, Nail Polish Remover and prayer.The Landlord's cream carpet is almost as good as new, at least it's not noticeable. Your advice saved me my $1500 rental deposit, replacement of the carpet and frustration. Thanks so much, God Bless! (08/29/2006)
By Eric
Hair-spay and Windex
My daughter spilled half a bottle of red nail polish on our NEW tan carpet! AFter panicking, I read the entries on this website and ended up getting it out with hairspray and windex. It took some elbow grease but it worked! THANK GOODNESS! My husband would've blown a gasket! (09/28/2006)
By Caroline
How can I remove a pool of red nail polish from my beige carpet?
Kyles from Adelaide, South Australia
---
RE: Nail Polish on Carpet
I used windex and carpet detergent to get bright red nail polish out of the carpet that had been there for a good 18 hours or so. (11/14/2006)
By Zenia
RE: Nail Polish on Carpet
Well unfortunately i just went throught this ordeal with my 2 year old daughter at her grandparents house, on new beige berber with a lovely red nail polish. After reading the input on this site I went to it armed with windex, nail polish remover, shaving cream, and WD40. Nail polish remover just smeared the polish all over and didnt do the job. Windex helped breake up the stain, but still wasnt all that effective. Shaving cream was just useless. WD40 was a pure miracle it removed the stain almost 99.5%, you can only see a very light pink tint, but you need to know were the accident happened to notice it. Hope this helps someone else, and try not to panick the WD40 will get it out. (11/23/2006)
By albright party of 4
RE: Nail Polish on Carpet
Windex does not affect coloured carpet and works on dried stains ....I spilled a rose coloured nail polish on a rose coloured carpet, doesn't sound bad...but it was right in the middle of the room and it was pretty obvious. I first tried nail polish remover diluted with water, hoping it would not harm the colour in the carpet. It did not work at all and I left it for the night because we had company. 24 hours later it was a dried up dark spot that was driving me nuts. I read your info on windex and thought I might as well try it. I think it took about 2 minutes..I was amazed that it all came out and did not affect the colour of the carpet at all. Thanks to your site. (03/29/2007)
By Melanie
RE: Nail Polish on Carpet
Our daughter spilled black nail polish on our light beige burber carpet. I first tried non-acetone nail polish. It just smeared it. Then, thanks to your site, we tried the windex. With lots of elbow grease we got it down to a very very light stain. I am going to let it dry and then try a bit of WD40 on it after. Hopefully that will work. BTW, WD40 works awesome for getting crayon off the wall. (04/15/2007)
By Linda
RE: Nail Polish on Carpet
I got Sally Hansen's "Coral Amber" (which is a deep pinkish orange color) all over the beige berber carpet in our spare bedroom. Of course, we are renting. So I was freaking out because it would cost a LOT of money to get this room recarpeted.
I immediately tried the nail polish remover and it ust smeared it in. That is when I started to really feel hopeless. But I found this page and read about the Windex and Shout. IT WORKED! The areas that hadn't gotten too dry were able to be cleaned right up by using Shout and rubbing with a warm washcloth for about 10 minutes. The stuff that got dry before I could get to it, I used Windex. Worked perfect!! (04/23/2007)
By Robin
RE: Red Nail Polish on Carpet
Just tried the Windex on the dried red nail polish (on my very light beige carpet) and the nail polish disappeared. Amazing! I was thinking of trying nail polish remover but thought it might smear and not remove the color from the carpet. Thank you for your help. (05/01/2007)
By Bette
RE: Nail Polish on Carpet
DO NOT USE POLISH REMOVER! I tried it before finding this website and exactly what the others said happened! I was ready to polish and the bottle just like jumped out of my hand and landed all over my plush carpet. I went to pick it up, and low and behold it fell again! I was in such a state of panic and grabbed the remover and of course it smeared and I was on the verge of screaming but decided to chek out the web, because I depened on it for all my answers. Luckily I found this web site, and grabbed the windex, that was ok and helped but for me it was the oxy-clean and a little bit of clorex counter cleaner!1 It got all sudsy and with alot of elbow grease the stain is all gone!! NOW, I see the rest of my carpet needs to be cleaned - but thats for a latter date!! Hope I helped ya, because everyone above has helped me. (05/11/2007)
By DEBBIE
RE: Nail Polish on Carpet
I used Felsnaptha soap while the nail polish was still wet. Worked great. (05/26/2007)
By Lisa
RE: Nail Polish on Carpet
My daughter spilled finger nail polish on my brand new burber carpet and on my brand new bed spread I used everything from windex to shave gel to oxyclean nothing worked. Desperate I got out the carb. cleaner it worked great on the bed spread and carpet did not ruin it at all. (06/03/2007)
By April