Making Wind Chimes
Wind chimes can be expensive to buy. Making your own wind chimes allows you to use items around your house and customize the look of it. This is a guide about making wind chimes.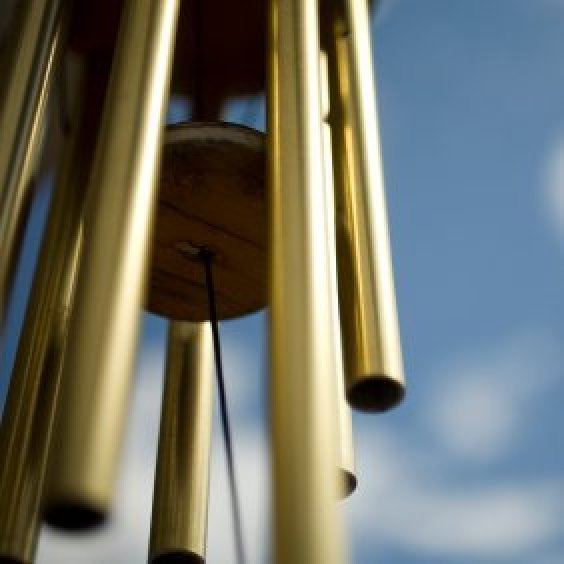 Filter

: All Articles
Sort

: Relevance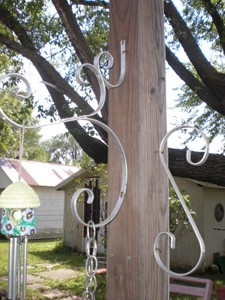 Upcycle what you have to enjoy in new ways! I am using my broken screen door guard as a bracket in my bedroom to hold a birdcage planter and outside on my back patio to hold a small set of windchimes!
By melody_yesterday from Otterville, MO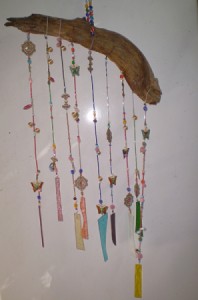 I recently put together a rather pretty hanger/wind chime for the patio using lots of leftover beads, old odd earrings, bits of old brooches and necklaces, and some colored glass pieces from a broken wind chime. I grabbed a piece of driftwood that was in the garden, drilled six holes through the middle evenly spaced apart.
Using 6 strands of colored jewelry wire, approximately 18 inches (45cm) in length, I threaded on all the bits and pieces randomly with the pre-drilled glass at the bottom. I left a bit of wire at the top, threaded it through each of the holes, secured it with some good knots, and voila! a really pretty wind chime.
So easy a child could make one, and great for using up all those odd beads, plastic flowers, metal do-dads, etc. cluttering up your jewelry and craft boxes. If you don't have many larger things to thread on, just space them apart by knotting the colored wire. They still look great and sparkle beautifully in the light. Have fun!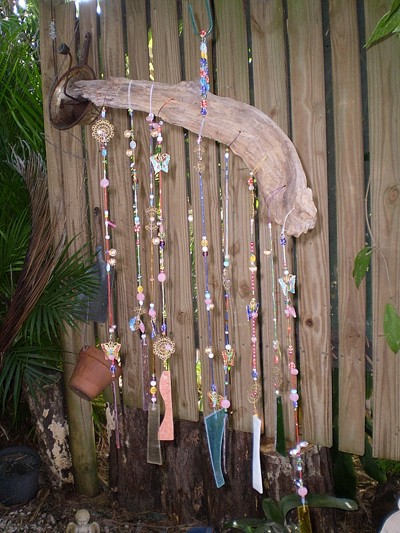 By Vicki7857 from Yeppoon, Queensland, Australia
I make the wind chimes out of liquor bottles, wine bottles, and this one happens to be a wine cooler bottle. I use a glass cutter and cut off the bottom. I use a ceramic knife sharpener to smooth the sharp edges. If it has a screw on top, that's a plus.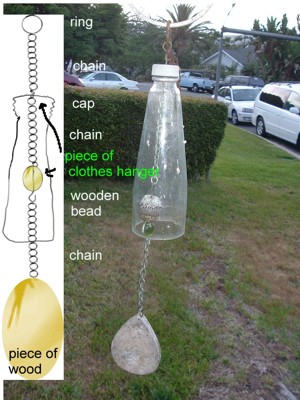 Perfect decoration for your clothes line!
Supplies:
peanut butter lid
drill
liquid laundry detergent caps
ring (plastic vitamin cap)
string
bells
beads
Directions:
Drill four holes around the edge of the lid of a peanut butter jar.
Drill a hole in the center of four liquid laundry detergent caps.
Loop two pieces of string (folded in half) through something shaped like a ring (I used a portion of a vitamin bottle cap for my hanging ring) and knot about 3 inches down.
Thread each string through the peanut butter jar lid, knotting on the underside.
Thread each strand through one laundry detergent cap and knot on the inside.
I knotted the ends with a jingle bell to give my wind clacker an interesting sound.
You can also drill a hole in the middle of the peanut butter jar lid like I did. Use a bead to anchor the middle string or knot it before threading it through the hole.
Tie another bead or something else to the end of the middle string to give it a little weight. I tied a couple of jingle bells from the middle string also.
By Laura from Long Beach, CA
Left over garden tools hanging from a garden decor candle holder. It probably didn't take me an hour to make this but searching for the pieces and figuring out how to place them did.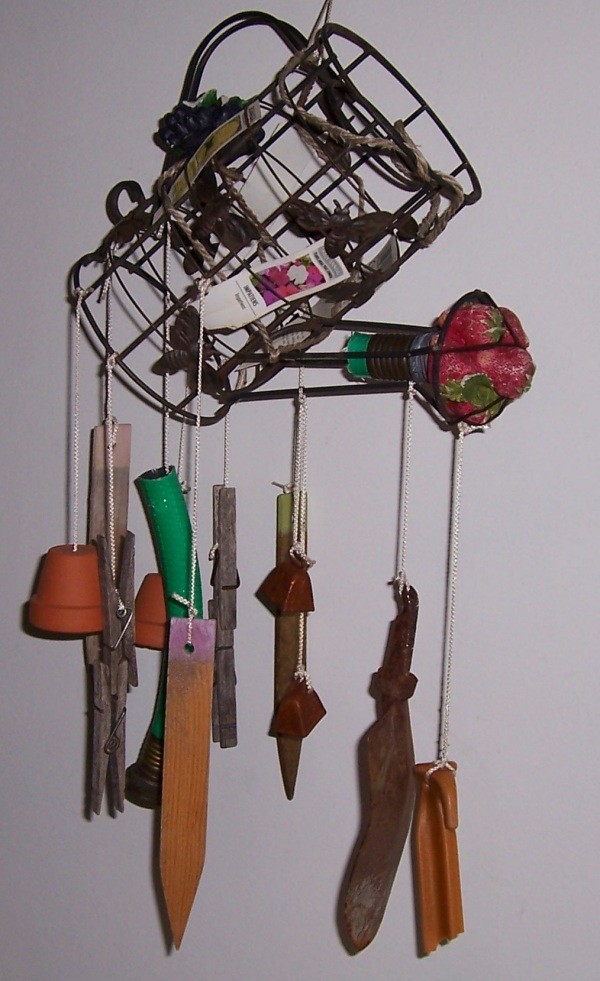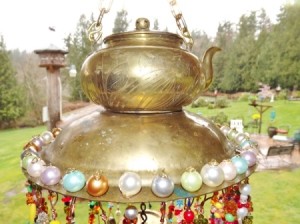 I made this with mostly recycled items. Most of this you can find in your local thrift store. I used an old brass tea pot, old brass plate, and used planter. I then found some old plastic beads that my daughter had in a tin when she was little. I bought some old vintage mismatched silverware at an estate sale and went to Lowe's and bought a metal pipe.
I painted the pipe black with a cheap can of spray paint and drilled holes all the way through the top and bottom of the pipe. I then took a drill and drilled holes in the brass plate and ran a screw to hold the tea pot onto the plate. I drilled tiny holes around the base of the plate and through the silverware. I then strung brass wire through beads, silverware, and pipe. I added prisms here and there for interest.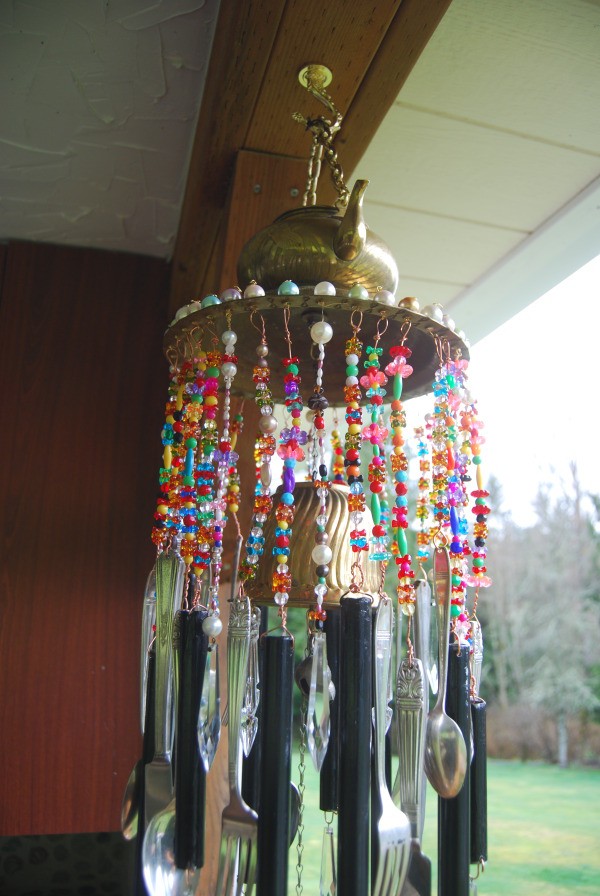 This was a fun project using any type of recycled items. It helps to have some kind of power tool experience.
By Cathy from Stanwood, WA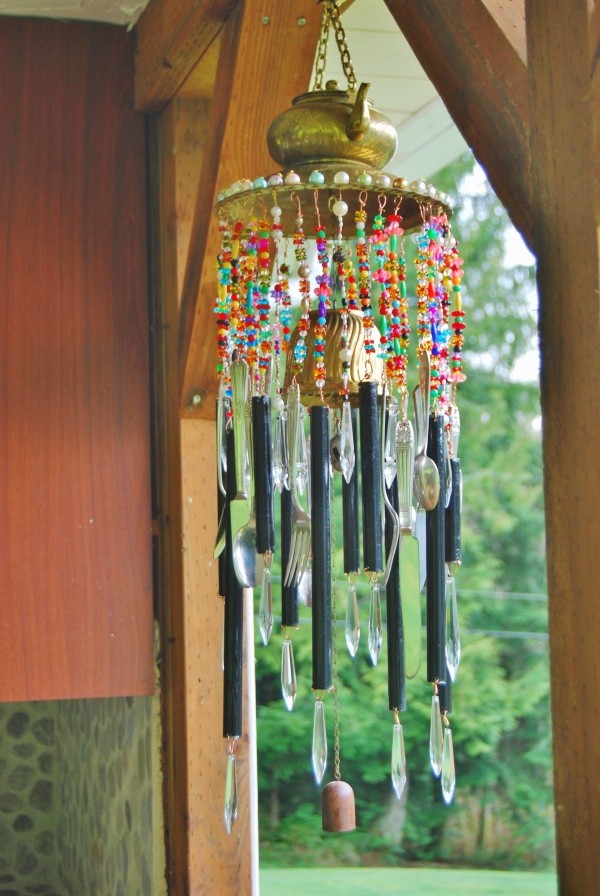 Where do you all find nifty centerpieces for your homemade wind chimes? I am so not creative, so beyond gluing a couple flat sticks together or old CDs drilled around the edge, I have no idea where to find these things. Thanks for any help!
By BonnieAlice
September 7, 2011
0

found this helpful
I live next to Ocean, so I always a breeze. I'm not that creative about certain things either but I have seen so many great ones. Hey Cd's aren't bad you can spatter paint them cut in different angles etc. so don't be afraid to use your imagination. I saw one I want to do and its perfect time of the year for it; old, broken or on sale; yard decorations. I like the butterfly ones in the center. But there are the ones that look like flowers and birds. Many ones in different sizes, colors, etc. I thought of sea shells because they are close so I'm starting there, maybe I'll post a picture.Good luck, you'll do fine!
September 7, 2011
0

found this helpful
CDs in colorful onion bag sleeves last many years. I found that drilled CDs shatter in the first good storm.
Different lengths and thicknesses of wooden dowels make a fairly pleasant sound in the wind. You can stain them, but don't paint them. Paint ruins the sound. Have fun!
DearWebby
http:/webby.com/humor/blog
September 8, 2011
0

found this helpful
When making and putting up wind chimes, please remember that your neighbors may not enjoy the clatter and/or dissonant sounds made by some of them. Be sure they are musical and in tune and not very loud. There are still some out here who really enjoy the "sounds of silence."
Read More Answers...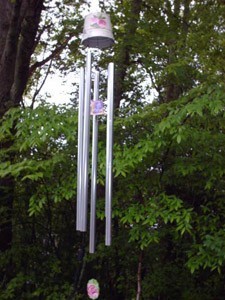 Make use of old tin buckets and turn them into wind chimes. When the large chimes I bought broke from the wood ring on top that had rotted from the winter weather, I used my tin buckets as the base and bonger to give them new life and a prettier look.
I turned my buckets upside down to keep water drained out and love the look, but you could easily keep them upright and follow the same directions and even fill the bucket with soil and flowers planted in it to hang over and look beautiful too.
Approximate Time: 1 hour or less (drying time of painted design if desired)
Supplies:
large tin bucket (for your top base)
old chimes or any chimes make from pipes/brass tubes/metal tubes etc)
smaller tin bucket as your bonger
fishing line or nylon string to hang the chimes and buckets
wooden scrape as the spinner
tiny bolts (to use to secure your strings for hanging)
nail to hammer the holes in the buckets
hammer
paints of choice to paint a design theme on your buckets and spinner
assorted brushes to paint with
clear spary paint as finished sealer
Instructions:
Note:
If you are painting your buckets and spinner do that first. Let them dry completely then add 2 coats clear spray paint as a sealer. Then put all together with instructions that follow.
Take your largest bucket, turn it up side down and using your nail as your hole maker hammer holes in the buckets bottom (this will be your top of the bucket for hanging). Hammer in 3 holes with 2 located directly across from each other (for the nylon string to hang the bucket, the hole in the center is for the spinner to hang from.)
Then hammer 4 holes in the bottom side of the bucket while it is still in the upside down position evenly spaced out in 4 places around the bucket. This is where your chimes will hang.
Do the same to your smaller bucket (which is your bonger) but only put one hole in the center of the bottom after you have turned it up side down.
Take your nylon string or fishing line (I used black nylon string) and run a long piece through the bottom of the bucket on each side and tie it at the sides in knots to secure it for hanging.
Run your string or fishing line down through the center hole you punched and tie it off in knots to secure it in place and let as much needed hang down to add your smaller bucket next (turned up side down) then your wooden spinner last at the end. You would have drilled or nail punched a hole through your spinner to run your string through and tie it off in knots to secure it as well.
You can tie the nuts into the under section of each string you tie to keep the strings in place to make it more secure and not have to worry about the string coming through the holes you punched.
If your chimes already have holes in one end of each one run your string or fishing line through the holes on the chimes and leave your desired length of string hanging from under your bucket and then tie off and knot the chimes to secure them. Do all 4 chimes this way.
Hang and enjoy.
Note: If you use your buckets in the upright way filled with soil and plants keep in mind they will be heavier when hanging. I used heavy gauge plastic coated wire to hang the chimes high up in to the tree top and just tied it off and around a smaller tree so I could easily take them down if needed. The chimes themselves are about 6 foot tall so I wanted a large tree to hang them in. I painted a cabbage roses and hummingbird theme on each of the buckets and wooden spinner.
By Julie from TN
I have collected so much stuff from the beach, finally I put it to use. I hot glue gunned two pieces of beach glass, shells and rocks to string, then tied one end to a piece of wood (stick), then took a piece of ribbon and tied it to the end of the stick.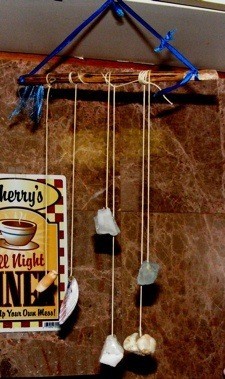 We made a circle of beads with wire and hooked them together.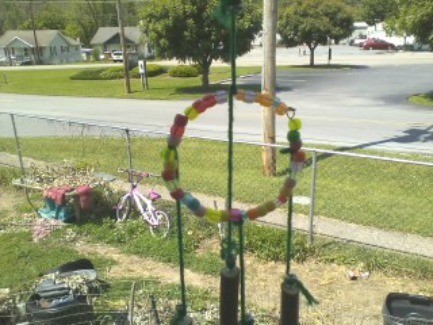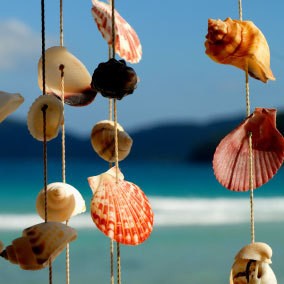 Tips and ideas for making your own wind chimes.
Making Wind Chimes
I use all sizes of natural wreaths as wind chimes. Going to a thrift store or yard sale, I look for the wreaths and gold dinner ware, or any unusual utensil. I drill holes in the dinner ware and using fishing line, tie them on the wreaths. The wreaths are level, which sometimes I use leather strands to make a "hanger" or I keep using the fishing line.
There are so many ways to make wind chimes. I use colorful beads, odd chime tubes, one inch tiles that are glued to a one inch piece of wood. Dig through your jewelry box. Those old pearl earrings could possibly be a piece to a wind chime.
By Tina Harrell
Sea Shell Wind Chime
A set of seashell wind chimes is a great reminder of a summer vacation at the shore. Kids and adults love to collect shells, and here's something creative to do with them!
View This Craft: http://www.thriftyfun.com/tf359973.tip.html
Clay Pot Wind Chime
We all love wind chimes. Me? I love the sound of wooden wind chimes. And this project allows you to have fun with your kids and create a chime made out of simple items. The end result is something to be proud of and looks great hanging out on the patio.
View This Craft: http://www.thriftyfun.com/tf409545.tip.html
Silverware Wind Chimes
Use old silver silverware for the best "sounds", and usually they are more ornamental than what you find in a dollar store or such.
View This Craft: http://www.thriftyfun.com/tf515101.tip.html
What have you used to make your own wind chimes? Post your ideas below.
Related