Many times the best way to enjoy your collectibles is to display them. It is important to find the proper way to display them so that they are safe. This is a guide about displaying collections.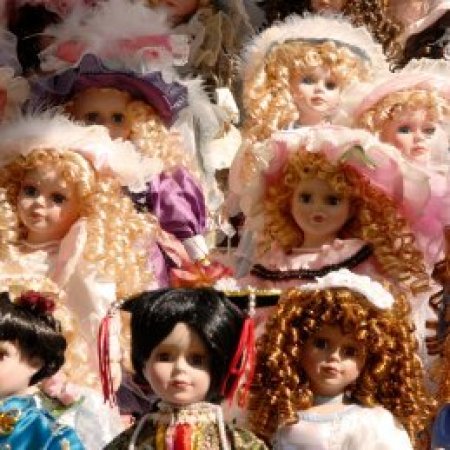 By lalala... 731 97
I have an old camera that I really enjoyed having out on a shelf, but it was always so dusty. I found a cloche at the store that fit perfectly over it. Now I don't have to worry about damaging the camera when trying to dust it.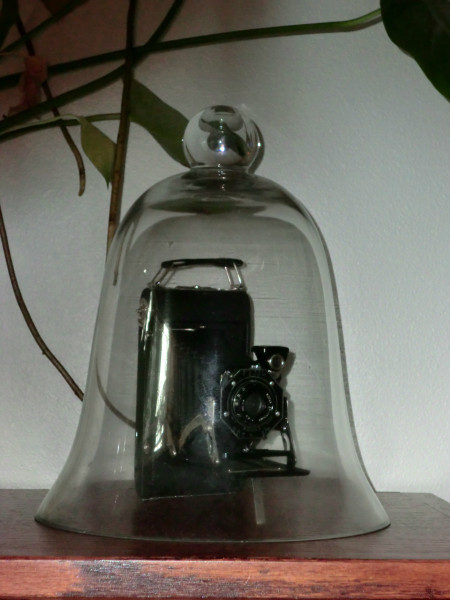 Directions:
By Susan from Morristown, TN 3 8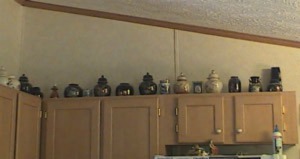 My kitchen cabinets don't set against the ceiling so I use this space to display my ginger jar collection, or I will put a flower swag on top and let the flowers hang down.
Collectables need to be shown and not stored away. It seems a shame to collect something we love and not show it. Displaying them is a way to say "this is what I love and this is what makes me, me". So take them out of the box or hidden on a shelf in the corner.
One way to do this is to find a special area in your home and designate it for "showing". The way I've always found attractive is having larger items in the back. If they're all pretty much the same size, then building a small step or putting them on blocks placed appropriately looks great, too.
You can make your steps and blocks out of wood pretty easily (or have hubby do it for you:) Stain them to make them match windows sills, etc.
Also, wrapping shoe boxes with material or wrapping paper makes a great look. You can change the look at any time just by changing the material or wrapping paper. Lastly, plant lights directed at your treasures is really nice at night while relaxing or during a party. Just have fun with it!

By Marg from Middletown, NY
By lalala... 731 97
My husband wanted to display a compass given to him by his stepdad. I found a small shadowbox frame and removed the glass. I attached a small cup hook to the top and painted it with black nail polish to make it less visible. The compass is suspended in the frame from the hook. Unfortunately, I was unable to use the glass because I wanted to have the compass cover open. So it needs to be dusted every once in awhile. We love having this special family heirloom out to enjoy! This would also work well for a cherished pocket watch.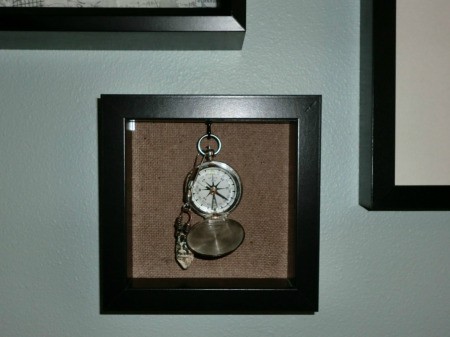 Directions:
By hopeful 27 135
I have collected tiny, little shallow bowls for years. They are so cute. I put them out on my dresser in my bedroom and use them for my earrings, bracelets, and necklaces. Now I can enjoy both the little bowls and my displayed jewels!
By Hopeful from Salem, OR
I'm a huge "I Love Lucy" Fan, and I'm an avid collector of her items varying from Barbies still in mint condition in their box, to watches, to a marble with her face on it!
I currently live in a small apartment, but would still love to show case my collection around my place. As of right now, they are taking up a great deal of space and are currently in storage. How can I show case these items in such a small space?
By Jaci from MO
---
Most Recent Answer
April 3, 2011
You could also just display a few at a time and change them out every couple of months or so.
---
By Leila B. 11 5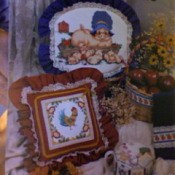 My solution to displaying collectibles is to sell them as quickly as possible or donate them to a museum where you can go look at them when you want and take an in-kind tax write-off. They are usually dust catchers. In my busy life, I do not have time to maintain them or have a lot of people over to look at them. Secondly my children are busier than I am and are not in the least bit interested in collecting the same things I like.
The collectibles are usually easily broken as well. They should be kept in a glass cabinet if you are going to display them at home. Or collect something that you are going to enjoy using each day. In summary, my solution for dealing with collectibles is to give them away to a museum or sell them.
By Leila B. from Brookings, OR