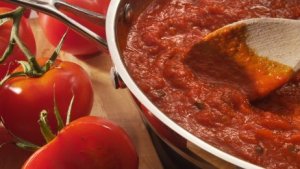 When faced with an abundance of tomatoes, making a relish can be a good way to preserve them. This page contains tomato relish recipes.
Ad
---
Solutions: Tomato Relish Recipes
Read and rate the best solutions below by giving them a "thumbs up".
Easy to make! Delicious to eat! Serve with cold meats or on sandwiches. Can be made with either green or ripe tomatoes. Overripe tomatoes (sometimes cheap to purchase) are ideal for this.
Ingredients:
1.5 kilo (3+ lb.) large green or ripe tomatoes
4 large onions
3 cups sugar
5 cups white vinegar
1 Tbsp. salt
1 Tbsp. curry powder
1 Tbsp. mustard
1 Tbsp. turmeric
1 cup plain flour
Directions:
Cut the tomatoes and onions into walnut size pieces and put in a pan. Add 2 1/2 cups sugar and 1 cup vinegar. Heat, stirring until sugar is dissolved. Bring to boil, and simmer 5 minutes.
In a separate bowl, mix the remaining sugar, vinegar, salt, spices, and flour.
Combine flour mixture with tomato mixture, and stir over medium heat until thickened and smooth (about 10 minutes).
Allow to cool, ladle into jars, and seal. Refrigerate until required.
Cooking Time:
15-20 Minutes
By Lorraine from Perth, Western Australia
Great way to use some of the veggies from your garden.
Ingredients:
2 medium tomatoes, coarsely chopped
1 small onion, chopped
1/2 cup green pepper, chopped
2 Tbsp. vinegar
1 tsp. sugar
1/2 tsp. salt
1/2 tsp. celery seed
dash pepper
Directions:
Combine tomato, onion, and green pepper. Stir together vinegar, sugar, salt, celery seed, and pepper. Stir into tomato mixture. Chill thoroughly. Drain well before serving.
By Robin from Washington, IA
Don't know about some of you but our garden is pretty well dried up now. Here is a great recipe for using up the green tomatoes that you have left on the vines.
Ingredients
2 gallons (or) 16 cups green tomatoes, cut in pieces
1 qt. (or) 4 cups Onions, peeled and chopped
2 cups jalapeno peppers, seeded and chopped
1/2 gallon (or) 4 cups white vinegar
6 cups sugar
1 cup salt
Directions
Mix all together. Bring to a boil in a large pot. Fill canning jars, seal. Put into a water bath. Do not overcook.
Source: this is the recipe that I had asked for and want to thank all that answered. I came to find out this is the one I was looking for and my neighbor happened to have it. This is like you get at Cat Fish King. Hope everyone likes it as much as we do.
By Jodi from Texas
Give a "thumbs up" to the solution that worked the best! Do you have a better solution? Click here to share it!
Questions
Here are questions related to Tomato Relish Recipes.
I made a batch of tomato relish. This is my second time, but it is way too salty. How can I fix it?
By Kim from Hobart, Tasmania
AnswerWas this interesting? Yes No
Ad
---
---
Most Recent Answer
By kim coppleman 1 1 03/16/20110 people found this helpful
Thank you very much guys for your help. Cheers.
---
I have lost my Ezy-sauce recipe book that I have had for years. I need the recipe for the tomato relish. It is not on the bottle anymore, but the sauce one is.
Hoping you can help me. Thanks.
By Elaine from Melbourne, Australia
AnswerWas this interesting? Yes No
Ad
---
---
Most Recent Answer
By Sally 16 225 02/15/20110 people found this helpful
(submitted via email)

I was reading the recipe for tomato chutney, the easy sauce one (original off the bottle) and they forgot to say to drain off the SALT before starting the cooking! Not a good mistake.

Kaye N.
---
I have just made a batch of green tomato relish. Somehow it seems to be too spicy as in perhaps too much curry powder or mustard. Any help to make this relish less spicy would be appreciated.
By Eileen B
AnswerWas this interesting? Yes No
---
Most Recent Answer
By ruthie 8 2 02/25/20120 people found this helpful
Try rinsing the relish with water before you use it as relish. Also, try cooking meat, such as chicken, pork or beef etc., in slow pot with the relish and do not add any other spices or salt. Dill pickles are good to do this way so maybe this method would work with your relish.
Does anyone have a recipe for green tomato relish? I have the recipe but can't remember if I have to put the jars in a hot water bath as there is vinegar in the relish and it is boiled already.

jho from Chassell
AnswerWas this interesting? Yes No
---
Most Recent Answer
By Cora 1 113 10/15/20080 people found this helpful
Here is the recipe I have for Green Tomato Relish:
1 gal. green tomatoes, chopped
1/2 cup salt
2 medium onions
1/2 medium sized cabbage head
4 large green peppers
2 large sweet red peppers
3 cups vinegar
2 tsp. celery seed
2 tsp. mustard seed
1 tsp. whole cloves (tie in a muslin bag)

Mix tomatoes with salt, let stand overnight; drain. Put onions, cabbage, green & red peppers through food chopper, using a coarse knife. Place tomatoes & chopped vegetables in large kettle. Add vinegar, celery seed, mustard seed & cloves. Cook until mixture is tender & quite thick, about 35 minutes. Remove cloves. Pour at once into sterilized jars and seal.
Archives
Thrifty Fun has been around so long that many of our pages have been reset several times. Archives are older versions of the page and the comments that were provided then.

Does anyone have the recipe for a green tomato relish like they serve a Catfish King or similar places?

Thank you for your help,
Jodi from Texas
Answers:
RE: Green Tomato Relish
Try recipezaar.com. They have tons of good ones! (06/02/2007)

By Beth - MA
RE: Green Tomato Relish
vegetables
2 quarts(about 3 1/4 pounds) green tomatoes
4 large onions
6 bell peppers(green,yellow or red)
Chop vegetables fine, by hand or in the blender with water. Drain very well
brine
2 cups vinegar(white or cider)
2 cups sugar
1 Tbsp celery seed
1 Tbsp mustard seed
1 Tbsp turmeric
1 Tbsp salt
Can substitute 2-3 Tbsp pickling spices (in a tea ball or cheesecloth bag if you do't want them in relish)
Mix brine, and bring to boil in large saucepan. Add vegetables, and simmer for 30 minutes, stirring occasionally.
Let cool, and put in sterile jars or refrigerator containers (put containers through the dishwasher with no detergent to sterilize) Refrigerate.
Will keep in the refrigerator for about 9 months.
Recipe can be halved if it makes too much for you to use.
I just opened my last container of relish that was made in November 2006 when we got our first freeze, and it is as good as ever.
(06/04/2007)

By jean
RE: Green Tomato Relish
Look on the web site www.cook.com. I have always found what I have been looking for on their site. They have a few recipes for your relish or just type in green tomato relish and do a search (06/04/2007)

By EVY
RE: Green Tomato Relish
Just cut up about 15 or 20 green tomatos , about 3 or 4 bellpeppers, about 6 lg. white onions, about 10 cucumbers and mix all together, pack into warm jars, meanwhile take one pkg. of Mrs. Wages or Ball bread and butter pickle mix and prepare in a pot, bring to a boil, then fill the jars and leava about 1/4 in. from top, put the lids and rings on and give a water bath of about 20 mins. in a canner. This is similiar to the one at most of the Catfish restaurants. (06/04/2007)

By Ann
RE: Green Tomato Relish
Found one here!
http://southernfood.about.com/od/greentomatoes/r/bl10712d.htm (06/04/2007)

By ImTrish
RE: Green Tomato Relish
I don't know if this is what you are looking for but I have a recipe that my mother made for me sometime ago it is delicous
24 greens tomatoes
4 med onions
4 red peppers
4 green peppers
3 hot peppers
grind all these and combine
2 T salt
2 T mustard seed
2 T celery seed
3 c white sugar
3 c vinegar
Bring to a boil simmer ten minutes and can (06/05/2007)

By Beth
I would like the recipe for tomato relish using Wild's Ezy-sauce.

Teena from Highclere, Tasmania
Feedback:
RE: Tomato Relish Wild's Ezy-sauce
I can't find one, however there are lots of recipes for tomato relish out there. Perhaps you can experiment and recreate what you are looking for. (02/27/2008)

RE: Tomato Relish Wild's Ezy-sauce
8 kg ripe tomatoes
3 kg onions
2 tablespoons Salt
4 tablespoons Dry Mustard
4 tablespoons Curry Powder
3 Kg Sugar
1 Bottle Ezy Sauce
1 Cup Flour
1 Cup Water


Peel tomatoes and onions, slice and place in a large bowl. Mix in salt, cover, and stand for 12 hours. Empty tomatoes, onions and salt into a large saucepan and bring to a boil. Mix mustard and curry powder together with about 1/2 cup water to make a thin paste. Stir into pan with sugar and Ezy Sauce. Boil for about 2 1/4 hours. Mix about 1/2 water into flour until smooth. Stir into pan contents and cook further 15 minutes. Fill, using a small jug or ladle into hot sterilized bottles or jars. Cover loosely, cool, then seal.


Makes approximately 7.5 liters. (04/16/2008)


By honkybear
RE: Tomato Relish Wild's Ezy-sauce
Thanks so much for Tomato Relish Wild's Ezy-sauce recipe. It took a while to find. You are a champion for posting on this site. Many thanks. (07/11/2008)

By happymama
RE: Tomato Relish Wild's Ezy-sauce
Great recipe. I use it all the time, but I cut back on the sugar and add golden syrup. That's great. (11/14/2008)

By ken