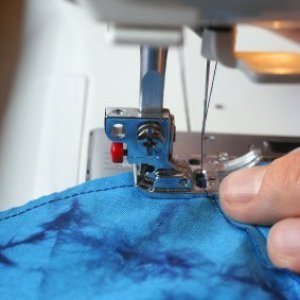 You just finished sewing a seam only to find loopy loose stitches instead of a nice neat line of tight stitches. Does your thread constantly break? The problem is probably with the machine's tension. This is a guide about adjusting the tension on your sewing machine.
Questions
Here are questions related to Adjusting the Tension on Your Sewing Machine.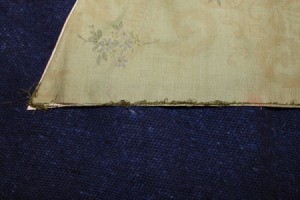 I have a relatively new Brother x-5. It was working fine til my latest project when my upper thread seemed to gradually loosen. Adjusting it with the dial did nothing. Now it's a complete mess and I have no idea how to fix it. I re-threaded, cleaned the mechanism and even adjusted the bobbin, but no improvement. How do I fix this? (photo is of the reverse side of stitching)
By Jane
I just got my sewing machine. It is a Singer Seventy. I am very inexperienced with sewing and am just learning. I just filled my bobbin and threaded my machine. Everything was fine until I got to the part of setting my thread tension. Right now the dial is set on 8. I need it to be on auto, but the dial won't turn at all. I read in my manual that the foot needs to be down. I put it down and it still won't move. I've tried turning it off, but still no luck. Please help!
By Sarah c
---
Most Recent Answer

By Catherine12/30/2013
Usually you have to push it forward (or press it) and then turn it to the right position.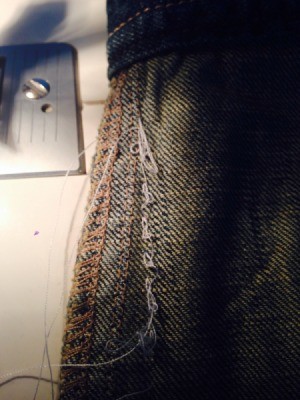 I have a brother LS 2125. During sewing the top side of fabric is nicely sewed, but bottom side is in a mess. It is not properly sewed and loose. The thread breaks very easily. It's really very irritating. Attached a bottom side image for your reference.
By Abel
---
Most Recent Answer

By Frugal Sunnie11/24/2013
Hi Abel, hopefully the link MissRebecca posted helped you sort your problem:)

I'm guessing from the appearance of your loopy stitching that you have a side or front loading bobbin system, so to expand on the helps I've posted over the years (lol, see the link:), the problem you're having is stemming almost certainly from your bobbin loading technique.

If you have the manual for your machine, read through it carefully to be sure you're loading the bobbin case correctly into the machine. The front and side load bobbin systems are VERY tricky to place correctly and will always cause the problem you are experiencing if incorrectly loaded. If your machine hasn't been serviced recently, consider having it serviced by a qualified (factory trained is best, check the advert for those words) and ask him/her to check your loading skill. He/she can help you learn the best way for your specific machine to load the bobbin case into the machine.

If you have the money, consider a new sewing machine - the trouble you are having is very frustrating and can put a sewer off sewing altogether. I teach sewing here in the UK and try to steer my sewing students to top-drop in bobbin load systems. These systems are practically jam-proof and end 99.9% of all sewing frustrations.

Good luck, please update and let us know what turned up with your machine!
My top thread is not tightening around my bobbin thread. I've done everything I could probably think of and it's so aggravating. I don't know what to do. I'm a semi-new machine user. My sewing machine is a Singer Simple.
By Courtney
---
Most Recent Answer

By Frugal Sunnie10/23/2013
First of all, here is a link to a free download of your manual from the Singer website:

http://www.singerco.com/uploads/download/1180_2263(eng_spa_fre).pdf

Right then, try answering the following questions while sitting at your machine:

Have you just wound a bobbin and forgot to snap the pin back so that the machine is back to sewing mode? (If not, simply snap the pin back towards the head, should solve the problem)

Have you got the front load bobbin case properly loaded and seated? (This one is VERY hard to do! The front load bobbin system is the reason a lot of new sewers give it up - seating a bobbin case whilst holding the bobbin in the case is very, very difficult and takes even experienced sewers several tries sometimes. I always steer my new sewing students to the top drop in bobbin system machines for this reason.)

The way to be sure it's seated is to listen for the 'clicks' that happen when the bobbin is properly loaded into the case, and when the loaded case 'seats' correctly into the machine.

Seating the bobbin case incorrectly, and incorrect threading of the bobbin to the case are almost always the reasons upper and bobbin threads don't lock in the seam.


My Janome Excell 4014 is looping stitches on the underside of my sewing project. Can anyone please tell me how to fix looping and what I think is a jumping sound on my sewing machine? I have lost my manual so I can't trouble shoot. I am trying to start a new hobby and am not able to quilt due to the stitching. Thank you in advance for your help :-)
By Christine S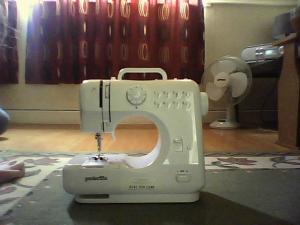 My sewing machine won't sew and the loop from the spool is coming through the material, but the cotton from the reel is just threading through the loop without making a stitch. Also the cotton from the reel is very tight. What should I do?
By Carol
---
Most Recent Answer

By Frugal Sunnie06/08/2013
Refer to your user manual to learn where your tension adjustment dials/knobs/control pad is located. The manual will have photos or line drawings with examples of the appearance of too tight or loose tension, and will tell you how to adjust the tension accordingly.

If you don't have the manual you can usually find a free download at the manufacturer's website. Google the maker's name and the model name/number of your machine to find the website. Then follow the navigation links to find your manual.

Generally, loops on the bottom means tension is too loose; loops on the top that the tension is too tight.

Most machines use a numbering system to adjust tension so use the following formula:

To increase (tighten) dial to a higher number
To decrease (loosen) dial to a lower number

Use a doubled over scrap of your fabric as a practice swatch to run several inches of the stitches for each increase/decrease you make to the tension adjustment; when you find the right setting for your fabric, write that setting down for further reference during that project.

You'll want to write down the tension setting because in sewing, tension adjustments will vary depending on the stitch used and the thickness of the fabric you want to stitch at any given point in the project.

For example, let's say you are going to use a simple zig-zag to finish the raw edges of the seams. To make a really nice pucker-free zig-zag edge finish you need to decrease (loosen) the tension slightly; to stitch through several layers if you are using a flat-fell finish you would want to adjust the tension to a looser setting also. Decide your best tension according to a practice swatch.

So you are best served to write all those different tensions for each stitch setting down-makes it so much faster and easier to keep track between the different sections of your project!

**Looping, bunching, snarling, and threads that can be easily pulled from the fabric do not always indicate a need to adjust tension. Ask yourself, "Before beginning sewing, did I...":

Check the manual to be sure I am using the correct thread and needle size for the fabric I am sewing?

Make sure my needle is in new or good condition, is sharp, and is correctly placed in the machine?

Ensure my bobbin thread is also the correct gauge and type for the fabric I am sewing?

Make sure my bobbin case is correctly placed into the machine?

Check that my machine is set for the stitch I want to use?

Look to see that the automatic tension feature (if on your model) set correctly?

Don't give up:) There is nothing quite as satisfying as sewing garments or home furnishings but it does take practice.
I have a Brother XL 3022 sewing machine. The tension on the bottom is loopy. Someone mentioned bobbin tension, but I don't know where on the machine it is.
By Lesley
---
Most Recent Answer

By Frugal Sunnie03/08/2013
First of all, download a free copy of your sewing machine manual here:
http://www.brother-usa.com/ModelDoc ... Users%20Manual/UM_XL_3010_EN_239.PDF

Now, look on page 2 to locate the tension adjustment knob on your machine-it's that wheel looking thing sticking out of the top of the machine a little-see it over there on the left of your machine near where the thread feeds down to the machine needle? That's your tension knob (the manual calls it a dial, the terms are pretty much interchangeable).

Next, look on page 19 of that manual for complete step-by-step directions for adjusting your sewing machine tension correctly including a diagram showing how to decide what is wrong and how to correct it.

Finally, based on what you are describing in your posted question, it sounds as though you are seeing loops of thread around the line of bottom thread stitching (better known as the bobbin thread, btw).

I notice that the Brother manual describes stitches as 'locks' which can be a little confusing but if you stare at those pictures and read the text several times you'll see that your problem is that your tension is too loose.

Note: The illustration for correct tension appearance is on page 20. It's a lot confusing because between the directions for increase/decrease and the illustration there is the bit about bobbin tension adjustment.

So you'll need to dial that tension knob to a higher number. Doing that will increase the tension on the threads as they pass through the tension discs inside the machine.

If the loops were showing on the top you would need to loosen (or 'decrease') the tension by dialing to a lower number.

Be sure you are using the right size needle, and run a test strip (or several) on the fabric you are trying to sew until you find the right tension for that fabric-needle-thread combination. Write that down on the pattern (if you are using one) so that you can restore those settings if you use my bonus tip below and therefore change the settings.

In addition to examining for loops and puckers, do the 'snap' test by holding the test strip in both hands and pulling the strip at both ends in a 'snap' motion. If the thread breaks it means your tension is too tight so you'll need to loosen (decrease) it.

Remember-to tighten (increase) you go up a number, to loosen (decrease) you go down a number:

Increase-up
Decrease-down

BONUS TIP-when sewing a zig-zag stitch, for example to finish a seam or when sewing knits on a machine without a specific knit stitch setting, LOOSEN THE TENSION one number down from whatever you are using for the straight stitching. Doing so means your seam finish won't pucker or break:)

OH! Never-ever-never try to adjust the tension anywhere but at the dial atop your machine. The bottom tension (better known as bobbin tension) is set at the factory and only in extremely rare situations does it require adjustment by removing the bobbin case and turning a screw - DO NOT attempt. It's just too easy to over-turn that tiny little screw and then too easy to forget to set it back to the original position for the next project. See the manual page 19 for more on bobbin tension.
Can you use upholstery thread in the bobbin? I did and the underside of material is loopy. I tried adjusting the tension, but it didn't get any better. I have a Brother sewing machine, model XL-3022.
By Julie R.
---
Most Recent Answer

By Frugal Sunnie03/05/2012
Most domestic sewing machines are not designed to handle the heavier upholstery threads in either upper or lower parts of the machine. Check your manual and the manufacturer website to see if your machine can sew with the heavier threads, and on the heavier weight fabrics.

If your manual and manufacturer indicate your model should be able to handle the tough stuff, you may need to use a different needle (find the information on which needle size to use on which fabrics in the manual), and you may need to put less thread on the bobbin than you would if using a lighter weight thread.

You may also need to adjust not only the upper tension, but the tension on the bobbin case. That info will also be in the manual.

Another thing you might try is a thread designed for heavy duty work on a domestic machine. Look for the words 'heavy duty' that aren't combined with the additional word 'upholstery'. If you are lucky enough to have a sewing centre near by, ask one of the staff for advice.

Be sure to use thread that is the same content as your fabric-for example cotton thread on cotton fabric, polyester on synthetics. Using the wrong content can cause tension (pun intended:) problems, and can also cause the stitching to break if using cotton thread through synthetic fabrics. If using polyester on cotton fabrics, the thread can cut through the fabric leaving behind a rather neat scissored look to the tear.
I have a Janome 423s. The bobbin thread runs along the bottom of the material. What is causing this? I have tried fixing it but with no luck.
By karen65ae from UAE
---
Most Recent Answer

By Phyllis Barton09/22/2010
The top tension is too loose. It may not be working correctly. Also check to see if the machine is threaded correctly. Sometimes the thread is not properly seated in the groove between the two disks.
I have a Babyloc Imagine serger that needs a bit of adjustment. The overlock is folding over the fabric and the tension is too tight. Does anyone know how to adjust the tension on this serger? I have tried everything and hate bringing it to a center; they charge so much.
By Rose from Malvern, PA
I have a problem with my sewing machines. I have 2 different brands, different ages, but the same problem with both so I'm sure it's me and not the machine.
Here's my problem. The tension keeps being so tight it breaks the thread. Also, the thread keeps getting all tangled up in the bobbin area. Can anybody tell me what I'm doing wrong?
Since I'm sure it's me and not the machine I refuse to buy a 3rd one. Plus I took both of them in last year for repair and the first time I went to use them I had the same problem. So, it's got to be me.
By Cricket from Parkton, NC
---
Most Recent Answer

By Kay03/13/2010
It definitely sounds like you have your machine threaded incorrectly. I do some sewing, and my parents own an upholstery business. This sounds like improper threading vs tension.
Solutions
Share a solution today!
Archives
Thrifty Fun has been around so long that many of our pages have been reset several times. Archives are older versions of the page and the feedback that was provided then.
I need some help with my new small sewing machine my mum bought me for Christmas. I'm having trouble with the tension in the bottom bobbin. How can I get the right tension when there is no guide for the thread to even out on the bobbin when you start a new one, I just use my finger?
As when I was sewing, the bottom of the material had small loops and the bobbin thread was not taking up in sections. I've tightened the tension guide for the top one but that doesn't seem to help. Can anyone help me please as I don't want to give it up and lose interest? I hope this makes sense.
Thanks,
Lambchop from Western Australia
---
RE: Adjusting Sewing Machine Tension
I used to know more details on how to do this but I'll give it a try. You could also call your local sewing machine retailer for help.
The thread in the bobbin makes loops on the bottom of the material. You do not want loops that stick up, that means you don't have enough tension. Nor do you want loops that pull too much, that means you have too much tension. You want loops that are firm and are flat on the material. If your bottom thread is breaking you might have too much tension in the bobbin. Release a little tension.
You might also be using cheap thread. I compared thread from the dollar store and from a sewing store. The sewing store thread was much thicker and stronger, and well worth the extra money (1.75 us for 1 spool). I could break the dollar store thread with my bare hands.
Likewise with the needle, it makes loops on top of the material. You want firm, but not puckering loops. (01/17/2007)
By bulrush
RE: Adjusting Sewing Machine Tension
It sounds to me like your bobbin tension is to loose. You need to tighten it. Did you get a manual with your machine? If so, look under "tightening bobbin tension". There's a little screw on the bobbin case, turn it to the right a little at a time. Sew a seam and check the stitches after each tightening.
I hope you understand this, maybe there is someone out there that can explain this to you better than I can. I hope I've helped. (01/17/2007)
By msettamae2
RE: Adjusting Sewing Machine Tension
I agree that you should check in the manual that came with the machine. If the machine was not purchased new and there was no manual, do a search online for the brand of machine that you have, and you might be able to find a manual to order, or one to download. The screw on the bobbin casing, as stated in the other post, is probably what you need to adjust, depending on the brand of machine. (01/17/2007)
By teachpad
RE: Adjusting Sewing Machine Tension
One thing I've discovered with my Bernina is that I can't usually use thread from the same spool on the top and in the bottom. I have tension problems - discovered the solution by accident. Give that a try and see what happens. (01/18/2007)
By Marlene
RE: Adjusting Sewing Machine Tension
Have you tried to load your bobbins with more even feeding, even if you have to use your fingers to help it out? Try to do it evenly, because it can cause unequal bobbin threading sometimes if unevenly tight on the bobbin.
Also, you just MIGHT have the bobbin in backwards. Try reversing it if you cannot find the manual or help otherwise. I've taken machines completely apart and replaced every single piece in cleaning and oiling, etc. but it's been over thirty years since I did it. The manual on a similar model might work, if all else fails. You might find one on the Internet. God bless you. : ) (01/20/2007)
By lyndagayle62
RE: Adjusting Sewing Machine Tension
Hello to everyone who helped me with your tips. I found out that the bobbin was the wrong way around and I didn't know there was a right and wrong way, but there is. I also found afterward I have to sew in short spurts as the top thread gets caught around the needle arm and gets tight to the point of stopping the machine and then it knots up on the back. It took me all this time to work it out and I nearly gave up and passed the machine to my partner to use as spare parts, that would have been a shame! So thank you once again to everyone who replied.:-) (01/30/2007)
I received a serging sewing machine for Mother's Day and I finally took it out to use. The tension is all goofed up and the instruction book's tips are not helping. The stitches are all loopy like is was crocheted instead of serged. Has anyone else found a solution to adjusting tension on a serger?
Judy from Winfield, IL
---
RE: Adjusting the Tension on a Serger Sewing Machine
I suggest that you first go to the place you purchased it from and have them help you. My store gave free classes with the purchase of any new machine. If you have no luck you can always contact the Better Business Bureau.
Also there are other books on sergers, however your book that came with the machine should be all you need. Are you changing all the tensions or one at a time? The side that's loopy needs to be tightened. I hope this has helped some. Judy (09/12/2006)
By bjptl
RE: Adjusting the Tension on a Serger Sewing Machine
My serger is set on 4 all the way across. I hope that helps. (09/13/2006)
By June
RE: Adjusting the Tension on a Serger Sewing Machine
Look at all your threads, one by one. Check to see if each is totally in the disk at the top. Be sure all threads are threaded in their proper places. Is the needle new? Are all threads of the same weight? These are things you can try. I have 4 sergers and they all give me trouble from time to time. With lots of patience I am able to get them working.
Loopy stitches mean it's too loose. But the stitches will be loopy by themselves (no fabric). Is your machine new? Have you checked the FAQ in the book? On the website of the make of machine? There are lots of things you can try, but I understand your frustration. (09/13/2006)
By Cathy
RE: Adjusting the Tension on a Serger Sewing Machine
I've had to check the website of the serger's manufacturer for their online instruction manual. They are usually more complete than the manual that comes with the serger. I recently bought a 5 thread Singer serger and I was having a very difficult time threading it. The online manual was a life saver. (09/28/2008)
By Nicki
How do I go about adjusting bobbin tension on a Singer sewing machine?
After many tries I cannot adjust the tension dials on my serger (new). On the underside, the loops are too big, any help?