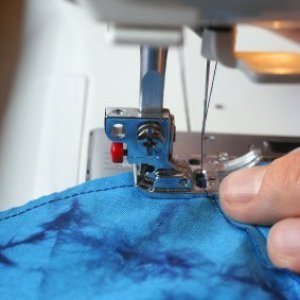 You just finished sewing a seam only to find loopy loose stitches instead of a nice neat line of tight stitches. Does your thread constantly break? The problem is probably with the machine's tension. This is a guide about adjusting the tension on your sewing machine.
Ad
---
Solutions: Adjusting the Tension on Your Sewing Machine
Read and rate the best solutions below by giving them a "thumbs up".
You may need to adjust your tension dial with your fabric you are using and kind of thread, also adjust to thickness of fabric. Always use good sharp needles with your sewing and keep machine clean and oiled.
Give a "thumbs up" to the solution that worked the best! Do you have a better solution? Click here to share it!
Questions
Here are questions related to Adjusting the Tension on Your Sewing Machine.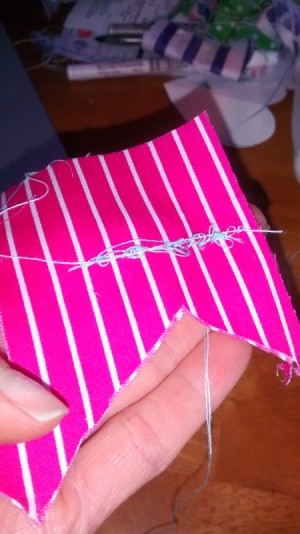 I'm having issues with my sewing machine's tension. I was using it just fine and then when I changed the setting from a straight stitch to zig zag and then back again, the tension is all off. It doesn't seem to matter how high I turn the setting (to increase tension) I still get loose, sloppy stitches, and the top thread is getting caught in with the bobbin thread and coming up with it. :( Does anyone know what's up and how to fix it?
By Ashley D.
Ad
---
---
Best Answers

By Frugal Sunnie [11]02/22/2015
Re-thread as suggested by the first answer, making sure you're using the correct needle and thread for the fabric you're sewing. Yes, I know it was working fine until the zig-zaging but sewing machines will try so hard when straight-stitching that we can get by many times using all the wrong needles and threads - until we try to change the stitch pattern and then it's as though the machine woke up and said 'Oh hey wait...'.

More than likely though, what has happened is that there is a bit of thread or a chunk of lint/fuzz in the bobbin area somewhere. If you have the manual, use it as a guide (this problem is often addressed in the troubleshooting pages of a manual and includes diagrams showing where and how to clean) to open and clean the bobbin area.

Also using the manual, take some unwaxed-nonflavoured dental floss and floss the tension discs IF the discs are in a knob jutting out from the front of your machine.

Either or both should resolve your problem - if not, and especially if your machine is a vintage (older than 15-20 years) model, you more than likely coincidentally used the zig-zag feature just as the bobbin gear gave up the ghost. The bobbin gear teeth on most machines built after the mid-late Sixties are usually made of silicone, and these do wear after many sewing hours.

This isn't a home fix - look in your local telephone directory for the names of near-by authorised repair techs for your make machine (Singer, Brother, Janome, Viking, etc).

These people will have the knowledge, tools, and access to spare parts that most home sewers don't. Be sure to ask if the repair part is new or salvage and I strongly advise buying a new-under-warranty, comparable feature machine if the repair part is going to have to be salvage (no salvage part is EVER as reliable as a newly milled one). Also be sure to get a cost estimate before you even hand over your machine so you aren't given a nasty ticket shock at the end of the repair(s).

If you don't have the manual, you can usually download a free copy from the maker's website.
---
Best Answers

By Priscilla [1]02/17/2015
I had that problem just a week ago. I had been sewing and changed stitches and filled the bobbin. Got back to sewing and it happened. I tried everything then took the thread out and got a different spool and it worked great. So you might try changing thread, put the tension back on original and rethread. Your thread spool might be to old.

I have a Singer 413 zig zag machine. What is the proper tension setting? How can I set it to a small stitch? There is no manual. Thank you!
By Linda H.
Ad
---
---
Best Answer

By Frugal Sunnie [11]02/22/2015
First of all - here's a link to a free download pdf from the Singer website for your machine:

http://www.singerco.com/uploads/dow ... 0826209952d04b99bc6962f8ea588653.pdf

If the link doesn't take you straight to the download (my links usually go straight to the download but on occasion take you to the Singer support page instead), it will take you to the Singer page for finding the right manual - use the search feature and type in '413' (omit punctuation), then click on the free download. I always print these out and put them into a 3-ring binder for my sewing students and machine repair customers here in Scotland because it's so much easier to use the manual in a flat open configuration.

Now, the tension setting for zig-zag sewing should always be at least one number looser than for straight stitching, and depends on the fabric, thread, and needle you're using. It's not length that you need to determine and set for zig-zag sewing, too, it's width. That takes some experimenting using a test scrap of your fabric - Bonus, you'll also figure out your tension setting with the test swatch, too:)

The manual will tell you everything you need to know about setting the tension on your 413, and it will also show you how and when to adjust stitch length and width.

Happy sewing!
I have a problem with my sewing machines. I have 2 different brands, different ages, but the same problem with both so I'm sure it's me and not the machine.
Here's my problem. The tension keeps being so tight it breaks the thread. Also, the thread keeps getting all tangled up in the bobbin area. Can anybody tell me what I'm doing wrong?
Since I'm sure it's me and not the machine I refuse to buy a 3rd one. Plus I took both of them in last year for repair and the first time I went to use them I had the same problem. So, it's got to be me.
By Cricket from Parkton, NC
---
Most Recent Answer

By Kay03/13/2010
It definitely sounds like you have your machine threaded incorrectly. I do some sewing, and my parents own an upholstery business. This sounds like improper threading vs tension.
I have a Janome 423s. The bobbin thread runs along the bottom of the material. What is causing this? I have tried fixing it but with no luck.
By karen65ae from UAE
---
Most Recent Answer

By Phyllis Barton09/22/2010
The top tension is too loose. It may not be working correctly. Also check to see if the machine is threaded correctly. Sometimes the thread is not properly seated in the groove between the two disks.
I have a White sewing machine that is from the 1960s. I am trying to sew a sheer fabric and I am using a #11 needle and Talon size 50 thread. I have replaced the needle, rethreaded the bobbin, rethreaded the machine, and still the thread loops on the underside. I have adjusted the tension on the top. What else can I do?
By Rose
---
Most Recent Answer

By Frugal Sunnie [11]12/08/2014
Try a No 9 size needle, and be sure your feed dogs are set for the fabric you're using.

Also, try flossing (yes, dental floss, unwaxed:) the tension discs - it's done just the way you do your teeth! Wipe the piece of floss with some 70-92% isopropyl alcohol (not the green stuff, it's got oils in it!) and look for bits of lint and fluff on the floss; you may also see some 'grime' come back on the floss.

A last resort (as in very last resort!) try to adjust the BOTTOM tension by turning that teeny tiny screw in the bobbin casing a very teeny tiny bit left or right - try to sew a line as a test, if this helps but not enough, turn a teeny tiny bit again then test, and again then test, and again until your tension is sorted properly. Be VERY careful when turning that screw because...

If none of the above helps, it's time for a trip to the repair tech - among other things, the bottom bobbin tension gear may need replacing/adjusting and this is best done by a qualified tech - bottom bobbin tension is so delicate most manufacturers will state in the user guide that they really do not want the home user attempting to adjust it.
I recently acquired a Singer 319W. I was sewing 2 pieces of fabric together and it worked fine. Then I doubled up the fabric, but when I started to sew, the needle stopped when it hit the fabric, but the wheel kept turning. When I went back to the original 2 pieces of fabric, it was fine. Help!
By Kris
---
Most Recent Answer

By Frugal Sunnie [11]12/04/2014
Hiya from Scotland, Kris, where I teach sewing and do some vintage machine repair for my students - mostly on Singers!

Your Singer 319W Swing-Needle machine should be able to take that thickness of fabric as it was built to handle everything from chiffon to farm weight (leathers, heavy duty feed sacks, etc) - since it isn't, there may be several reasons why it isn't:

Did you adjust the feed dogs for the extra thickness?
Did you adjust your upper tension?
Are you using the correct needle and thread for the weight of the quadrupled fabric?

*Solutions for all of the above are listed in the user guide (owner manual), here's a link to a free download if yours has gone walkabout:

http://www.singerco.com/uploads/dow ... 5559db4967c61611a81fa4ec0253dd97.pdf

And here's a neat free download of an actual scan of an original (ignore the K designation, all it means is that machine the manual was printed for was built here in Scotland at the Clydesbank factory - have a look and you'll recognise all the same parts as on your W, depending on model year, the slight differences are mainly cosmetic only:)

http://ismacs.net/singer_sewing_mac ... inger-319k-sewing-machine-manual.pdf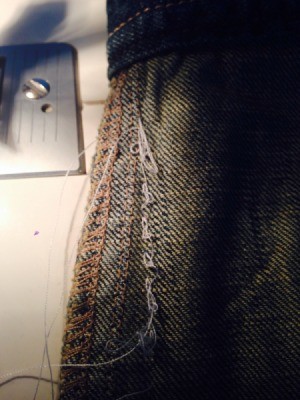 I have a brother LS 2125. During sewing the top side of fabric is nicely sewed, but bottom side is in a mess. It is not properly sewed and loose. The thread breaks very easily. It's really very irritating. Attached a bottom side image for your reference.
By Abel
---
Most Recent Answer

By Frugal Sunnie [11]11/24/2013
Hi Abel, hopefully the link MissRebecca posted helped you sort your problem:)

I'm guessing from the appearance of your loopy stitching that you have a side or front loading bobbin system, so to expand on the helps I've posted over the years (lol, see the link:), the problem you're having is stemming almost certainly from your bobbin loading technique.

If you have the manual for your machine, read through it carefully to be sure you're loading the bobbin case correctly into the machine. The front and side load bobbin systems are VERY tricky to place correctly and will always cause the problem you are experiencing if incorrectly loaded. If your machine hasn't been serviced recently, consider having it serviced by a qualified (factory trained is best, check the advert for those words) and ask him/her to check your loading skill. He/she can help you learn the best way for your specific machine to load the bobbin case into the machine.

If you have the money, consider a new sewing machine - the trouble you are having is very frustrating and can put a sewer off sewing altogether. I teach sewing here in the UK and try to steer my sewing students to top-drop in bobbin load systems. These systems are practically jam-proof and end 99.9% of all sewing frustrations.

Good luck, please update and let us know what turned up with your machine!
The top stitch is OK but from underneath you wll find a lot of clogged thread. Please help. Thnx.
By Marcon
---
Most Recent Answer