Previously House Trained Dog Peeing Indoors
Your dog could be reacting to changes in the household or possibly have a health problem. This guide is about previously house trained dog peeing indoors.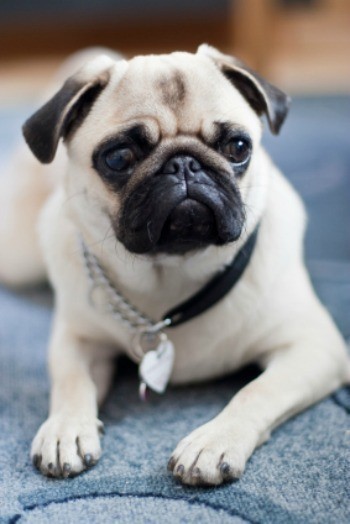 Filter

: All Articles
Sort

: Relevance
I noticed last night that one of our dogs has been peeing on like everything! I got looking and it's like he has peed on any box or basket that's on the floor, even the back of the couch! The younger one wears a belly band (he's not neutered yet) because we thought he was the culprit in the past for a few accidents. I am surprised that the older one (he's 4) is doing this, not sure if he smells old accidents or what. Any ideas on what to use to clean a big amount/area, carpet, couch, wicker basket, etc.? Im afraid to even have anything on the darn floor at this point! Could it be because the younger one isn't fixed yet. I am frustrated, any help would be appreciated! Thanks.
September 9, 2016
0

found this helpful
How old is the younger one? Is he adolescent? Hormonal changes in adolescence will make him start to smell more like an adult male, which can lead your older dog to do this territorial marking behavior. It may eventually lead to aggression and fighting if not stopped. So try to get the younger dog neutered when your next check comes in.
There are people who argue for a later neuter because it's possible it's better for the health of the dog in the long run. I don't know if that's true or not. It hasn't been proven to my satisfaction.
I do know that getting a dog neutered before they are six months often solves behavioral problems before they even start, and can keep dogs in your household from fighting over things like territory and females.
My Lulu, a Japanese Spritz is potty trained and recently has been pooping and peeing sometimes at home. We bought her 3 weeks ago and she recently started sneezing and peeing inside. What should I do?
By Diana from Ghazieh, Lebanon
February 17, 2015
0

found this helpful
Best Answer
I have some questions here. You say she is certainly potty trained, yet you only bought her three weeks ago. What is your guarantee she is potty trained?
Was the dog in a kennel, a store or in a person's home when you bought her?
I would suggest you act as if her house training was incomplete and continue her training just like you would a puppy.
February 18, 2015
0

found this helpful
Best Answer
Potty training is not complete until a dog is about a year old. Keep working with her and I am sure she will improve. Take her to the Vet to check out the sneezing. Make sure she has had her vaccinations.
My grandson who was born 5-1-2016 and his mum live with me. My dog has never peed in the house before, yet for 2 weeks now she keeps peeing on her bedding and just a few days ago peed on my daughter's bed. I don't know what to do.
August 14, 2016
0

found this helpful
9 year old Boston terrier that has been house broke and a female also, we rescued a puppy and all o's a sudden 2 years later both of them and the now the 2 year old have been peeing a lover the house.what can we do?
August 29, 2016
0

found this helpful
Hi We have a similar problem. We adopted a 2 year old male dog about 9 months ago. He rarely had any peeing incidents in the house. Recently he has started peeing on our nice rugs, for no reason at all. He is let out at the appropriate times etc. He seems healthy and happy. Why is this happening now and what can we do to stop this behavior?
BTW we adopted another female dog a few months later, but believe this has nothing to do with it, as this behavior just started recently.
Any suggestions appreciated!!
My dog, Yogi, is 3 yrs old. He has been with me since he was 1 and a half. Although we bring him outdoors 3 times a day he is still peeing in the house randomly. Please help with some possible solutions, as I fear my hubby is getting fed up with his actions and I'm afraid he wants to give him up for adoption. I would hate to see this happen.
By Alicia
March 3, 2015
0

found this helpful
Best Answer
There can be many reasons why Yogi has trouble keeping his urination needs to your schedule. He may have a medical problem that results in his inability to hold his urine. Take your dog to your vet to rule out any medical issues. You vet can also help you with suggestions to help you help Yogi. If possible, you might consider a "doggie door" to allow Yogi to go outside when he needs to pee.
July 6, 2016
0

found this helpful
My dog is a three year old haveneese and he still pees in the house every now and then can't let him run arround house keep in kitchen but am un comfortable when I bring him to others houses how can I stop this he's so good otherwise but this is terribly frustrating
I have 2 Pit breed dogs. One is female and is over 9yrs old and the other is a male and he is 4 yrs old. They both are spaded and neutered. Both have been house trained. We have recently moved to a new house 6 months ago. My 4yr old male Pit has just recently started peeing in front of the back door where he goes outside. He dribbles with pee until he reaches the door and usually has 2 puddles of pee on the floor. He also starts barking which wakes us up at 4 am during these 2 episodes.
I am at home during the day so they both get let out and have plenty time to empty their bladders. He is drinking water excessively that we have noticed because the water bowl is completely empty in the am. After he is let out in the am he goes straight to the water bowl to drink a lot of water. I plan to take him to vet because I have never had any issues like this before. The only thing different in his routine was that I had taken him to the vet to get bathed about 5 days ago because he weighs 117lbs. He is terrified of water and is a big baby, so it's hard to bath him. Please help with any suggestions. Thank you.
February 1, 2016
0

found this helpful
I did take my dog to the vet Friday morning and he was diagnosed with diabetes. Now we are having to give him insulin 2xday and a low calorie diet bc he needs to lose 20lbs... Thankful I took him in right away.
June 3, 2016
0

found this helpful
My 11 year old staffy had the same problem peeing all the time and drinking loads and she was diagnosed last year with cushings disease.
I have a 6 month old Havanese Bichon Multeshipoo, he is potty trained. He is getting neutered in a few weeks, but all of a sudden he started peeing on the furniture, he just walks up and lifts a leg. He does it at my in law's house too. I try and follow him to say no, but sometimes I don't catch him on time. We have had him since he was 8 weeks old and he was doing so well with potty training. I'm not sure how to make him stop. I usually just say "no bad boy no pee pee" and I carry him outside. He knows I am upset and sits there really cute looking at me confused! What should I do so he understands?
Why has my dog started going to the bathroom inside ever since we moved?
Why would a nine year old and and a 4 year old Boston Terrier start peeing in the house after they both were accident free? We rescued another puppy 2 years ago and recently had him fixed. I am thinking he was the reason, like a male dominance issue. But after that they all pee all over our house. What can we do? Please help.
I have a 4 year old track rescued Greyhound. She has been a challenge since we got her (her sister is fine). For about 8 months she did really well, then recently started peeing in the house on occasion again.
Read More...
My fiance and I have three dogs; a Boxer, and two Yorkies from different parents. Our oldest Yorkie's name is Lexi. The younger is Chloe. We got both of them when they were close to six weeks, Lexi is 1 1/2 years old and Chloe is almost 1.
Read More...
Related
© 1997-2016 by Cumuli, Inc. All Rights Reserved. Published by
ThriftyFun
.
Page
generated on September 21, 2016 at 12:20:11 PM on 10.0.0.43 in 7 seconds. Use of this web site constitutes acceptance of ThriftyFun's
Disclaimer
and
Privacy Policy
. If you have any problems or suggestions feel free to
Contact Us
.