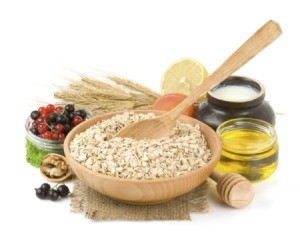 A hearty, gluten free grain that can be used in many kinds of recipes. This page contains recipes using oatmeal.
Ad
---
Banana Oatmeal Fingers are a great breakfast or snack for babies and toddlers. I make these for my 10 month old son and he loves them. This is a great recipe if you are doing Baby Led Weaning. View the full recipe here: Banana Oatmeal Fingers
Solutions: Recipes Using Oatmeal
Read and rate the best solutions below by giving them a "thumbs up".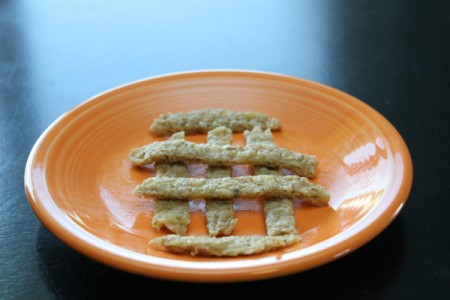 Banana Oatmeal Fingers are a great breakfast or snack for babies and toddlers. I make these for my 10 month old son and he loves them.
Approximate Time: 10 minutes
Yield: 1
Ingredients:
1/4 cup old fashioned rolled oats
1/2 cup water
1/2 banana
Ad
---
Steps:
Cut banana into quarters then slice.

In a sauce pan, stir oats into water and bring to a boil. Bringing the oats to a boil with that water rather than adding the oats once the water boils will make a creamier oatmeal. Lower heat to medium low a cook for about 5 minutes.
Stir in banana and remove from heat.

In a microwave safe, flat bottomed bowl, spread the oat mixture in a 1/4 inch thick layer. Make sure to press the mixture down a bit to make sure it will come out in one piece once cooked.
Place in the microwave on high for 3 minutes.

Carefully remove the oatmeal pancake from the bottom of the bowl and cut into thin slices so that is is easy for your child to pick up and eat. If it is still mushy, cook for another minute until a pancake has formed.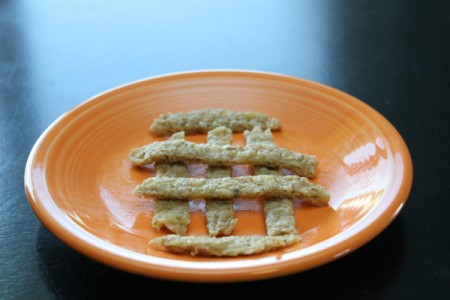 Heat the oven to 350 degrees F. Bring the water to a boil and pour it over the oats. Let the oats stand for 20 minutes. Mix the brown sugar, granulated sugar, shortening, eggs, cinnamon, baking soda, salt and flour together and add the oat mixture.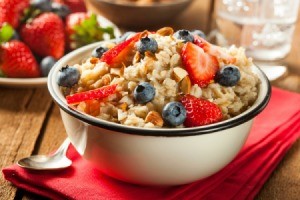 This is a guide about homemade oatmeal recipes. A hearty breakfast cereal that can be enhanced in many delicious ways with fruits, nuts, spices and dairy.
Give a "thumbs up" to the solution that worked the best! Do you have a better solution? Click here to share it!
Questions
Here are questions related to Recipes Using Oatmeal.
Does anybody have any creative oatmeal recipe ideas that does NOT involve sugar or flour? Meaning no oatmeal cookies, bars or bread. I want to start incorporating oatmeal in our daily diet but plain oatmeal for breakfast gets kind of boring.
I would like to stay away from sugar and refined white flour if at all possible since that defeats the purpose of trying to be healthy. I would be willing to use a little honey, fruit preserve or Splenda to sweeten it if necessary. Any and all advice would be greatly appreciated.
pookie
P.S. To the wonderful person (I forgot who) who posted the tip on Thrifty some time back on putting fruit preserves in oatmeal to sweeten it, thank you! It was a wonderful idea.
Editor's Note: I believe the tip you are referring to is here: Sweeten Oatmeal With Jam
AnswerWas this interesting? Yes No
Ad
---
---
Best Answers
By eileen (Guest Post) 07/23/2006 Flag
I use oatmeal in my meatballs and meatloaf instead of breadcrumbs works great and nobody can tell the difference.
---
By Sarah (Guest Post) 09/20/2008 Flag
Oatmeal pancakes or waffles. So good!
Blend:
1/2 cup oatmeal
1/4 cup low fat cottage cheese
2 eggs
dash of nutmeg, cinnamon, salt, and vanilla extract

This is a great recipe You've got to try it, and if you don't like cottage cheese don't worry, you can't taste it. It's all smoothed in the blender too. Add extras if you want like banana, blueberries, sometimes I put in chocolate chips and that is great too. Hope you enjoy!
---
By Kim (Guest Post) 11/12/2008 Flag
This recipe is from Elle Krieger

1/2 cup old fashioned oats
1 cup water
1 pinch of salt (optional)
1/8-1/4 cup of dried cherries (you can use any other dried fruit, but just make sure you get similar sugar free jam)
2 tbs Sugar Free berry preserves
2 tsp Vanilla Extract

Just cook the oats as directed on container with dried fruit. Add salt if desired. Then when oats are done cooking, turn off heat and add the jam and vanilla extract. Stir a few times to combine and then serve.

I have this for breakfast everyday and it's delicious! it's sweet so you don't feel deprived, but also so good for you. It's the perfect way to start off the day.
---
I tried making oatmeal the other night, using chicken broth. I added some cooked mushrooms and a little diced cooked chicken. It seemed a little odd, thinking about it, but it was really good. I'd like to try it with the steel cut oats, as opposed to the rolled oats. Oatmeal isn't something people think of, other than as a breakfast cereal, but really, it's just a neutral grain. You can do anything you want with it.
---
I know I have read a recipe for baked oatmeal in the newsletter, but now I can't find it. I have been given 2 very large boxes of original oatmeal. The type that takes a while to cook. I figured if I could find the recipe for baked oatmeal that would be a way to use it. Any other ideas for recipes using oatmeal would be greatly appreciated.

Thank you in advance,
Sandy
AnswerWas this interesting? Yes No
---
Best Answers
By Shirley M (Guest Post) 06/28/2005 Flag
BAKED OATMEAL

1/2 c. oil or applesauce
2 eggs, beaten
1 c. sugar
2 tsp. baking powder
3 c. oatmeal
1 tsp. salt
1 c. milk
nuts, optional

1. Bake at 350 degrees, 30-35 minutes.
Also can be cut in half and microwaved.
---
By Estella (Guest Post) 06/28/2005 Flag
Triple-Healthy Salmon Patties
Take a large can of salmon and with fingers pulverize the bones. Chop the skin fine or discard it.
Add:
1/2 c oatmeal
1 egg
dash pepper
2-6 T of chopped onion (to taste)
dash of milk
dash of lemon juice if you have it

Form into patties and fry in olive oil till browned. Cheap olive oil has less flavor so is best for this.
---
Mashed Potato Oatmeal

I sneak oatmeal into the family food, anyway I can, and they never know it.

Put 1 cup dried oatmeal into mixing bowl.

Put 1 cup warm water over oatmeal. Stir and set aside.

Boil potatoes as usual for mashed potatoes.

While boiling, heat, low fat evaporated milk, butter, and salt in microwave, until butter melts.

Drain potatoes and start mashing, while alternating small amounts of microwaved mixture and oatmeal water mixture, until you get the consistency you want.
I throw in a couple globs of the oatmeal mush too. They will never know, this doesn't change the flavor or the texture at all.
---
By Mary 12 195 12/02/2006 Flag
Granola

4 cups old-fashioned oats
2 cups shredded coconut, sweetened
2 cups almonds, sliced
1-1/2 cups dried cherries, coarsely chopped
1/2 cup vegetable oil
1/3 cup honey
2 teaspoons ground cinnamon

Preheat the oven to 350 degrees F. Toss the oats, coconut, almonds, and cherries together in a large bowl. Pour the vegetable oil and honey over the oat mixture. Add the cinnamon, and stir until coated. Pour onto a sheet pan and bake, stirring occasionally, until golden brown, about 25 to 30 minutes. Cool, stirring occasionally. Store the cooled granola in an airtight container.
---
My family strongly dislikes the packets of instant oatmeal I thought they would enjoy. I have more than half of a box left (and six others I purchased at 50 cents each left over). Any ideas on what I can do with the oatmeal? Can I make cookies out of instant oatmeal? Add to muffin mix? I might be giving these away to the needy if we can't come up with a plan to use these! Thanks so much!

Melissa W.
AnswerWas this interesting? Yes No
---
Most Recent Answer
By Amanda Forson 1 05/28/2009 Flag
I am trying to figure out a good recipe for a large batch (half of a Costco-sized box) of instant oatmeal packets. I'm thinking cookies, bread, muffins, etc. Can you throw instant oatmeal into savory dishes like beef stew if it is plain instead of barley or the like? All suggestions/recipes appreciated. Thanks!
---
I was wondering if anyone has a any recipes using leftover oatmeal?

Cristy from Greensboro, NC
AnswerWas this interesting? Yes No
---
Most Recent Answer
02/26/2009 Flag
How about using leftover oatmeal in home made bread and buns and loaves such as cinnamon loaf or muffins
---
What is the difference between quick cooking oatmeal and old fashioned rolled oats? All of my recipes for oatmeal cookies say to use "quick cooking" oatmeal and all I have is a huge box of old-fashioned rolled oats, can I use that instead?

Paula from Christmas, MI
AnswerWas this interesting? Yes No
---
Most Recent Answer
By tintin (Guest Post) 01/21/2009 Flag
It was made possible by pre-cooking in manufacture after the oat grain had been split and rolled.
---
I am going to see my mother-in-law who lives in a nursing home in Indiana at the end of May, first of June and I am wanting to make a nice snack for the residents using oatmeal. I usually try to take some sort of a snack for the residents when we visit. I try to make it somewhat healthy being that so many have dietary limitations, but does not necessarily have to be every time we go. They do so enjoy homemade goodies as they do not get them often. We do travel several hours in a vehicle and we stay at a hotel so it can not require refrigeration. Thank you for any ideas and suggestions.
By AJW
AnswerWas this interesting? Yes No
---
Most Recent Answer
By garnet9 1 40 05/20/2013 Flag
I was going to give you the oatmeal cookie recipe that I had posted on Thrifty Fun's Recipe site, but somebody else already posted it here.
---
There are so many small dry oatmeal mixes, like those with dates and nuts, that I would love to use for baking bread or cookies. Does anyone have such a recipe or experience in using such breakfast food, other than as a cereal?
AnswerWas this interesting? Yes No
---
Most Recent Answer
By Abigail A. 15 993 08/26/2015 Flag
Are you talking about those microwave packets?
They are highly processed and not a substitute for rolled oats in a recipe.

You could try adding them to a quick bread, muffin or cookie recipe. Remove an equivalent amount of plain flour to get the right consistency of batter.
---