Read and rate the best solutions below by giving them a "thumbs up".
Share Your Feedback:
Once you try any of the above solutions, be sure to come back and give a "thumbs up" to the solution that worked the best for you. Do you have a better solution? Click "Share a Solution" above!
Button Craft Ideas
What can I do with 5000 mixed buttons? I like to make craft items to sell for charity. Has anyone any ideas please? Thanking you.
By Ann
---
Jewelry and Ornaments

By redhatterb
01/01/2012
I have seen directions different places online that tell how to make necklaces and bracelets with buttons. You can also cut thin cardboard to the desired shape and cut a piece of ribbon to length and glue it to the top, then glue flat buttons to the cardboard and use as tree ornaments. The shape I have seen most often for this, is a heart shape.
Gluing Buttons to Back of Hand Mirror
What kind of paste would I use to put old buttons on the back of a hand mirror and do I paint it first?
By Sally K
---
Most Recent Answer

By Suntydt
09/13/2012
If you are asking if you should paint the buttons or the mirror first I would say yes on both unless you want the buttons the same color as the mirror. In that case paint all of it at the same time. You could use elmers glue, a hot glue gun or super glue. All will have the same result. I would expect, whatever glue you use, will be less permanent if you paint the buttons first unless you are only painting one side. And I would suggest, if you are painting the mirror, to leave little spots unpainted where you plan to put the buttons. This way the glue will adhere better/longer.

Just make sure, if you paint the everywhere you plan on putting the buttons, that you let the paint dry really well. Give it a couple days if not a week or more. This way the paint won't absorb the glue and the glue won't have a weaker hold.
Crafts Ideas Using Buttons
Does anyone have any ideas for me how to make jewelry or other items with buttons? I have a huge collection and would love to be able to create some nice things to sell, as I have been out of work for over a year now. Any advice would be appreciated! Thanks.
By Linda from Lower Adirondacks, NY
Crafts Ideas Using Buttons
What can I make with the vintage buttons I have collected?
By Jane from NE
---
RE: Crafts Ideas Using Buttons
Sew or glue them to lampshades, greeting cards, scrapbook pages, invitations, curtains, tie backs for curtains, place holders, napkin rings, Christmas ornaments, picture frames, magnets for fridge, or my favorite, jewelry! (09/15/2010)
By wildmint
RE: Crafts Ideas Using Buttons
You can make those fabric flowers using the button as the center of the flower. A lot of people are wearing these flowers like a broach. http://www.tipjunkie.com/fabric-flower-tutorials/ (09/15/2010)
By Bookeesmom
RE: Crafts Ideas Using Buttons
You can also glue them in a multilevel design for decorative lids for just about any kind of box. (09/15/2010)
By Deeli
RE: Crafts Ideas Using Buttons
I make brooches with mine. (09/15/2010)
By isobel44art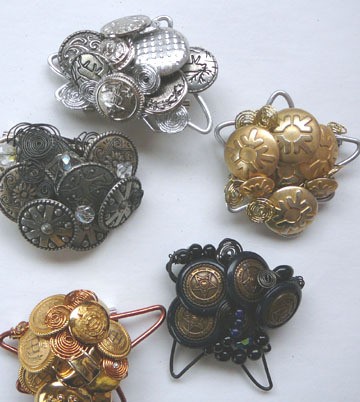 RE: Crafts Ideas Using Buttons
I saw the prettiest button wreath made into a shadowbox that had almost every kind of button you could find in it. The mat was heart shaped and the inside was full of beautiful buttons. It was obviously for display purposes, but it is so beautiful. Good luck.
Gem (09/15/2010)
By maphisx7
RE: Crafts Ideas Using Buttons
I posted a button heart craft on a family website a few months ago, hope this helps: http://familycrafts.about.com/od/buttons/a/ButtonHeartCraft.htm (09/16/2010)
By Crafty Cat