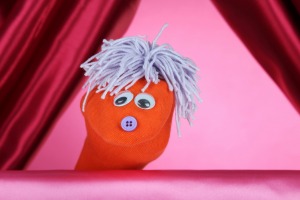 Buttons whether vintage, new from the craft store, or those salvaged from clothing before cutting into rags, make a great crafting item. You can use them as an embellishment or design the craft around the use of buttons. This is a guide about craft ideas using buttons.
Ad
---
Solutions: Craft Ideas Using Buttons
Read and rate the best solutions below by giving them a "thumbs up".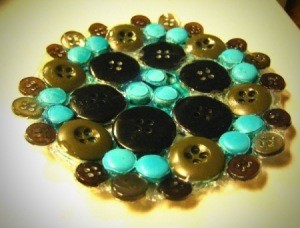 Here's a way to put your extra loose buttons to artistic use - a beautiful button dish! All it takes is some buttons and glue. I made this one to hold my jewelry in the bathroom.
Approximate Time: 1 day
Supplies:
buttons
glue
clear gloss glaze (optional)
dish or bowl
foil
Instructions:
Choose a dish or shallow bowl that has a shape you'd like your button dish to match.
Arrange your buttons in different patterns on the dish until you figure out what pattern you like.
Remove buttons and line the dish completely with aluminum foil.
Squeeze some glue onto the foil-lined dish and start placing your buttons, starting from the center, working outwards. Keep gluing and placing buttons until you're happy with your dish.
Let dry overnight. Dish is done when the buttons don't move anymore when you touch gently with your finger (I gave mine about 16 hours).
If you use big buttons in your design (like I did), add a light coating of clear gloss glaze for more stability.
Remove button dish (will have foil stuck to it) and gently peel off foil.
Enjoy your beautiful and useful recycled art!
By attosa from Los Angeles, CA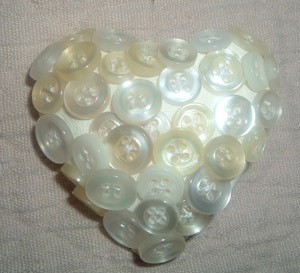 This is a pin I made from saved pearl type buttons. It is very easy. Use any buttons that you have cut off clothes. The white pearl buttons are easy to find. Use different sizes to keep it interesting but fairly close in size.
First cut out a piece of tightly woven cotton fabric in a heart shape that is approximately 3 by 2-1/2 inches. If you wish, you might put some fray check on the edges to keep from fraying or some clear fingernail polish would work also.
Starting from the middle sew on the buttons snugly, keeping the fabric cupped so that when you are done you have a 3-D dimension. Then when all done, glue a piece of matching felt on the back and on that glue on a pin fastener. With the right jewelry findings, you could also make a necklace of it.
By Elaine from IA
With some round disks, buttons, a drill, and a wooden placard, you can make this wonderful wall hanging for a gift or to keep.
Approximate Time: 2 hours
Supplies:
two sizes of round disks
a wooden placard
crochet thread and needle
buttons
raffia or ribbon
hot glue gun
scrap fabric
white glue and foam brush
fine tip felt pen
options: paint
Instructions:
When you search for a placard, you can use just about any kind.
Test the bleed factor on the back of it to make sure your felt pen will work.
If you have a steady hand and good spacial recognition, you can make the "stitch mark" like on this one. If you do not, you can always paint it or leave the edges blank.
Write "Friends are like unique buttons. You collect them one at a time." Center it and write it on paper if you want to make sure it's right.
Once that part is done, you can set this aside.
The round disks can be found in about any craft shop, so if you can, get the 2 inch and 1.5 inch for a variety. Drill holes in them like for buttons, mixing two and four holes for variety, as well.
You can paint these, or do what I did. The scrap fabric needs to be prepared with glue. This makes the fabric stiff and easy to cut like paper.
Once they are dried, lay the disks on them and circle cut them to glue onto the disks. You will need the foam brush to make sure the fabric gets glued to the edges of the disks.
Weigh them down for at least 15 minutes to bond the glue. You may need to trim any excess.
I painted the edges of the buttons black to match the felt tip. You can leave them tan if you wish.
Pick some scrap buttons to match the colors of the fabric you chose. Once the wooden and fabric buttons have dried, get some crochet thread to match the colors of the fabric. If you don't have any, yarn can work or just plain thread. However, keep in mind you will need a lot of it.
Thread the needle and get the effect you want, tying some in front and some glued to the back.
Hot glue the wooden buttons to each other using 2 in the front and 2 in the back, keeping it level. Make sure not to cover the nice threads.
Glue the buttons onto the wooden ones, and the top if you choose. If you have raffia, use it to hot glue to the back of the outside buttons and loop around to the back of the placard for the loop.
Give as a gift to a friend, or keep and hang on your wall. This is a craft best left inside out of the elements.
Enjoy.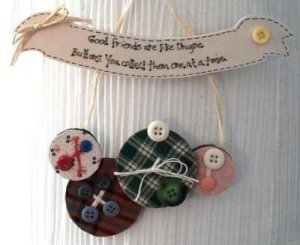 By Sandi from Yorktown, VA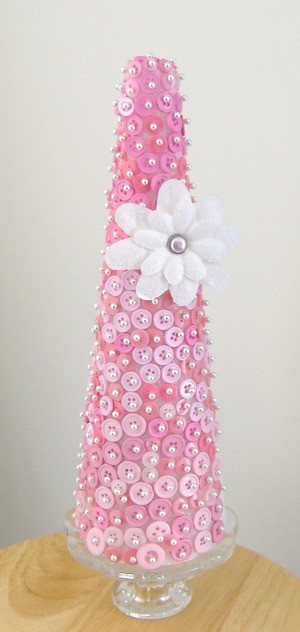 Pink buttons and pearlized pins were used to create this cute and fun tree. A nice finishing touch is the glittered paper flower with a pink pearl brad.
Approximate Time: 90 minutes
Supplies:
Styrofoam cone 3 7/8 x 11 7/8 inches
buttons in light pink, large and small
white pearlized pins, about 400
flower
pearl pink brad
hot glue
Instructions:
Insert one pearlized pin through button holes to secure in place. Continue in this manner until the entire foam cone is covered.
Attach paper flower with a dot of hot glue as shown in project photo.
Source: buttons, cone, pearlized pins from Michaels
By Maricel from Fairfax, VA
A paper mache mini round box painted white and covered with clear buttons and crystal glitter.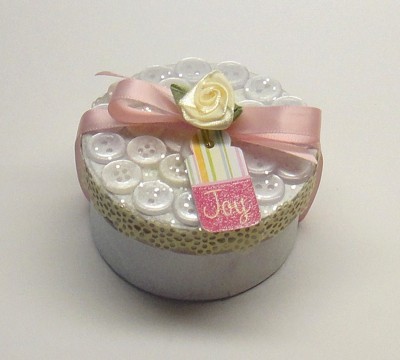 Approximate Time:
Supplies:
paper mache - mini round box
spray paint in white
adhesive paper ribbon
pink satin ribbon
cream ribbon rose
clear buttons
crystal coarse glitter
spray adhesive
die-cut tag
dot adhesive
scissors
gold safety pin
Instructions:
Spray paper mache box with white spray paint. Let it dry.
Lightly spray the lid with adhesive then cover it with clear buttons. Coat them all with crystal glitter using spray adhesive.
Measure the side of the box lid and cut adhesive paper ribbon; adhere.
Tie gift box with pink satin ribbon; attach pin with tag. Adhere the ribbon rose on top of the knot with a dot of adhesive as shown.
Source: Krylon spray paint, 3M spray adhesive, KandCompany adhesive paper ribbon (Wild Saffron), Making Memories die-cut tag (Flutter), Martha Stewart glitter
By Maricel from Fairfax, VA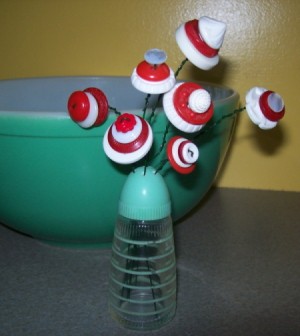 Use your button collection to make these funky flowers. Add a vintage salt shaker to hold your bouquet.
Approximate Time: Took me longer to choose the perfect buttons than it did to make the flowers.
Supplies:
old buttons
floral wire
salt shaker
Instructions:
Use as many buttons per flower as you want, but I found that 3 or 4 was the easiest to work with.
Simply thread the wire up through the buttons, one at a time, allowing enough extra wire to bring it back down through.
Then twist the end around the longer "stem".
If you want, you could wrap floral tape around the twisted wire, but I left it as is.
Now poke your flowers into the holes of a salt shaker.
Done.
*I saw this craft on several websites. This is my version*
By ~gloria from upstate NY
Using shank buttons and bobby pins you can create fun and unique hair accessories that will make girls of any age smile.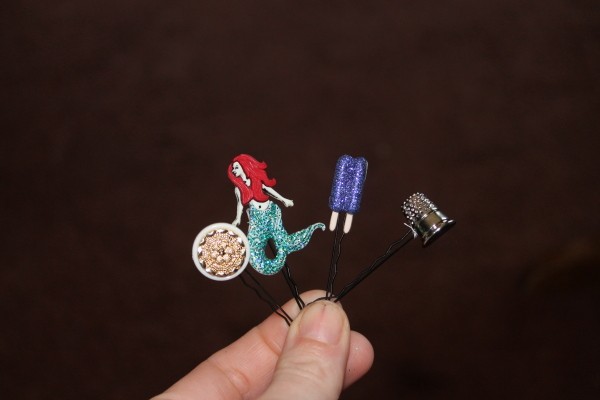 Approximate Time: 5 minutes, each
Supplies:
thread
shank buttons
needle
bobby pins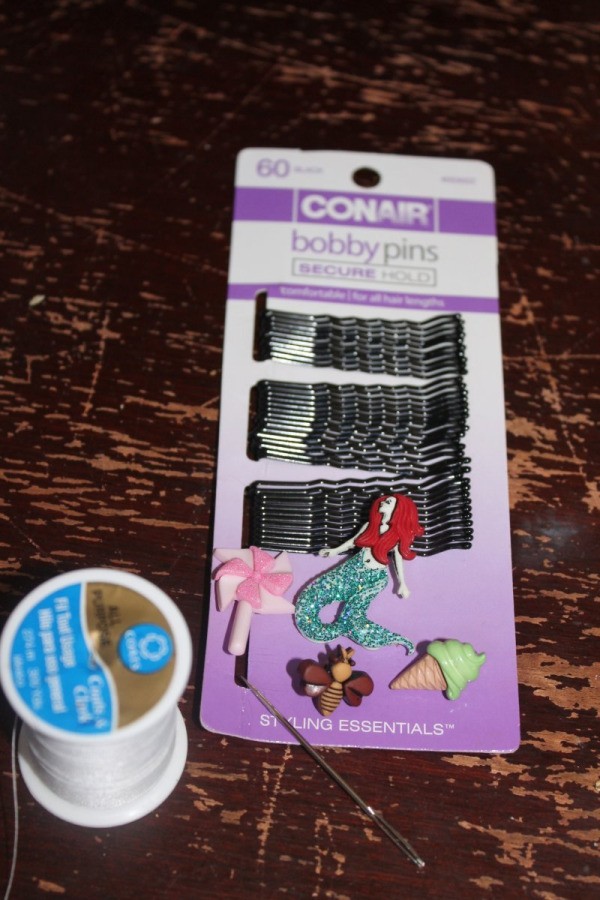 Instructions:
Go through your button stash and find some cute shank buttons.
These are the buttons that have the loop in the back for attaching them to fabrics. I like to buy my buttons in bulk from large craft stores and there are always gobs of cute shank buttons that I have no idea what to do with, but hate to throw out since they are so darn cute!
Assemble your needle, thread, and bobby pins along with the shank buttons you chose.
Thread your needle and place the shank button between the ends of the bobby pin so that it is lying flat against the button.
Sew the thread through the shank.
Pull the thread through the ends of the bobby pin and loop back through the shank.
Knot the thread each time you pass it through the shank. Make sure to alternate coming up through the shank from both sides, as to ensure a tight adhesion.
By Teri M from Omaha, NE
This cute framed button art is the perfect gift for a loved one this holiday season. Made with items easily found at most dollar stores.
Approximate Time: 1 hour
Supplies:
glue gun with glue
scrap book paper
needle and thread
shadow box
buttons
Instructions:
Pry the back off of your frame.
If there was an embellishment in the frame take/scrape it out.
Hand rip your scrap paper to roughly fit the frame backing. Just eyeball it. It does not need to look perfect, and actually looks better if it is imperfect.
Place your paper against your backing to see if you like the fit, if you want more of a rustic look, let more of the backing show through.
With a pencil, draw a heart shape on your paper.
Using your needle and thread, begin sewing buttons all around the perimeter of your heart shape. You can also use hot glue to do this, but I like the look of the hand sewn buttons.
Fill in the heart with buttons. Where there are gaps, bend the paper and wedge buttons in, sewing them in place. This will give your heart dimension, and make the buttons really stand out.
Place hot glue along the back of the paper, wrong side up.
Press heart gently onto backing of frame and add more glue if needed.
Glue frame back in place with hot glue. Press backing onto frame to secure.
By Teri M from Omaha, NE