Whether you need extra money or space, sometimes selling a doll collection is necessary. This is a guide about selling collectible dolls.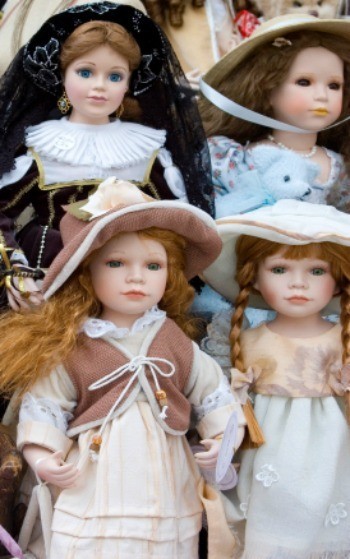 Filter

: All Articles
Sort

: Relevance
I have a boxed 20" Ashton Drake Gallery doll with certification of authenticity. It's a real life like doll with baby clothes. I wish to sell it either directly or to a collector,not via eBay or gumtree. Please can you give me some advice? Thank you.
By Lee
March 23, 2015
0

found this helpful
Thank you for your post and interest in Ashton-Drake dolls. Unfortunately, we no longer have a secondary market for retired dolls. You may want to check eBay or visit an antique/doll shop to get a value for your ballerina doll. Good luck! Thank you, Chris
I have somewhere between 1000 to 2000 dolls that I would like to sell. I would like to sell them all at one time. What is the best way to do that?
By Robin
April 17, 2014
0

found this helpful
Hello neighbor I just want to give you a heads up, my father had a train collection and we went to collectors asking what they were worth if we wanted to sell them and they were offering us rock bottom prices even under bidding and taking advantage of an innocent persons ignorance on the subject.
A friend suggested we ask collectors their value so we could insure them and we actually got prices 3 and 4 times more than what we were told when inquiring on selling prices. Trust no one unless u get the real value thru the "insurance" metaphor and then you will know the asking price and the true value of your dolls.
Then we offered them bulk on craigslist and accepted a generous offer from someone who would continue to treasure them. Be wise friend, try my method so no one rips u off, any stranger would! God bless and good luck. Gia in massapequa park, ny
April 18, 2014
0

found this helpful
Wow! That is a lot of dolls!
There are several factors to consider; such as the maker and condition and if any are still in boxes. You would have to do a lot of research and as stated before; get more than one opinion.
Dolls are very plentiful on the Internet so it is difficult to receive a "good" price, even for valuable dolls and "regular" dolls sell for only a few dollars.
You may be "lucky" and find someone who wants this many dolls. I personally would estimate that - if sold as a lot - you would only receive about .25 to 50 cents per doll. This may sound low but I have a lot of dolls and do not kid myself as to their "true" value.
Some dolls purchased 20-30 years ago - at prices well above 100.00 are now worth 15-20 dollars. Of course there are always exceptions.
Good luck and I hope you make a lot of money!
I have a least 10 collectible dolls for sale. I'm Melbourne Florida. I need to know the value. They are 10 to 15 years old.
By Debra Carree from Melbourne, FL
August 21, 2014
0

found this helpful
Check out answers on Thrifty site. Go to the top right of your screen and put porcelain dolls in search area... lots of information.
I have several dolls I need to sell. How do I go about it and who could I contact to sell them? I have Prince Charles and Princess Diana wedding dolls, Elvis, Marilyn Monroe, 3 Bob Mackie dolls, and 2 Princess Diana dolls, one in a white dress and one in blue velvet.
By revay
May 17, 2011
0

found this helpful
I think the best place to start would be Ebay. It's easy to set up an account and you can list them under antiques. You can even set a minimum bid.
Hope this helps.
May 17, 2011
0

found this helpful
Ebay, Craigslist,Antique collectors/dealers in town or your local paper. Good Luck. : )
May 18, 2011
0

found this helpful
I would find a local auction that auctions collectibles.
I am trying to sell four dolls. Their names are: Brook D-24, Victoria Ashlea, Megan #46026, and Kristal # 0099 1200. Any suggestions?
By Luther
February 21, 2014
0

found this helpful
Google their worth. Then, see what people are selling them for on eBay, then decide if you want to take the hit on money whether you sell them or not. Try Craigslist but be prepared for spammers who just want you to link to their sites and make money.
Sometimes a consignment shop is best. They pay for the advertisement, keep some and you get the rest. Your items are insured, and you can always take a photo of them and post it on facebook... thus giving them a shout out. Good for everyone. And finally, if you have facebook friends who love dolls, announce their sales on there. Good luck!!
I have the complete set of the Effanbee Legend series dolls. I need to sell. How can I find someone interested in these dolls?
By Karen
September 7, 2013
0

found this helpful
Hi - not sure how many dolls you have as there is a very large number in the Legend series.
A large group may be difficult to sell unless you have a local auction that deals in that type of merchandise - and a group will sell for a lot less than selling individual dolls.
Check your dolls on eBay, Ruby Lane, Amazon. Google dolls by the series or individual names. You can get a good idea of what people are asking for each doll.
Selling dolls at a decent price through these outlets takes a lot of work and time (usually months) unless you list them at a very low price. Groups sell but at a much lower price per doll.
You might find a local shop that would be interested in buying as a group but expect to be quoted a low price (maybe even 10.00 per doll).
Shipping is another story altogether! Dolls are difficult to ship so try to stay with local pickup.
Selling on Craigslist can be done also but be very careful who you invite into your home to view your dolls.
Due to difficult economic times, I am selling off things to bring in some money. I have several collector dolls from places such as Ashton Drake Galleries, Danbury Mint, Franklin Mint, that are closed issues now. Where is the best place to try an sell them? eBay doesn't seem to bring good sales for collector items.
By nvfostermom from Las Vegas, NV
January 16, 2011
0

found this helpful
I have a friend who needed to sell her stuff she had the best luck at community flea markets or church sales.
January 19, 2011
0

found this helpful
Look on ebay and look at sold only to see what your type of doll has recently sold for. The post the for sale on Craigslist in your area. You might need to keep re-posting every week. Craigslist is free and the best way to sell. Selling on ebay is OK but you take a risk on the price and dolls aren't selling so good right now plus you have the packaging and shipping issue. You might have better luck selling all the dolls together as a 'lot', people seem to really like this. You won't get what you paid, so just decide on an amount and post them. Don't let greed get in the way of cash in hand.
How can you find someone to buy collectable dolls?
By JMB
March 15, 2013
0

found this helpful
Hi - this question is asked almost every week and the answer is almost always the same. eBay is the biggest site for selling things like this. Do your research at eBay and Google. You will most likely be disappointed with the price they are selling - if they sell at all.
I read most of the questioners about a way to sell "collector dolls". I am a collector also, and it hit me that maybe I should suggest the TV show,
PAWN STARS" might just be interested.
They are located in Las Vegas, NV. Maybe by contacting them, you
can confirm whether or not they can do business with you other than
having to go to Vegas to deal.