Knowing the amount of different foods you can substitute to maintain your diet plan is important. This guide is about weight watcher's diet exchange plans.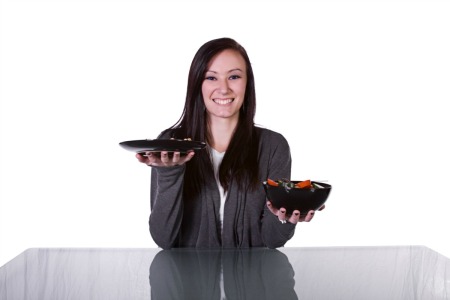 By parmstro 1
I too need the food log for the 80's Weight Watcher exchange program. I made one myself, but it is not as good as what they had. I am still searching here.
I called and canceled my Nutrisystem program this a.m. The food gave me severe stomach cramps and other issues. I just can't tolerate the sugar alcohols and fat free chemicals. I am going back to real food. I need more protein and less carbs than current WW programs; they just don't work. This one does.
By parmstro from TX
---
Most Recent Answer
September 4, 2013
I am also looking for the diet journal from the weight watchers exchange program. Anyone have any ideas where I can get one?
---
I had great success on the old Weight Watchers plan in 1989, if someone can help me with the food list, the exchanges, and what ever else I would need to get started I would appreciate your help more then you would know? To be honest I'm very scared at this point with the unknown.
I became immobile due to my right knee needing to be replaced. I weighed 329 pounds on July 29, 2007 that saved my life. I'm now at 183, however, I had lost down to 155 pounds. I've had a steady weight gain since about October causing me great concern. I've also had a total left hip replacement with a DePuy device which has been recalled, I have high levels of cobalt and chromium in my system. The specialist I've been seeing doesn't seem to know what to do. He just keeps sending me for test upon test, I guess trying to figure out what to do.
I know in the mean time I have felt sick since late June 2010, I'm not sure if it's the stress causing me to gain weight or the fact that I'm becoming immobile again due to the amount of pain I'm in and feeling sick all the time.
I had my right knee replaced, also with a DePuy device, I've continued to be in great pain with this device, and fluid that ponds just below my knee, with pain that shoots down into my shin bone. I keep being told that the x-rays show I'm fine however I know I'm not fine it hurts all the time. I doing my best to live with all of this pain and suffering I'm in.
I feel if I can find the Weight Watchers plan that helped me lose 50 pounds after the birth of my son in 1985 I could lose these extra pounds and keep them off.
Thank you for your time.
---
Most Recent Answer
September 11, 2011
Try this used books site. Click on advanced search in the upper right corner to enter weight watchers and the years 1980 to 1990. I found a few titles. Good luck.
---
By Dixie 2
I'm looking for the Weight Watcher plan. I need information on food exchanges, amount of a serving, the breakdown of allowed exchanges per day for a male 18 yrs. old.
By Dixie from Millstadt, IL
---
Most Recent Answer
---
By janet 2
Does anyone have a copy of the Weight Watchers diet from the 1970s that they could share? or know how to find one online? I've lost mine and that diet seemed to work for me back then and the new versions don't now. The new one is too lenient for me. I need the structure of the old diet. Thanks.
By Janet from AR
---
Most Recent Answer
By BonnieAlice 13 83 Flag
February 3, 2012
The post from MartyD is exactly right! I did the same thing, and found the 1970s weight watchers. In the 60s the original plan was very Spartan; 1970s included fats and was wonderful, with just enough structure (as I need as well) but a little wiggle room on what you ate & when. I remember them saying they found that this version produced body shape changes that they hadn't seen before, or expected. Here's the website: http://www.dwlz.com/WWinfo/old1972ww.html
---
By Satie 1
Does some type of conversion chart exist for the Weight Watchers Points? I prefer the exchange plan and Weight Watchers products in the store always print the points information on the box instead. So I end up searching for other products that still use the exchange system.
By Satie from SC
---
Most Recent Answer
December 6, 2010
I am not sure if this will help but you might just check out http://www.diabeticconnect.com
It has recipes and guidelines and all kinds of recipes for diabetics and healthy eating and weight loss info.
---
Does anyone have the old Weight Watchers exchange plan info? I think you could eat like 5 starches, 3 proteins, 2 fruits, 2 dairy, etc. a day. I lost 50 pounds on that plan and I'd like to try it again.
By Cheryl O
---
Most Recent Answer
August 24, 2015
The W.W. exchange plan would be as follows:
Milk -2
Fat - 3
Fruit -2
Veggies - no less than 3
Protein -5
Bread(starchies) - 3-5
Water - 8
Personal Selections(excluding fats) 7-14
Optional Calories - 100 per day
Eggs/Organ meats - 4
Meats and or Cheese - 16( this is red meat/livers, giblets/ tongue/and other assorted icky things.
Do try to eat fish at least 3 times a week.(my thing, less calories and good fats)
---
Weight Watchers used to do the exchange system, but has since changed to the point system. Does anyone know where I can find a conversion tool or chart so I can find out the exchange for the points posted on different products? Thank you!
By Katie K
---
Most Recent Answer
By Marybeth Weber 13 Flag
May 23, 2011
You really need to join WW online. Their site has a point calculator and a recipe builder where you enter all the ingredients and it tells you the points per serving. If you can't find the food on the list, it gives you a tool to enter the fiber, fat and protein content and then it converts it for you.
---
By Cyndy 1
I am looking for the Weight Watchers 3-3-3 diet plan. I used it many years ago but I lost it when I moved. The Weight Watchers meetings are not doing it for me. All they talk about is the new points program and it doesn't help at all.
By Cyndy from Chatham, Ontario
---
Most Recent Answer
January 25, 2010
Hy Cyndy; It sounds like you are having trouble understanding the weight watchers points system. Why don't you tell your leader that you are having trouble. I joined Weight Watchers last May and lost 20 lbs by the end of September. I think you will find the points system easy to follow once you get into it. Most vegetables are free and fruit is very low in points value so there are lots of low points foods to choose from. Once you get into the habit of keeping track of what you eat, it gets easier. Good Luck! Joan from Chesterfied, MI
---
By Chris1985 1
A number of posters are asking for information on the old Weight Watchers Exchange Program from the 80s. eBay has listings for the Weight Watchers Quick Start PLUS Program Cookbook. Same as mine from 1986, it lists all the information from the Exchange Program. Just type in Weight Watchers Quick Start under cookbooks.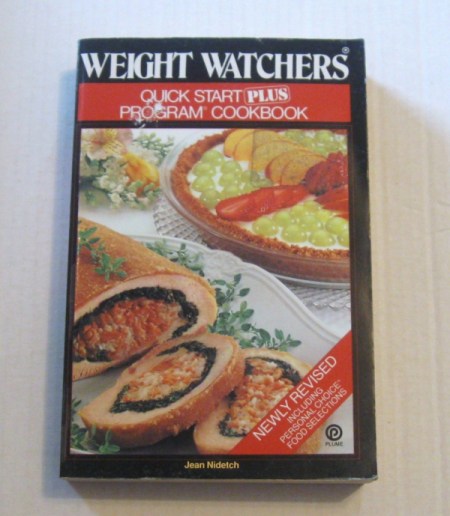 I have been looking for the 1980s Weight Watchers exchanges booklet. Can you tell me where I can find this? Thank you.
Irene
---
Most Recent Answer
Can anyone out there help me find a copy of the old 1980s Weight Watchers Exchange plan? I need information on food exchanges, amount of a serving, the breakdown of allowed exchanges per day, etc. In other words just about everything concerning this plan. Thank you very much.
---
Most Recent Answer
May 20, 2011
I have a copy of the Weight Watchers Quick Start Plus Cookbook from 1986. The daily exchanges for a women are as follows:
Week l
3 fruits, at least 2 veggies, 2 milk, 2 bread, 3 fat, and 6 proteins.
Week 2
add 1 protein
Weeks 3 and 4
add 1 bread and 2 proteins
You should always eat breakfast. Don;'t eat more than 4 eggs in a week.
Eat a minimum of 3 fish meals. eat 3 to 4 oz. liver in Weeks 12 and 3. Week 4, eat 4 t0 6 oz. liver. I hope this helps. This book is full of info.
By debasf 1
I am looking for a complete diet from the 1990s. I did the diet in 1992 with great results, but cannot find my plan. Can anyone help?
By debasf from London, England
I am looking for the Weight Watchers exchange booklets from the 70'-80's. Any ideas?
By Richard
Does anyone know where I can find the Weight Watchers Quick Control Options weekly menu plan? I have a couple, but would like to get the full set. Thanks.
By Lynda