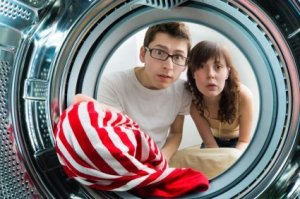 One of the more frustrating and difficult clothing stains you can encounter is dye transfer. This is a guide about removing dye transfer stains from clothing.
Ad
---
Solutions: Removing Dye Transfers from Clothing
Read and rate the best solutions below by giving them a "thumbs up".
Colour catchers catch loose dyes in your wash water and prevent dyes from running or bleeding into each other. You can wash lights and darks together to save time and money by reducing the need for half size loads. Just cut up white fabric or felt pieces, soak in a solution of 1 cup of hot water and 1 Tbsp. of washing soda; mix well. Saturate white rags and let dry. Then add to your wash. Always test first.
By coville123 from Brockville, Ontario
I accidentally ruined my daughter's favorite delicate light pink shirt. Somehow, I managed to get blue streaks of dye all over it. I tried stain remover, but the dye didn't budge. I did not dry it in the dryer, thank God! But it did sit in the laundry room for a couple of weeks thinking I would have to trash it. I decided I didn't have anything to lose so I researched and did a combination of different recommendations.
I applied rubbing alcohol, nothing happened. Directly over the alcohol, I applied white vinegar, still nothing. I filled the bathroom sink with hot water and dissolved 1/2 cup of Tide, 1/2 cup of Borax detergent booster, a big splash of rubbing alcohol, a big splash of white vinegar, and small splash of regular Clorox bleach. The blue dye instantly vanished!
Now, it is in the wash with cold water and Woolite. I am sure my daughter will be thrilled!
Editor's Note: Use caution when mixing household cleansers with other substances, especially bleach. Toxic gasses are easily created, which could cause injury. Read all labels first.
---
Hey guys, the best tip ever is too simple. You just need to rub a lemon on the stain and it actually vanishes :) So no more worries.
By Sana from Mumbai, Maharashtra
Have the garment either dry and damp with cold water, rub in by hand methylated spirits, undiluted, rinse well in cold water, then wash as normal. To remove sunscreen stains from the neckline and hems of my bowls uniform I usually use diluted bleach. This time the red contained in the State emblem on the top right front of my blouse ran into the neckline and also ran into the hemline of the skirt being soaked in the same container. I knew metho worked on Biro ink, so decided to try with the colour run. It disappeared as I rubbed.
Editor's Note: Methylated spirits are also known as denatured alcohol.
First, soak the affected clothing item overnight or longer, in a solution of 1 cup powdered dishwasher detergent and enough warm water to cover the item. This also works well on stains. Next, wash the item by itself with 1-2 Shout Color Catcher sheets. These are available in the laundry aisle at the supermarket. This may not work if the item has already been through the dryer.
By Jean from Buffalo, NY
Give a "thumbs up" to the solution that worked the best! Do you have a better solution? Click here to share it!
Questions
Here are questions related to Removing Dye Transfers from Clothing.
I accidentally put my husband's white bowls shirt in the wash with a new black pair of pants. So now the white shirt is a nice shade of blue. How do I get it white again?
By Margaret S from Lal-Lal Australia
Ad
---
---
Best Answer

By J-Kat [7]02/16/2015
Can the shirt be bleached? If not, and his shirt has to be white right away, you'll probably need to buy him a new one. I once washed a white tablecloth with a dark burgundy one, and for a long time, I had a nice pearly pink tablecloth. Eventually, as I washed it, it faded back to white, but you'll probably wear the shirt out by washing it.

When my son changed jobs, from waiting tables to working in a bank, he had a bunch of white shirts from his waiter job. I dyed them all blue to give him new shirts for the bank, which saved him a lot of money. Maybe your husband can wear the "new" blue shirt for something else?
I put a white jumper in with jeans by mistake. It came out all blue. How do I get it back to white?
By Gaynor
A white blouse got washed with a red one. How do you get the pink out?
By Pat B.
Ad
---
---
Most Recent Answer

By Virginia T.07/27/2011
Try soaking it in hydrogen peroxide. May take several times.
I have washed a white cotton sweater and it came out of the washer with pink blotches. Is there anything I can do to remove the color?
By jackye1
---
Most Recent Answer

By Sandy [5]01/24/2012
Half cup of Clorox, half cup of Cascade powder in a gallon or so of warm water. Let soak overnnight. (Then wash us usual. It has worked every time for me.
I usually do this one item by hand, but this particular day it got washed with delicates. It's a sheer blouse with a crocheted vest in front, it's off-white in color, at least it was. When it came out of the washer, the sheer netting at the bottom half was a light blue and the all over color had a blue hue, the crocheted vest had turned a white bluish. Is there any thing or way I can take it back to its original color without losing its original color?
By JoJo from Phoenix, AZ
---
Most Recent Answer

By Frugal Sunnie [11]11/04/2011
In the US you should look for Rit Dyes products, they make a dye remover for natural and synthetic fabrics-check your blouse to find out what it's made with so that you get the right product.
I have a black shirt with white on the sleeves. The black ran into white. How can I remove this on the white cotton material?
By gustafson from Danforth, ME
---
Most Recent Answer

By Wilma Long [1]04/20/2011
One should never let the item dry out after the dye has spread. Contact Amway... they have 2 product syou can use if you use it while it is still damp, and they really do a great job. The products to use are Amway fabric bleach and Tri-enyme laundry pre-soak and detergent booster.
I have a black and white sweater that I washed with a red tank top and now the white on my sweater is pink. Please help! How do I get it out?
By Lisa from Lubbock, TX
---
Most Recent Answer

By chan.kelly@hotmail.co.ukulele10/11/2013
I put my black jeans in with my blue jeans. Now they've got black marks on. I've just used a color run. Will it work or make them look washed out now?
I read about using boiling water and bleach for taking out color bleeding. It appears that these were white clothes. What about green towels that had a red towel thrown in? They are now an awful brown color. Will the boiling water and bleach work on colored items?
Sandra
---
Most Recent Answer

By Charlene Richardson [2]04/28/2009
Try "Dye Grabber". It worked great for me with some similarly stained clothing. One terry-cloth Dye Grabber is good for 30 loads of clothes. I bought mine @ JoAnn Fabrics
My daughter has accidentally washed a white jacket with red towels. Now her jacket is blotched pink. How do I get the jacket back to white?

Thanks for any help.
Elymunile from Ely, NV
---
Most Recent Answer

By (Guest Post)04/26/2006
Rit dye remover works great.