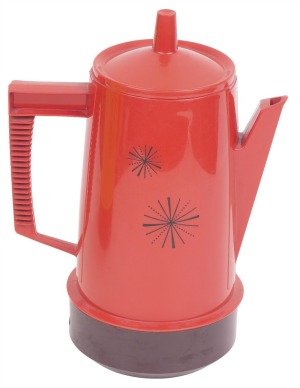 Coffee stains can be stubborn to remove from a pot. This guide is about cleaning a percolator.
Ad
---
Solutions: Cleaning a Percolator
Read and rate the best solutions below by giving them a "thumbs up".
Call me old fashioned, if you like, but after many tries I still go back to my electric percolator as I feel it not only makes great coffee but keeps it hot compared to many of the mister coffee type appliances.

Here is how to take care of it:

Your percolator will have a sweet clean interior if you fill it occasionally with hot soapy water & 2 Tablespoons of baking soda, then perk it for 10 minutes. Drain, refill it with hot water & perk 5 minutes more. Rinse well.

By joesgirl
Give a "thumbs up" to the solution that worked the best! Do you have a better solution? Click here to share it!
Questions
Here are questions related to Cleaning a Percolator.
The instruction book for my percolator says to wash with dish detergent. I am worried about the after taste. Is there anything else to use that may clean it better? Once again thanks for your input.
By Araucano
AnswerWas this interesting? Yes No
Ad
---
---
Most Recent Answer
By Junestorm 1 01/12/20110 people found this helpful
It really depends on whether your percolator is made of aluminum or steel. Aluminum (the old-fashioned Italian one with the black plastic handle): really only rinse out with water and let it air out after each use. The coffee oil residue makes the coffee taste better after a number of uses (all Italians swear by this including myself). If you haven't used it in a while and/or there is mold just clean with dish washing liquid, and brew a couple of times with coffee which you then DO NOT drink.

Steel: this you can wash like any steel pot. I've never seen anyone clean the actual pipe beyond just rinsing it through.
Try not to overdo it, it's just coffee and boiled water in there and unless it molds there is little there to harm you! they are supposed to look "browned" with age too!
---
How do you clean the coffee stains from the inside of an aluminum percolator?
By Willow
AnswerWas this interesting? Yes No
Ad
---
---
Most Recent Answer
By mcw 80 1,754 12/08/20100 people found this helpful
Fill your aluminum percolator with water and add two tablespoons of cream of tartar per quart of water or add one teaspoon of white distilled vinegar per cup of water. Let it perk approximately 10 minutes or until the stains lift. Pour out the mixture and rinse well with water.
I have a stainless steel electric percolator. My life has been hectic for the last 3 months with illness in my family. Apparently I made coffee one day and forgot to clean my pot and now it is mildewed. Can anyone tell me how to clean it using natural organic stuff or is it ruined now?
Thank you! :-)
By Colagirl [1]