August 3, 2011
1

found this helpful
I live in northeast Ohio and for the last couple of days we have had these small black bugs in our kitchen. They are mainly on the floor around the baseboards. There are a lot of them. Anyone know what they are and how to get rid of them?
By Mary H.
April 11, 2016
0

found this helpful
Had the same problem. Went digging through the cupboard they seemed to be coming from and found them all through a bag of those pill sized dog treats my spouse didn't secure the twist tie on. Threw those out and cleaned, hopefully they're gone.
June 20, 2016
2

found this helpful
I have the same thing. They are near the baseboard but most are in the kitchen on the window seal. I have seen a few flying but are mostly dead.
July 31, 2016
1

found this helpful
the little black bugs I have hang aroundthe light under my kitchen stove and my lamp shade light in the living room when you squeeze them they disappear like ashes
January 10, 2017
0

found this helpful
I just found them in noodles and beans I've seen weevels these have wings
February 11, 2017
0

found this helpful
Thank you so much!!! I started listing things people said on this thread to my husband when he asked where they might be coming from. Dog biscuits! We forgot all about a box we put up in the pantry. They were eaten through like termites in wood! WOW!!
March 23, 2017
1

found this helpful
please share how you got rid of them?
April 21, 2017
0

found this helpful
Can verify that - yep - they chew little holes in old pancake mix boxes, and they were having a big ol' party in the old oatmeal container. Wasted $10 on insecticide thinking they were coming through the window frame. Giving cupboard an overdue cleaning right now. Thanks for your answers. Very helpful.
Read More Answers
What are those very small, 1/16 round, with flat bottom, black and some with spots, bugs I've found on my kitchen floor? Usually in large groups. Most are under the dishwasher.

You really have to watch closely to see them move.
By Tracy from Cleveland, OH
March 12, 2010
0

found this helpful
Best Answer
You might look at them with a magnifier, and then research carpet beetles. Good Luck!
May 23, 2015
0

found this helpful
Best Answer
They are flour mites. The seek out damp warm places where there is dry food.
May 21, 2014
0

found this helpful
I am having the same problem with these tiny insects! They are only showing up after I run the dishwasher!! I am a very very clean person and have no other problems with bugs in my house. These little guys are only under the dishwasher and no where else. Please! I need help figuring out what the heck they are and how to get rid of them!
June 22, 2016
0

found this helpful
Most likely those are springtails
I have had these tiny bugs on my kitchen floor for 5 days now. I've used fogger bombs, and boric acid around perimiter of floor. I sweep. They seem to be coming out from fridge and stove sides. Nothing seems to be working. Please help me get rid of them. They don't jump or fly. There are hundreds of them.
By Roxane C.
August 14, 2014
1

found this helpful
Best Answer
We had the same problem and it turned out to be weevils, the tiny bugs that are in flour, rice, grains, etc. We emptied out the pantry and sure enough that is were they were coming from. We threw out the foods that had the bugs, cleaned out the pantry and now they are finally gone. You can google "weevils" and find out how to get rid of these little pests.
August 13, 2014
0

found this helpful
Can you post a picture of them? I take it they are not ants, which are very bad this year in many parts of the US.
June 15, 2016
0

found this helpful
I have tiny black bugs in one area of my kitchen floor (under a pantry cabinet). They move around and are now starting to climb up my window. They seem to have many legs, but it's hard to see because they are so tiny. They almost look like midget ticks. Help.
October 16, 2016
0

found this helpful
They are like tiny ticks but they're obviously not. They crawl and I haven't seen wings but I sweep them away before I get a good look. Idk what they are but I really want to know
June 13, 2017
0

found this helpful
Unfortunately, the eggs turn up in bread and flour products -- a reaction against aggressive spraying of pesticides. You can avoid the critters: "freeze" the products for forty-eight hours. You can't freeze some bread, so I keep it in the refrigerator.
September 2, 2014
0

found this helpful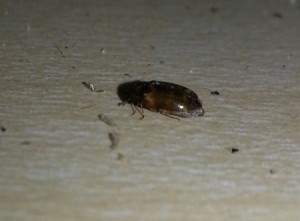 Please tell me what these are and how to get rid of them?
By Char from Ogden, UT
April 6, 2017
0

found this helpful
Has anybody told you what they were?? Where have you been finding them?? I have been finding them in my BED!!!
June 9, 2017
0

found this helpful
Oh my gosh, my husband & I are also finding these bugs in and around our bed. Can someone please Help!
What are these disgusting little bugs? Where did or do they come from? How can I get them out of our Bedroom ASAP?
June 30, 2014
0

found this helpful
I have these tiny black bugs with a little white marking on the back. they come out from the bottom of the mop boards. I have linoleum floors.
By SH
February 22, 2017
0

found this helpful
When we moved to our new house several years ago we put several large bags of soft clothing and linens in the unfinished basement which was dirt (mountainside slope).
Eventually we determined that we had imported the tiny biting gnat. when we had bought several bags of fertilizer for our newly dug garden upslope (vegetable).
So, if any of our correspondents, have had to attach sticky 'flypaper' tapes to their lampshades or nearby shelves of potted, tell 'em 'way to go'. It is working for us.
bdid1dr (beady eyed wonder)