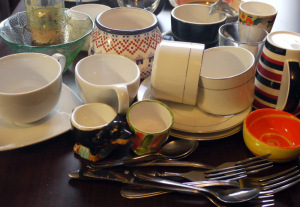 I made a mistake about 10 years ago, when I decided it was about time I had a full matching dinner service for entertaining. The children were grown so there was little chance of it getting damaged and I would be more likely to have people round for meals
As it has turned out, I think I have used it twice since I bought it. Not that I haven't used any of it at all, but not as a full set. What a waste of money! I didn't even buy a set that I particularly liked, but one that I could afford. It's not an ugly set, but not particularly beautiful either. Now I am stuck with it and some is now missing.
Now that is the main problem, if you don't have a lot of money. If parts get broken, they usually can't be replaced to match exactly. Then it looks a bit naff if one person has the odd plate or cup. Do you buy a whole new set? And what if you have a set for six people and you have seven at the table?
So about 6 months ago, I decided that instead of having a nearly whole matching set, it would be better if every item didn't match at all. So I have starting on a quest to collect a totally eclectic dining set from second hand sales and charity shops and occasionally brand new. This way it won't matter if a piece gets broken because it can be replaced with something totally different
There are rules to this that I have made for myself so that I don't end up with just a pile of junk.
Don't buy a piece unless:
You regard it as beautiful, cute, pretty or elegant.
You will use it
You don't mind if it gets broken
You know it will be an absolute pleasure to use
It feels good to hold
It makes you feel special eating/drinking with it
Every piece should make the user say "oh, isn't this lovely" when you place it in front of them. Hopefully in a year's time, I will have the most unique and delightful eating set in the world, and all for very little money