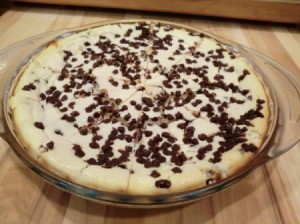 Easy to make and really tasty!
Ingredients:
2 pkgs. cream cheese
3 eggs
1 cup sugar
1 tsp. vanilla
1 pkg. mini chocolate chips
1 graham cracker crust
Directions:
Mix cream cheese, eggs, sugar, and vanilla together. When thoroughly mixed, stir in 1/2 package mini chocolate chips. If you like a lot of chocolate, use the whole package.
Pour into a graham cracker crust. Bake in a 325 degree F. oven for about 1 hour.
That's how easy it is and its really, really tasty! Hope you enjoy.
Servings:
6 to 8
Time:
10 Minutes Preparation Time
60 Minutes Cooking Time
By dorothy wedenoja from New Creek, WV
Read More

Comments