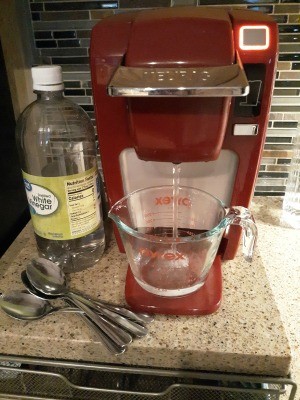 Those of us who have a K-cup coffee maker (or ones that use pods) know how important it is to keep it running smoothly. Cleaning it regularly is a must. One year on Christmas morning, I learned the hard way, with several guests wanting coffee, and a machine that was on strike because it needed to be cleaned. I now make a point of cleaning it on the 1st day of each month.
Of course, you should always follow your manufacturer instructions to clean your individual machine, but this tip will help you keep track of how many times you have run a cup of rinse water through your particular machine. Most machines are cleaned or descaled using white vinegar, followed by several cups of water. I run 6 cups through my Keurig to get the vinegar out.
I put 6 teaspoons out on my counter before I start. After pouring in a cup of filtered water to rinse, one spoon gets put away, until I have run all 6 cups through, and all spoons are gone. It's easy to get distracted in the kitchen. In the past I would be guessing "is this the 3rd or 4th cup?" In the end, you don't need vinegar flavored coffee!
I hope this helps keep the coffee flowing in your kitchen!