April 7, 2005
0

found this helpful
I read the request about "Pit Bull Eating Grass" and I am an amateur dog breeder and would like to make a few comments.

First off: Your pup is eating grass because it either needs to eliminate some discomfort or it is lacking a nutrient. If you get a puppy and it no longer has access to its mother's milk or the equivalent then you should not just give it what humans or other animals would use. This pup specifically should be being introduced to some form of dog or puppy chow.

We usually begin introducing food between 3 and 4 weeks softened with water to the consistency of runny oatmeal, progressively thickening as the pup ages. By 6 weeks it should be able to eat dry kibble and drink water. A milk substitute designed for pups may also be given as well until 8 weeks of age. But no other food or other animal milk should be given, your pup would be better off with the softened dog food alone than to be trying to digest something his body is not designed to digest.
Get your pups de-wormed, all pups are born with worms and need de-worming. And be careful with the flea bath shampoo as it is strong and I have unfortunately seen people actually poison a pet using this shampoo while trying to eliminate the discomfort of fleas.
Good luck and try to get your pup to a vet around 8 weeks for puppy shots.
By Barbie
August 22, 2011
2

found this helpful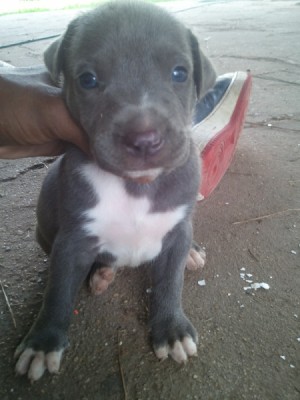 What is good to feed a 5 week old puppy?
By gutta$$$$
Answers
August 22, 2011
0

found this helpful
You should soften dry food for them (puppy chow) in some water then feed.
August 23, 2011
1

found this helpful
When we get young pups in rescue, I buy dry puppy food and put it in my blender. It's almost mush by the time I put it in the dish with some watered down milk. You can actually buy "mother's milk" at the pet store and that would help with puppy immunity until they get older.
I have also used baby oatmeal or rice cereal for pups, all mixed with milk water. You can eventually start to put about a half spoon or so of canned puppy food in with it and they will move easily into big dog food. Remember that the puppy should eat puppy food the first year of their life so they get the vitamins they need.
Answer

this Question

...
September 5, 2011
0

found this helpful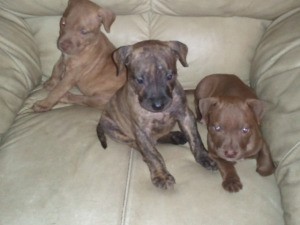 I have a month and a half old Pit Bull, actually there are 4 of them. Should I keep them all together or separate them in the house when I feed them?
By L. Trent from Baltimore, MD
Answers
September 5, 2011
0

found this helpful
I would feed them together as soon as possible. The sooner they get use to eating together now the easier it will be when they get older. It's another part of socializing which is very important if they are going to be around other animals and people.
September 5, 2011
0

found this helpful
Feed them together. especially while they are young. They will get used to that. They might have a little competition on who can finish the fastest so the other ones can't get the food, but they will be fine. Don't separate them.
September 6, 2011
0

found this helpful
Aww...Just wanted to say, cute!
September 7, 2011
0

found this helpful
Feeding them together helps them learn to get along with others. At first they will try each others (just to make sure no one has something better in his/her bowl, than they have).
Just separate the bowls enough to give them room to eat in peace when they finally quit trying each others. Always worked for me.
September 7, 2011
0

found this helpful
As long as they are still learning to eat food instead of nursing off mom, I'd feed them separately. But as soon as they get they idea and are eating good from a dish, I'd put them all together so they do learn to eat together and share.
If one or more seems to not be gaining weight as much as the rest, I'd feed that one by itself in between meals (as well as eating with the rest at regular meal time) until it gets strong enough to fend for himself.
Keeping them separate in the beginning will be a huge help in making sure each puppy is eating enough and is learning to eat from the dish. But don't let this separation go for long.
Especially pitt bulls, do need to be socialized as much and as soon as possible.
Taking them to a dog park (check to be sure pitts are allowed there, many don't allow them) starting now or as soon as possible will be a fantastic way to socialize them to not just other people, but also to other dogs.
Oh one other thing. Check your local town ordinances. Many towns are outlawing pitt bulls. Personally I don't agree with this, but it is very important to know that your town does not outlaw them. Most towns that do, will come get them and almost immediately put them to sleep. Simply because of the breed. So cruel and so sad, in my mind.
September 7, 2011
0

found this helpful
If you were to ask 10 different people that you would get 10 different answers. I always fed my litter of puppies together so I could nip any food aggression in the butt before they were old enough to fight.
Answer

this Question

...
How many times a day does a six month old Pit Bull eat?

Seratta from Chicago, IL
Answers
July 26, 2007
0

found this helpful
I would contact a vet if you have a pitbull.
July 27, 2007
0

found this helpful
I would ask your vet but, the amount to feed your puppy should be printed on the can or bag of puppy food.
By Breanna (Guest Post)
July 28, 2007
0

found this helpful
I have one the same age. I feed him 2 times a day. about a cup each.
By Melanie (Guest Post)
August 9, 2007
0

found this helpful
Depends on how active your pit is and what type of food you're feeding him/her. If you are feeding your dog a lower quality food, you'll need to feed it more and if you're feeding him/her high quality food, he/she will need less. I go by the feeding recommendations printed on the bag of food and just judge by how active my dog is.
August 1, 2009
0

found this helpful
I've raised 4 dogs. Right now I own 3 of them. I have a chihuahua, a toy poodle and a German Shepherd. I keep the dog food on the floor in a large bowl full time. I never let the bowl go empty and my dogs eat when they get hungry. They never over eat and are not over weight. My chi is 5, my Shepherd is almost 4 and the poodle is a pup.
I've always offered my dogs what I eat and you know, they don't beg and won't eat most table scraps offered to them. I think it's because they know they can have it so they don't want it. Strange, but it always worked for me. Mind you, I don't think you can start this with older dogs as they will probably over eat and gobble everything up fast. I started this as pups and it's worked for me.
Answer

this Question

...
I have 11, 3 week old American Staffy cross Bull Mastiff pups and am wondering if it's OK to give them raw minced beef?
Answers
June 23, 2015
0

found this helpful
Yes, when they're older. Puppies at this age should have only their mother's milk. When you start weaning them you can use minced raw beef, but you'll have to mince it a lot at first.
June 23, 2015
0

found this helpful
By the way- Since you have 11 it just occured to me that you're worried they're not getting enough food and that's why you asked.
You'll need to do supplemental feedings with puppy formula. It does seem like 11 is a lot of puppies and some are not getting their fair share. Only feed the smaller ones. The fatter ones are doing okay fending for themselves.
It's still not a good idea to introduce solid food until 8 weeks.
Answer

this Question

...
February 12, 2015
0

found this helpful
Our litter of 5 week old Labradors is on ground puppy food and puppy milk at the moment which they enjoy. Every time we try to soak the food in water as the puppy food comes they reject it, are we too early? They only have 3 weeks to go before they leave for there new owners.
By Rob from Devon
Answers
February 12, 2015
0

found this helpful
We had Dalmatian puppies~4 litters. The mom would get to the point she would get up to stop the puppies from nursing. We then bought a box of baby cereal to get them use to texture foods at around 3 weeks of age. The cereal was mixed with 2% milk warmed a little. In a few days they were ready for puppy chow. We never had a problem with puppies eating. We always had litters of 10 and they grew so fast they were able to leave as early as 4 weeks.
February 12, 2015
0

found this helpful
We always used powdered baby cereal before we went to puppy chow. We used 2% milk to make a soupy mixture. Do you use warm water to soften the puppy food? I would think that would help also. We had 4 litters of Dalmatians a few years ago.
Answer

this Question

...
January 28, 2014
0

found this helpful
Is it too early to introduce a slurry of puppy food to my 20 day old puppies? They're a Labrador/Weimaraner mix seem to be ready for it.
By Mel from Montgomery, NY
Answer

this Question

...