April 12, 2021
0

found this helpful
After researching, I have come up with nothing. I believe the item is just that rare. Now, I'm very curious about it! As others have suggested, contact the company. It may take a while for a reply, but they should have the answer you need.
April 12, 2021
1

found this helpful
He is one of the Pupics Figurines by Enesco. I want to say they where 1950s figures. Supposed to be aliens. There was a red, blue, and brown one. One was moishe...don't remember the others. Haven't seen one in years! No examples of solds in my first pass. I can try another source tomorrow.
April 13, 2021
0

found this helpful
Hi again. Someone is calling him Sidney and offering him for $30 ad shipping on eBay. Hope you can fetch a tidy sum for him! Thanks for the fun memory!
April 13, 2021
0

found this helpful
Thank you! I have learned that Moishe I think is the pail blue, and Herman is the red. I saw o e that looked like a grey one, but im not sure if it was just bad lighting or a 4th version. Haven't heard from Enesco yet.
April 14, 2021
0

found this helpful
I just realized something that I actually find a little offensive about these dolls that I never thought about until this morning when I saw your message. The word "Pupik" (which is how the doll name is pronounced) is a Yiddish word meaning Navel or Belly Button or sometimes chicken gizzards (no clue why). They (Enesco) gave these dolls kind of ethnic Jewish names--like Moishe and Herman and Sidney and made them into funny caricatures. I am not about cancel culture--but it still rubs me the wrong way a little that they did this. In the 50s it was probably very funny and people who got it, got it and bought the figurine! Just wanted to get that off my mind!
April 14, 2021
0

found this helpful
That's an interesting observation. It's one thing if the company was Jewish but if they were not but were making fun of Jewish people, that is not great. You are right that there are lots of insensitive racial stereotypes from years past. Sadly, some of these are worth more to collectors because they were not treasured so are more rare.
Growing up in the 70s, the kids would tell "Polack" jokes. I knew they were supposed to be funny but it wasn't until later that I realized that the "funny" was all about Polish people being stupid. I would never tell one today, just like I avoid other racial stereotypes and epithets.
I don't think it is cancel culture for our society to learn and grow from the past. I know there are old cartoons Disney movies, like Song of the South, that are not well received today, and for good reason. It's just part of accepting that we know better now.
April 14, 2021
0

found this helpful
Thanks, Jess for being so kind about my reaction. You are so right about the need to grow and learn! That is all we can do! History is a helpful learning tool to promote growth and awareness and change (if needed) My daily prayer is to have a more inclusive and kind world that gets better with every day!
I sold many, many, many Enesco products in my time in retail (1980s-1990s) and I don't remember anything in those days that was like this in terms of being "stereotypical".
I know very little about the people behind the company itself.
They were the brand of the Precious Moments series which had a religious (general Christian) theme: www.preciousmoments.com/history--but there was nothing out of the ordinary about those figures. They were highly sought after and we could not keep them in stock. They were quite sweet.
I agree that many people do collect things that are not "politically correct" for that very reason, which is fine. To each their own. Thanks for letting me share my feelings here! Love my TF family!
April 14, 2021
0

found this helpful
When I was too young and engaged right out of high school, I had a Precious Moments bride and groom figurine. It was my intent to use it as the cake topper. We never made it to the wedding, probably a good thing. :)
I hope your prayers are answered too. I believe that the world is getting better every time I talk with my kids or their friends. Gives me hope.
April 15, 2021
0

found this helpful
Your message gives me hope that your kids and their friends will be the ones to make the changes happen!!
Prayers for all!!
P.S. Thank you for sharing your story about the cake topper. We sold tons of those figures for such purposes. I always envisioned them getting stained and ruined from the food coloring in the icing. I am so weird....but I remember that thought so vividly. The little figures seemed so porous! It sounds like G-d had better plans for you and you are exactly where you are supposed to be! Hugs to all!
April 16, 2021
0

found this helpful
Yep, happily married for over 20 years with two wonderful children. I'm pretty content how it all turned out.
When I got married for real, we used the Fisher Price Little People on top of our cake. :) I guess I'm not very traditional but it was fun.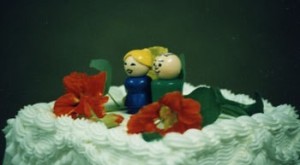 April 16, 2021
0

found this helpful
That is so cute, Jess!! I love it!! Being non-traditional is awesome!!! That is what makes you so amazing! Thank you for sharing! Sending hugs from the 'Burgh! Take care!!
April 23, 2021
0

found this helpful
I have been reading this posting with a lot of interest. I remember these figurines but never cared for them and now that I've read this information, I'm glad that I never purchased one.
I did find the blue one named Moishe but it's on Worthpoint so no real information available.
www.worthpoint.com/.../1950s-vintage-enesco-space-pupics...
I hope you have all the information you need.