October 26, 2019
0

found this helpful
She is beautiful and a bit of a mystery.
The body is too professionally made (to me) for her to be a kit doll. Those were usually very roughly made (uneven stitching, and the hands would not be so cleanly affixed). They also usually just had a single mold number, not a limited edition series mold number. Meaning X of Y. They would usually just be X (with X and Y being numbers like 100/1000).
Also her painting looks professionally done, not mom done. I love her coloring with the green eyes, by the way!
She could have been a doll designed to be dressed only, but those usually did not have the series numbers on them, and also those were usually 18 inches and under, not 28 inches.
The other thing that is a mystery to me is that the outfit and shoes do not look right. Fancy dolls like this one would not have had "toddler" shoes and pearls. It doesn't ring true, leading me to believe she has been redressed.
Would you be willing to post her in a Facebook group called Porcelain doll collector's + accessories buy and sell ?
They may be able to help you figure out what you have. I am familiar with OLD German dolls, but the newer ones, I am still figuring out.
This is a nice international group and maybe someone can tell you exactly who she is and what she should be wearing.
You can sell on that site, if I remember right, so perhaps once you ID her, someone there will want to buy her.
Please post back what you learn! Thanks for sharing!
October 26, 2019
0

found this helpful
Dear Pghgirl40,
Thank you for your kind answer and for your useful advice! I shall post the pictures on the facebook page you recommended and I'll be back here with news. In the meantime, tomorrow evening I'll post some new pictures with a doll found today in a fleamarket in my area, a Kammer & Reinhardt girl doll, with their logo on the back of her head. (probably a reproduction).
Given the fact that I see me so passionate in approaching these dolls, I will buy some books to find information on the subject. In the meantime, thank you for giving your precious time to my questions.
Concerning the similar doll I've found on ebay, I saved its pictures and I've received from the seller a picture with a note written in german with the doll's care instruction. I attach them here:
October 26, 2019
0

found this helpful
Dear Pghgirl40,
thank you for offering such a comprehensive message!
When I saw her I was struck by her beauty and after a while I started thinking of other aspects regarding her. I shall post a message on the facebook page you recommended and I'll be back here with news.
In the meantime I found another doll in a flea market in my area, probably a reproduction of a doll made by Krammer & Reinhardt (marked 114). I'll post some pictures here tomorrow.
These days, trying to collect more information about the initial doll, I found a selling on eBay with a similar one, named Ellenor. I wrote to seller asking for some information about it and he replied with pictures, one of them with a note (in German) with care instructions. There is nothing on the other side of the note. I attach the pictures here: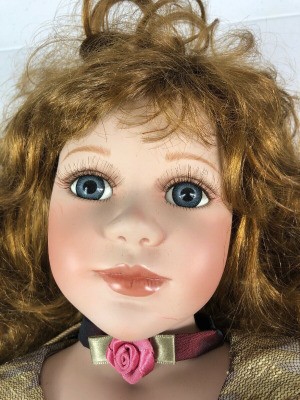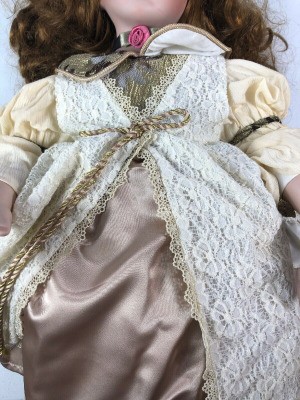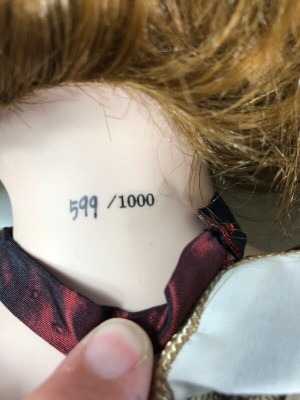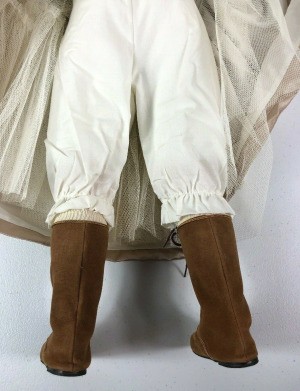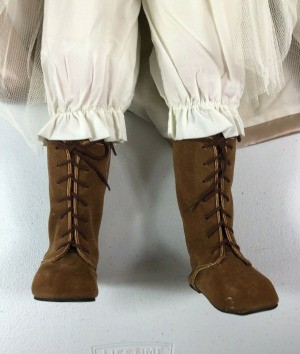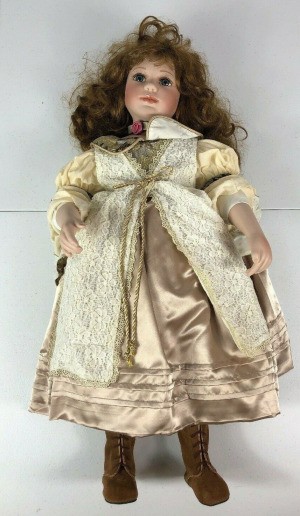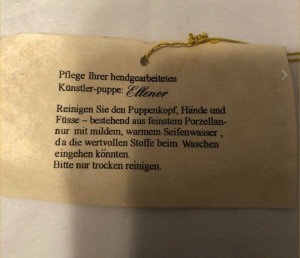 October 26, 2019
0

found this helpful
The photos of the other doll you posted are also lovely, but I do not believe the two dolls to be related. The faces and hands are very different. I am hoping someone in the Facebook group can give you an ID. I like to solve the mysteries with dolls! They all have stories to tell.
Kammer & Reinhardt is a very famous, very old German doll maker and some are quite valuable.
It it lovely that you are starting a collection! There are lots of great books out there and old magazines. I like to read past editions of Doll News, Doll Reader, Doll Life, and Doll Magazine.
The library also has good books, but I am drawing a blank at the moment on good ones. If I can think of them, I will post back!
Blessings on your collection!