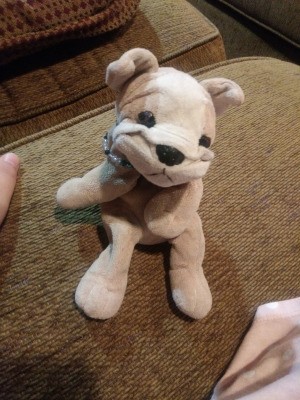 This is Muggzy. I've had her ever since I was about three. (I'm fifteen at this time.) For most of my life, I've wondered where she came from.
I'm 100% sure she's worn from use. However, her pattern - all tan with white on her muzzle and face between eyes - is evident. She's a bit longer than my hand, and her eyes and nose are hard with a sewn-on mouth. Her body and feet are stuffed with 'beans', and her legs and arms with stuffing. Her tail is a triangle and about as big as my thumbnail. The necklace isn't part of her original design.
The ears and tail aren't stuffed at all. There are notable stitches directly down her back, directly up her belly, around her neck, and on the white/tan divide on her muzzle. Her paw pads are separated with a stitch of fabric.
There are no visible tag marks whatsoever, not even one of the white sewn-in ones. It's entirely possible she's had a now-removed tag, though.
Thank you so much if you offer up any information. I've been trying to identify this (probably French Bulldog) plush for years now.