October 11, 2018
0

found this helpful
Nice chair!! Looks comfy!!
First, does the chair have any markings--they would be on the bottom most likely? If not, it will be harder to give a lot of info...but I will tell you my thoughts.
I do not consider this a Bergere Victorian style because my understanding of this style is that all of the wood (around the back) would have to be exposed--like the example in the wiki--shows, which yours is not:
en.wikipedia.org/.../Berg%C3%A8re
I could be being too literal, but that is my understanding.
It definitely has a Victorian flair to it...and I were going to sell it and didn't have a maker or a year, I would call it vintage Victorian.
As to dating it...without a maker, it is hard to date it because there are styles and originals and remakes...so technically, if you had it for 30 years (going back to 1988) it could have been newer then...made to look like an old style.
The hard part about researching chairs for a non expert (I am not at the expert stage by any stretch...I am past novice, but no where near expert)...is that you will have almost an impossible time matching a SOLD version of your chair to any sold piece on any auction site...
I say this because 1 your recovered it, and two, chairs take a beating and there could have been more gingerbread trim that is missing and was repaired and replaced on yours (or on a close version on a website).
You can study this site to see if you can learn more about your piece by looking for like pieces (something I usually do not recommend but in this case it is the only tool available to you if you don't know exact history):
www.chairish.com/search?page_size=96&q=victorian+arm...
Perhaps an antique dealer could look at it and tell you exactly what it is and when it was made...but I am betting they may just be giving you their best guesstimate.
I wish I could be of more help...but I do hope at least the chairish website can help you learn more.
Good luck!! Thanks for sharing!!
PS if you do learn more and get a name and date, I can certainly help you with trying to value it...but I work best with facts...like names and dates!! Thanks!
Thank you so much for your thoughtful response. I wish it had a manufacturer or some identifying feature but.. back in the day, when I had it reupholstered, I didnt have the antique value on my mind and didnt consider looking for identifying features. I do know that it had at least 40 years of wear before I took ownership of it. It belonged to an elderly Aunt of a good friend. That would put it at least into the 1950s. I will keep doing my research and hopefully will be able to narrow it down a little bit more. It does have some detailing in the woodwork that may help. I think I may also have a side view of the chair taken before it was refinished. Thanks again for the info and the websites that you have shared. I appreciate your help!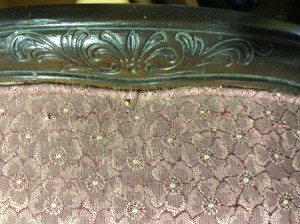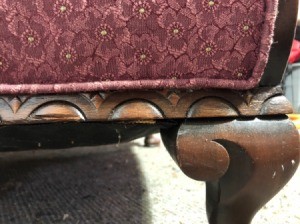 October 13, 2018
0

found this helpful
Thanks for the additional info!! If I am able, I will try to figure out some more on this....it fascinates me as it is so lovely!! If I learn anything, I will repost!! Thanks again for sharing!!