This desk is very unique. If you pull the writing tray out, all doors open at once. It also has an inkwell and there is an extension that can be lifted and used as an extended work area. The third and fourth pictures show the gear mechanisms that cause the doors to open.
They all work. Does anyone know what type of desk this is and what it might be worth?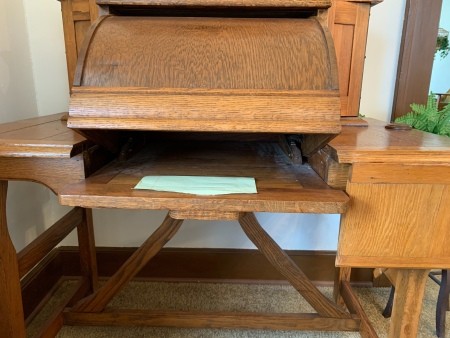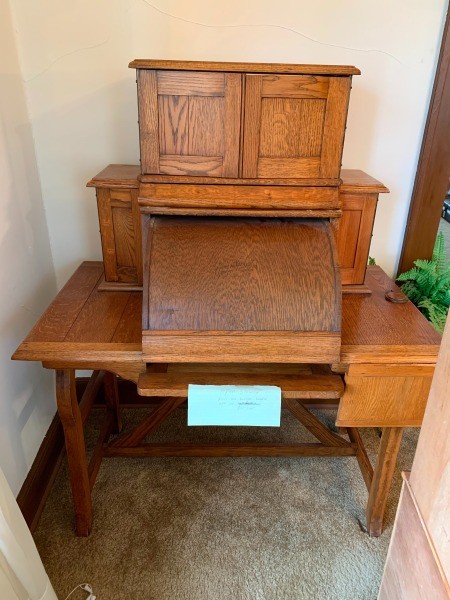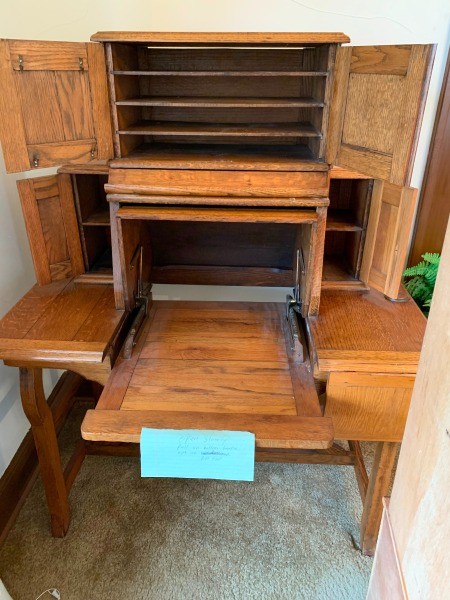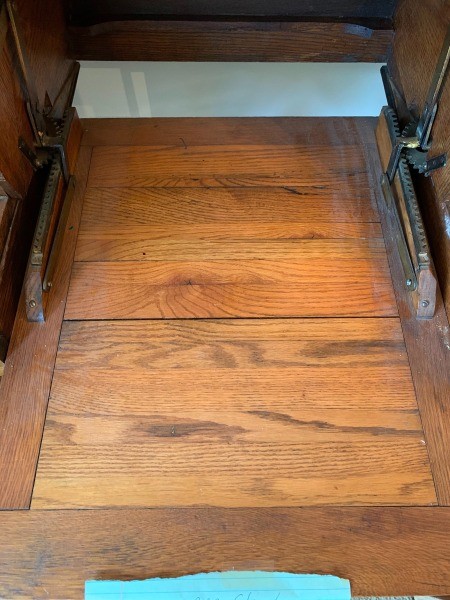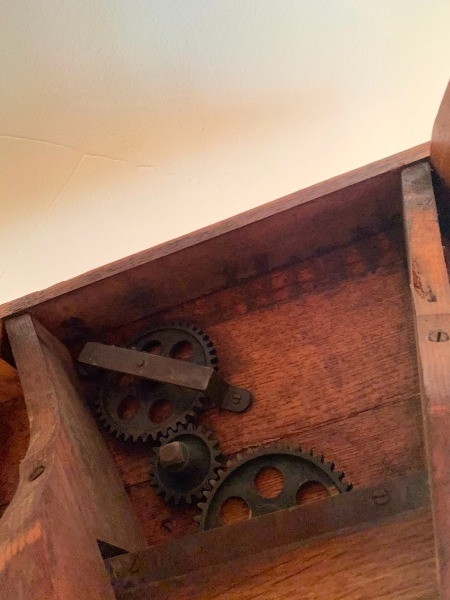 Answers

March 30, 2021
0

found this helpful
Best Answer
This is an amazing piece!! It has a Dutch/Swedish flair to it. I have never seen one in person so you are very fortunate to have such a beauty!
This appears to be a Wooten- style (now if you can find a signature it could be an original--although his works had much more gingerbread on them and yours has a very clean look about it)--which is why I am calling it a Wooten STYLE piece)
These pieces are usually sold under the term "secretary" vs. desk.
I am going to suggest you have a true antique/vintage appraiser look at it for you for the following reason...
The look has a 1960s feel to it (clean--Mid Century Modern style to it), but the gears speak that it may be older--or a very good reproduction piece. That is why an expert needs to see it in great detail--and ideally in person.
Are there any markings on the desk or the gears?
Once you have the piece firmly identified the person or persons identifying can help you value it for your area.
These are very rare pieces (a term I do not use often) but these are not frequently on the market so that makes them rare and with rare pieces if someone really wanted a piece like this--no matter who the maker is--you are going to fetch much more money for it if it sold in the right format--which for a piece like this is probably in a real auction house that specializes in antique/vintage furniture. Not an eBay sale or any DIY type sale.
Even if this is a repro piece--it is unusual--and large enough that you will want to have it sold by a professional who can price it for the market.
Post back what you learn!! I am fascinated by it and will keep researching to see if I can pin anything else down for you--just based on the look and the gears.
Thank you for sharing!

March 31, 2021
0

found this helpful
Best Answer
Really unusual desk.
I'm going out on a limb with this but I tend to believe this was a 'one of a kind' desk that an expert cabinet maker either built for himself - either for his own personal use; or as an example of his work showing the different kinds of 'devices' he could make for anyone wanting custom made furniture; or it was made on a preorder for a customer.
I know that i can be wrong but I just cannot see a brand name company putting this much into anything that will not be a continuing seller and I believe this would wind up being a 'white elephant' for any company.
One feature that sounds especially 'one-of-a-kind' is the gear mechanism that makes all doors open when the writing table is pulled out. This does not seem like anything a regular desk user would want to have happen.
As I said: my personal opinion.
This piece could have been made by a famous cabinet maker and only a true appraiser would recolonize this.
There was a company that made 'expandable' furniture, Saginaw Expand-O-Matic but their pieces were not this intricate and all features were very useful.
theweekendcountrygirl.com/.../
I also believe this might have more value if featured at a regular auction that advertises their auction pieces.
If you decide to contact an auction house in your area, I would suggest you send them pictures before making a trip and, as PGHgirl stated, auction houses are in business for themselves so be sure you read every single word of any contract.
Also, many auctions are what is called 'absolute auctions' and that means your item will be sold even if a bid is only $10 and you usually cannot stop it. Some will have an opening or standing bid/price amount and if that is not reached then your item will not sell; but you would still owe the auction house money for their services.
You can also try using some of the free online appraisal sites to see what information you can obtain. These sites also have auction houses they recommend that deal in this type of items but they are just suggestions. Free appraisal sites will not usually provide their services if the item is valued at less than $500.
Here is one site but their are others available.
antiques.lovetoknow.com/Free_Antique_Appraisals_Online

DianaHM
Silver Answer Medal for All Time! 440 Answers
April 5, 2021
1

found this helpful
Best Answer
Pay attention to the niche in the middle your desk, which is closed by a sliding cover. As you can see, the height of the desk is lower in this place. This height is just right for a typewriter.
In the attached screenshot you can see an example of a typewriter table made in 1900-1950 www.ebay.com/.../114422018571, here is another example: www.ebay.com/.../123730404892?mkevt=1&mkcid=1&mkrid... The niche for a typewriter is always below the level of the desk, which proves that you have a typewriter desk.
The size of the niche at your desk matches the size of the first typewriters. Considering that the first commercial typewriters were introduced in 1874, but did not become common in offices until after the mid-1880s, and judging by the size and height of the typewriter niche at your desk, then most likely your desk was made presumably in 1880's - early 1900's. Perhaps your desk was made to order, which is explained by the impossibility of finding a similar desk. Since your desk has a mechanism, you can indicate this in the name.
So, you have Antique Industry Mechanical Typewriter Desk, circa 1880-1900. I think the price is about $3000-4000 https: www.ebay.com/.../i.html?_from=R40&_trksid=p2334524...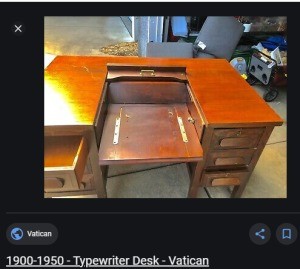 Answer

this Question

I am trying to identify the origin or any information about this desk. My late husband acquired it years ago. He told me it belonged to a prominent individual, but I can't remember who, or anything he told me about it.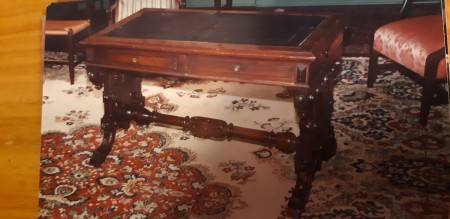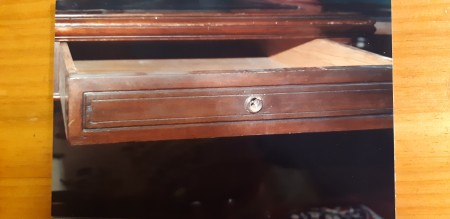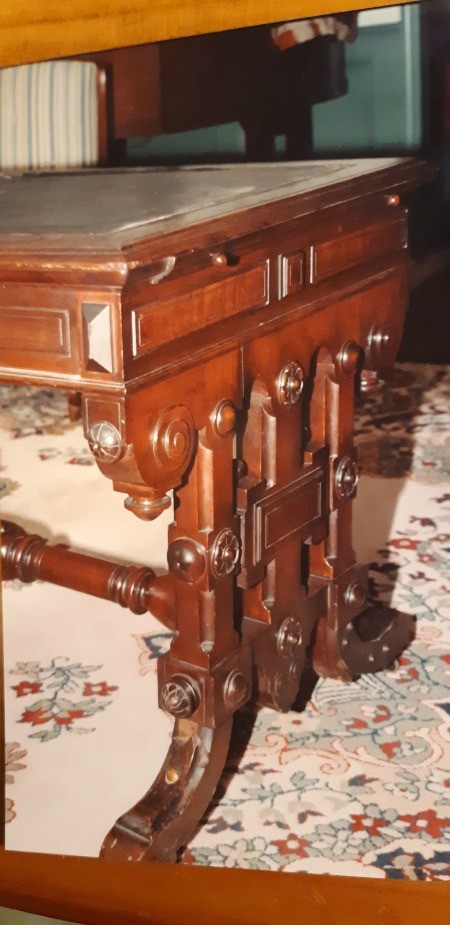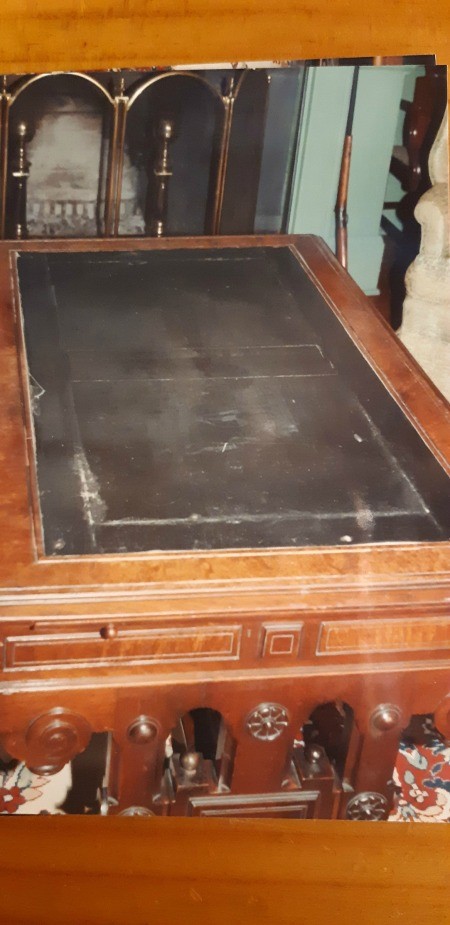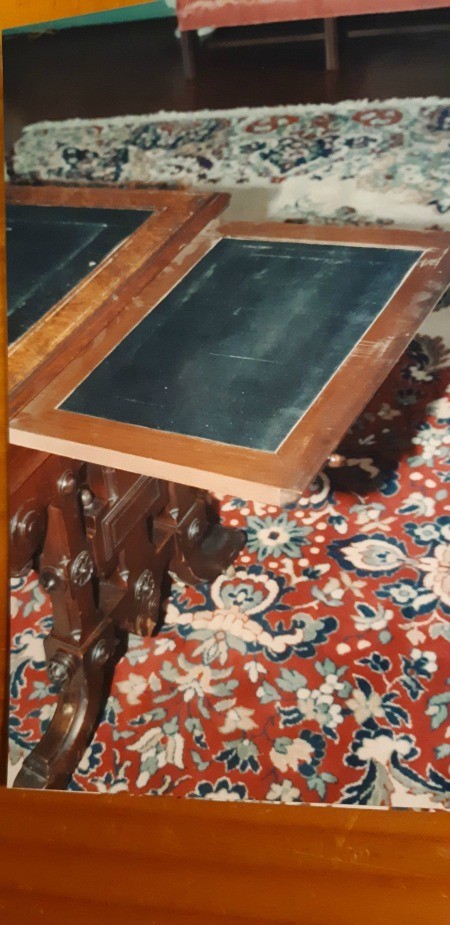 Answers

poehere
Bronze Post Medal for All Time! 105 Posts
October 5, 2020
1

found this helpful
Best Answer
Have you been able to locate any type of name or numbers on the underside of the desk? This would really help to identify the desk if you could find some sort of marking. If not then there is another way to help you figure out if this belonged to a prominent individual and that is to seek the help of an antique dealer in your area. They would probably know the history of this desk a bit more than others on this site would know. If your husband still has some family members that are around you might want to try and contact them to find out who he thought this desk belonged to. There could be other desks that are the same as this that are still around that anyone in the world could have boughten them. But if you believe this really belonged to a prominent individual then it would be best to speak with a few members in his family to see if they know more about the history of this desk.

October 10, 2020
1

found this helpful
Best Answer
How lovely that you donated it!! I would think the museum would have access to many resources to help identify it. There are so many paid sources for old catalogs and such...that many museums have access too and a good photo and reverse image could make a match pretty quickly--unless of course it was handcrafted. Then it may almost be impossible to identify it--unless the craftsman was prolific and well known.
It is a lovely specimen of a refectory library table. My guesstimate from the photos (which it very hard to ID something by photos in many cases) is it is an 1800s piece, tutor style, maybe European.
Hopefully the museum will carefully review the construction, nails/screws, joiners, etc. and that will give them the clues they need to make a positive ID.
Thanks for sharing!! It is stunning!
Answer

this Question

Has anyone ever seen this shape of vintage writing desk? No marks on the desk. Would like to know if it worth anything.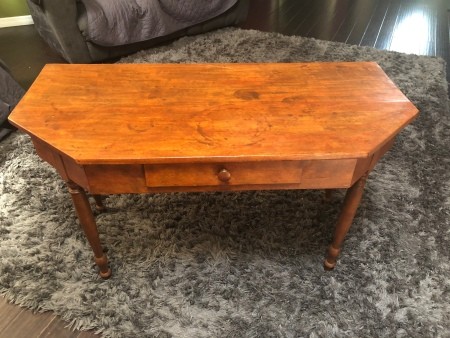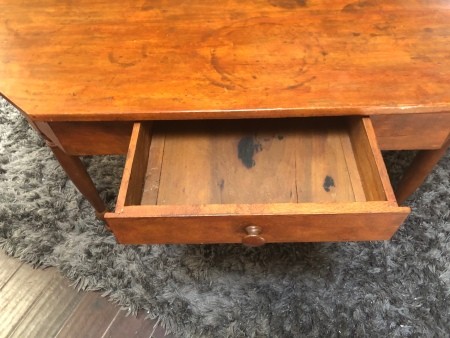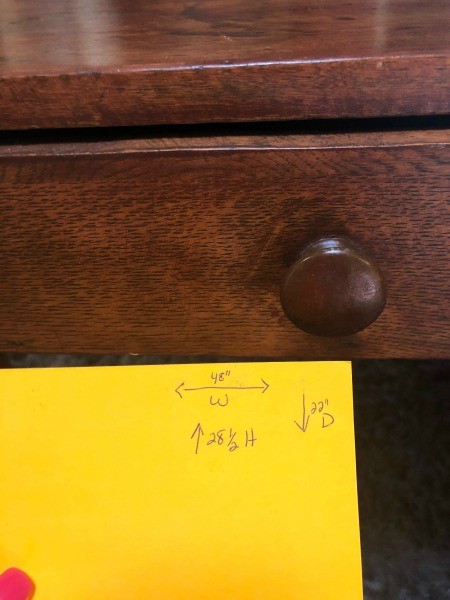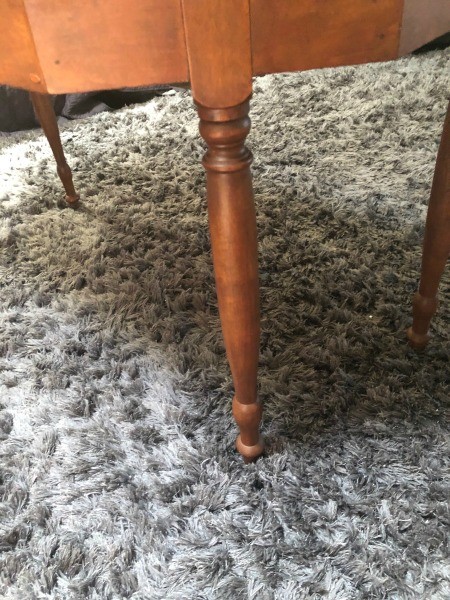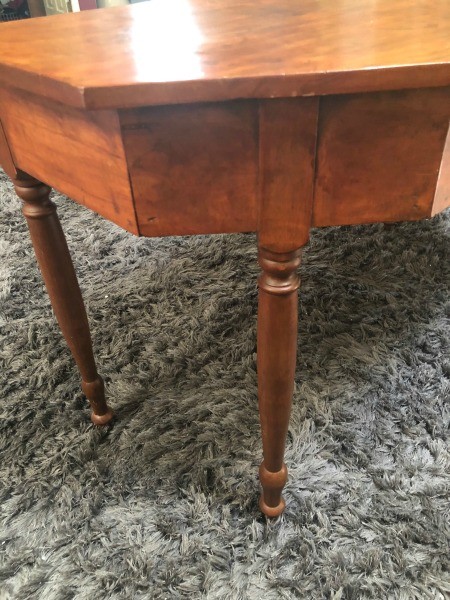 Answers

October 27, 2020
0

found this helpful
Best Answer
This is very cool!
Not sure why you are calling it Victorian. Can you clarify that? To me it is much more of a mission or craftsman style piece--simple lines, elegant. Victorian (to me) is usually used to describe something ornate and gaudy, often without function or with function, but high maintenance.
You may have a carpenter/craftsman made piece on your hands. It is hard to tell--I would want to inspect it in person and look at the construction, how it was assembled/glued/cut/type of screws/nails, etc.
The legs (maybe this is the photo) do not appear to be the same wood as the body--which one of the reasons I am leaning to custom made piece. Also the inside of the drawer looks like it may be a plywood or veneer wood that doesn't seem to match the piece.
As to worth, first you have to know what you have. My first suggestion is to find a good vintage store in your town that specialize in furniture, they maybe able to give you more. Best that they see it in person to get the full feel for it!
They may even recognize the piece if it is something that was created by a local craftsman and he/she made more which are plentiful in your area.
I have never seen anything like it in Pittsburgh!
Second once they give you their thoughts, they may have an idea of supply/demand for your town and that will help you set the value.
Post back with what you learn and I may be able to offer more guidance.
Thanks for sharing this neat piece!

October 27, 2020
0

found this helpful
Best Answer
I agree with Pghgirl about this having a lot of points that make it look like a carpentry shop may have made it and probably made it specially as a 'one-of-a-kind'/made to order' for someone
Some points I noticed:
Legs appear to be machinery made such as you see unfinished in Lowe's or Home Depot.
If you enlarge the pictures showing legs and sides of desk, it appears part of the sides are fastened with brads.
The knob on the drawer also seems to be 'store bought'.
The inside of the drawer also seems odd as it appears to be made in 3 pieces..
The top seems to have a lot of stains and this could lower the value as the stains appear to be similar to stains that might be found on a worktable in a shop of some sort.
Perhaps someone in your area could tell you more but you might also check with some of the wood works shops or furniture repair shops in your area to see if they remember someone making desks similar to this.
Otherwise if you want to sell it, you might just take a chance and post it for sale on some of the sites like Craigslist, Facebook Marketplace, letgo, offerup or any other site you're familiar with.
Start your price at higher - maybe $150 with best offer considered and local pick up only. Leave it post for several months and if no offers received, lower the price and let it list for several more months (generally, furniture is a slow seller); you may get lucky and sell it right away.
Answer

this Question

My mom gave me this desk over a decade ago, and I know nothing about it. Does anyone recognize this or have any clue as to how I could identify it?
There do not appear to be any markings in or on the drawers.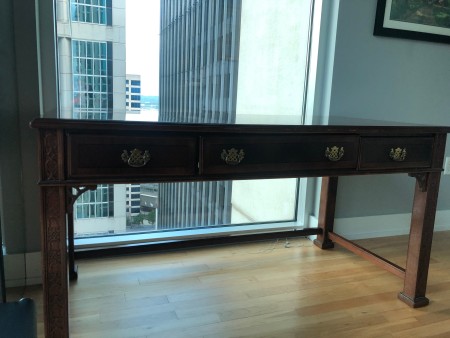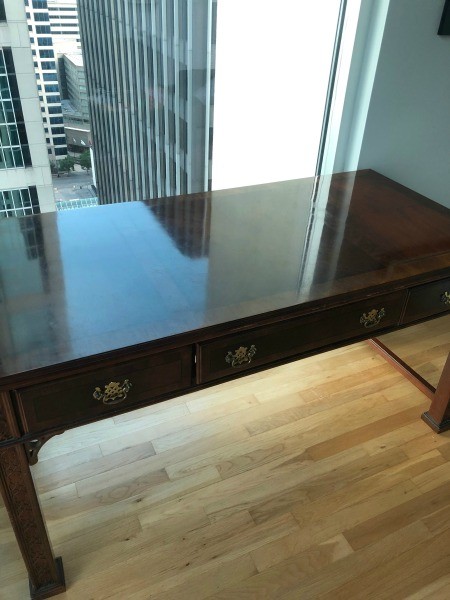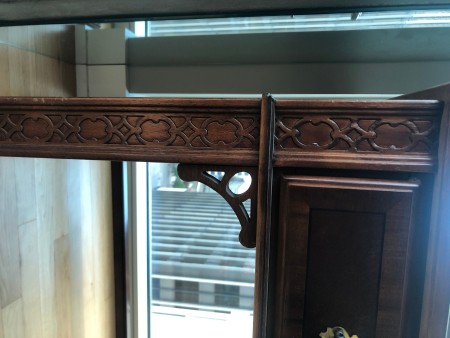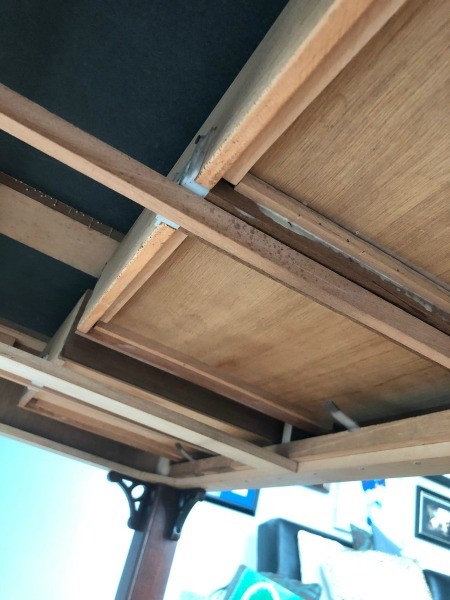 Answers

July 26, 2020
0

found this helpful
Best Answer
You piece looks newer, meaning no older than the 1980s based on what I can see from the photos.
The construction looks newer, machine joining, etc. Do you know if it is the original hardware?
The piece looks a lot like a Bombay company piece, but they did not usually use that type of hardware, which is why I asked if they are original.
There are a lot of Bombay pages on Pinterst, so perhaps you can match your piece to one of their old catalogs or fan pages. Sadly the company has been gone for a while.
If you are asking because you want to sell the piece, sofa/console pieces typically sell from $25 to $200 depending on where you live and the supply and demand. In places like big cities where people live apartments they don't sell. They sell best in locations where people have large homes and space to put a table behind a sofa or by a window.
Post back what you learn! I will keep digging through my resources!
Thanks for sharing
Answer

this Question

This Victorian mahogany pedestal desk from around 1860 - based on the drawer lockers, which were made in the period (1851-1855) - has Chippendale style drawer pulls. What puzzles me is that there are no keyholes! The only explanation I've been able to come up with is that the desk has had its veneer exchanged at some time and the then owner didn't need the locks.
But exchanging the veneer must have cost more than the entire desk! Do you have a better explanation for the missing keyholes?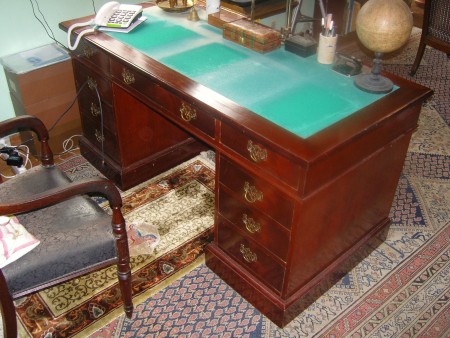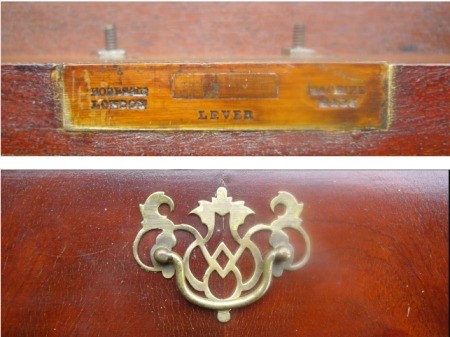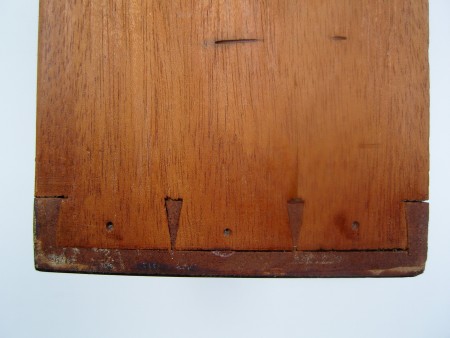 Answers

March 2, 2020
0

found this helpful
Best Answer
There could be several explanations, the first of which was this did not start its life as a desk. It is possible it started out as a ladies vanity which would not have had locks and the mirror is long gone. This is a remote possibility as the piece does have a very masculine feel to it.
Can you tell if there are any places in the top that were refinished (meaning the holes for the mirror bolts were patched and filled)?
The other thing is that it is possible that the original drawers broke and were replaced. The hardware on the drawer pulls does not look original to me (at least not from the photos). I have very early 20th century desk and the pulls are a very dull brass. The ones you show look too shiny. Most of the desks of this era, at least those I have seen in PA and in the US, have pulls that are brass and you can see the age and patina in them to guesstimate if they are original or not.
The third is it truly did just come that way. I have seen very old desks with no keyholes/locks. Typically this was on the more feminine ladies writing desks, but it is possible that it just came that way.
It is a lovely piece and looks very sturdily made. Have you talked to an antique dealer in your town about it?
I find that many antique dealers where I am are very friendly and love to share information and help people understand what they have. It is always best to have someone look at it in person and give opinions vs. photos.
They may see something in person that I cannot see in photos and be able to give you an on the spot answer. Seeing pictures I can only speculate.
Thanks for sharing!!
Answer

this Question