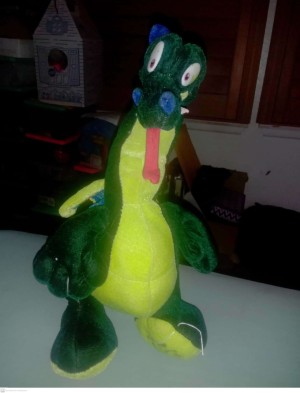 Hey everyone! This is my first time here on Thriftyfun website, and I am very curious to know a little bit more about this plush dragon I've got here.
This is a medium sized stuffed dragon I had throughout most of my childhood, and he is quite old, judging by the rips in the fabric on his neck and tail. I got him around the early 2000's, at least before 2010. He is a dark green color with a light green/lime colored underbelly, and has dark blue scales going along the top of his head to the start of his tail. His tail tip is the same color as the scales on his back. He has a unique flame/fire pattern on his wings that makes it look very cool. He has a silly smile on his face and has his tounge sticking out.
Another important thing to note is that there are two other color variants of this plush. The other two look just like this one, except they were different colors. One of them had bright red skin with a yellow underbelly, yellow scales on its head to its tail, with a red and yellow flame pattern on its wings. The other one had a dark purple color with a yellow/orange underbelly, some red colored scales going from it's head to its tail, with a flame pattern on its wings. I cannot remember the color of the flame pattern on the purple variant.
I'm very curious to know which toy company made this stuffed dragon buddy, as I want to try to find the other two color variants described above, and purchase them so I can give this little guy some friends. One of my family members used to own one of these too, it was the purple variant. I asked him if he still had it, but he told me he didn't. Does anyone here know what toy company made this dragon plush, or any places I can find this dragon plush for sale in better condition? There aren't any tags on this guy so it remains a mystery to me.
Thanks to everyone on here for the help. I really appreciate it.