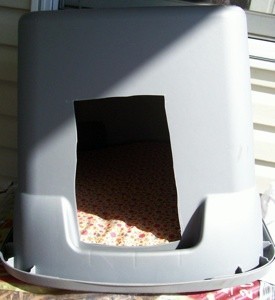 Having several cats that needed a place to sleep that was their own, I adapted a Sterilite storage container into a little shelter for them. Please note that these have to be in a protected area that does not get rained upon or wet or harsh weather. They are not waterproof. Water will collect and get into them if not stored in a roofed or dry area. We currently keep ours in our storage room that is in our carport.
The door to the carport has a square opening cut out, so that the cats can come and go from the sheltered area as they please. We have ours sitting upon brick landscaping squares to keep them off the floor and protect them even more from moisture. They do have small plastic grooves in the bottom, so we are sure to insert cedar chips, foam bedding, towels or fleece to keep them comfortable.
All you do is cut an opening into the front of the Sterilite container. This is the hardest part. Caution: Be VERY CAREFUL! It is really easy to cut yourself when trying to cut an opening in plastic this dense. The plastic is very hard and difficult to cut. I used a box cutter and a flat screwdriver to create the opening. If you know someone handy with tools, they may have an easier way to create the opening.
After creating your opening, reattach the top, flip the container over (top on the bottom), and you have a cheap little shelter. I don't think are substantial enough for a shelter in and of themselves, but they do help. Then we insert some bedding, and our pets have a nice place to lay.
While the one I have pictured looks very crude. It is functional. In fact, this winter, we purchased the warming mats that warm when laid upon by the pet. We put them into the plastic containers with nothing else in them, and snaked the cord out the back. They worked fine.
I have found the storage containers for five dollars or less. I make sure that I get a good sized one, where they can stand up comfortably, but small enough to conserve some of their body heat. I also take duct tape in the winter, and duct tape a piece of thick fabric or fleece, etc. to the front with a slit cut in it to block some of the cold air.
By Chris from USA
Read More Comments
My cat loves the crunchy sound of crumpled-up paper, I guess it sounds like leaves. I've been trying to figure out some use for old magazines, and I've just made him a bed by stuffing an old pillowcase full of their wadded-up pages.
I'm sure he's not the only indoor cat that would love this! Give it a try. Old packing-paper works, too.
Source: My very own imagination.
By K. L. from New York
I am looking for a way to make my cat a bed. He is pretty hefty and just loves to sleep, LOL! Thank you so much for any suggestions.
By Punkin
Answers
May 9, 2011
0

found this helpful
When we had a cat, we had a nice cat bed that was purchased from Wal-mart but his favorite bed was a closed cardboard box with a round hole cut in the side for an entrance way. I had soft bedding in the bottom and he loved it.
May 9, 2011
0

found this helpful
I used an old flattened pillow for a cat bed. I put a zipper on an old flannel pillow case and then it stayed on securely but was easily taken off and washed.
My cats thought it was a great idea!
Answer

this Question

...