Ask your church if they can help you or make suggestions. Many groups that help people in a community let churches know they are available. For that matter many people in your church may volunteer for groups that help people. If you don't go to church it may be time to start (but go to one you haven't asked for help from).
May 31, 2011
5

found this helpful
Best Answer
There is a web site that is called Freecycle, you can find the groups in your area and join. They post items that they will give away and you can ask for items.
April 25, 2017
0

found this helpful
I have a free small floral couch it has tears but can be covered with the original seat cover, also has two arm covers & a pillow or two. 6-1/2' x 33"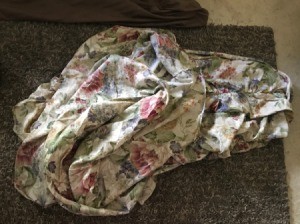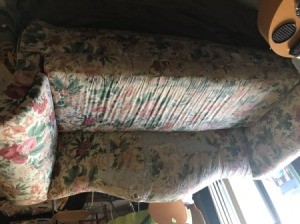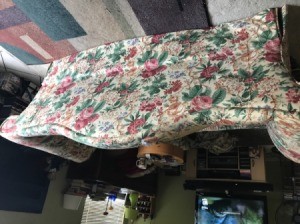 September 17, 2017
1

found this helpful
Need bed, sheets dishes siverware table
May 27, 2011
3

found this helpful
I don't know of any place that gives out free cars. Do you receive help with your rent, like a subsidy? If you do report that your income has went down and your share of the rent will go down. If you aren't renting a place like that start looking for one. They are usually HUD buildings and have to meet certain safety levels. There are other types of rent subsidies, but where I live there is at least a three year waiting list, whereas the HUD ones usually have a shorter waiting list. As far as furniture goes, go to the Salvation Army and they will usually give you a voucher to take to their Thrift Store for free furniture. They don't always have everything a person needs and it isn't always real good stuff, remember when people donate things it is usually because they don't want it for one reason or another.
As far as beds go, I need a new bed, too, but I won't get a used bed, no matter how clean it looks you can't be positive there aren't bed bugs or other nasty stuff in it, therefore I will make do with my old one until I have saved enough to get a new one. When it comes to free furniture, the thrift stores will only give out the bare necessities, nothing like TVs, etc.
You could ask for help from your church, when it comes to a car, maybe somebody has an old beat up clunker that still runs good that they would be willing to donate. I know a lady that got a car from her church, she says it looks like crap, but gets her where she has to go. However, she also attends church at least once a week.
Also if you aren't already on food stamps go and apply for them. I know lots of people that are getting by on between $500 and $700 a month, either retirement social security with no pension or SSI or SSD. Be aware that in most places when you get free furniture from a charity you have to be able to haul it yourself. When it comes to a car, I gave up my car in 1997, because I decided it was to expensive to maintain it. I ride the paratransit buses sometimes (with them you have to plan ahead). If I decide I want to go someplace on the spur of the moment I use a cab (for that I make sure I don't have to go very far).
Car expenses add up, tires, gas, oil changes, lubes, repairs, general maintenance, insurance, and whatever else comes up. When I had a car and was going out of town on short trips, I always took it to a mechanic and had the belts and hoses checked. I checked the oil myself if I had to add some, I did that. My Dad made sure my Mother and us girls knew how to do that and my now "ex" also did that. My ex and I always had a good car, because he knew how to do the maintenance on them and more than just general maintenance. You might be further ahead using a bus or cab or even paying friends to take you places.
August 12, 2016
0

found this helpful
My husband is dead. I am in a wheelchair. I can not get my neighbors to help cause they don't have a lift for my electric wheelchair. And I need help replacing my furniture because of bed bugs. And I need to to move because of the bugs and because of the place i live in is full of bed bugs. It is owned by father joe and he doesn't care about the people that pay rent every month. We are not considered tenants. He gets money from the government because even tenants are considered homeless.
October 5, 2016
0

found this helpful
Coastal Community Action
January 4, 2017
1

found this helpful
I just moved in my new apartment no business so I need help so I've been through a lot so I just want to know how to get some furniture from you
March 8, 2017
0

found this helpful
Im not workin i nees help with ma kids room and ma room
January 25, 2013
1

found this helpful
Have you applied for Ssdi & ssi? It's common to first apply on your own and be denied. once you have a denial then it's time to find a disability lawyer to appeal your case. Make sure you find legal counsel that does not get paid unless you win your case. It's a very lengthy process but also keep up with your time frames for an appeal.
In my case I was denied when I applied on my own. However, I then was paralyzed due to lack of timely treatment because the doctors and ER did not treat or take me seriously. My disc finally ruptured and they all thought I was lying, and wouldn't run an mri which would have shown the disc went from having degeneration to actually rupturing causing nerve damage that was time sensitive and because they wouldn't test or treat my spinal injury I became paralyzed.
For years I knew my health was getting worse however many of my doctors did not take me seriously. It's a very frustrating and financially draining process advocating for yourself when doctors think it's all in your head. I would just say no master what don't give up. I've learned medicine is just a practice of trial and error and many doctors assume most patients are drug seeking or attention seeking.
Any way once a lawyer appeals your case it can take years to actually get a hearing. Also I, learned patients are legally allowed to get copies of their medical records once a year at no cost. Most hospitals and doctors will try and charge you a fee. I often had to tell them legally you are entitled to one free copy per year.
Also if you already receive medicaid they cannot charge you. However they can charge your attorney. So it depends how your fee schedule is setup but many disability lawyers receive either 1/3 or 1/4 of your settlement if finally approved. But others can also charge for their out of pocket costs in getting medical records. I'm not sure if you've done all this but wanted to mention it in case you haven't. Also the lawyer only gets paid if he wins your case and only gets his or her portion of back paid disability from the date the court says, you became unable to work/disabled not future earnings. In the meantime setup an appointment with your local chamber of commerce. They helped pay my rent, utilities, etc. and then they refer you to agencies that will also help you.
You also need to sign up for medicaid. Also with medicaid there are different categories. Make sure you tell them you want to apply for disability medicaid which often first they approve based on family income/size but once approved medically it's based on your disability. In my case once I was approved for ssdi I also became eligible for medicare. With Medicare there is a waiting period. In my case that meant my medicare wouldn't start until Sept. that year. But because I received so much back pay
I had too many assets to keep full medicaid. I basically used the back pay and
bought a car which was my primary car. But that some how meant one month I had too much income for medicaid without a large spenddown. So I appealed the loss on my own for full medicaid to end beginning in Aug.
If you appeal medicaid notices on changes basically It puts you day in a stay put for 30 days which helped me keep medicaid until medicare is in place. Also I've learned medicare pays less than medicaid. however, bc I had disability medicaid I still keep medicaid but it only helps once I pay so much in towards spenddown.
Also there is special assistance you can apply for to pay your medicare monthly premium. Also sign up for other programs such as TANG, Food stamps, Wic, Area agency for disabled adults medicare waivers, trust programs if needed, and medicare programs that also will last for your medicare part d drug program, medicaid for children (my daughter receives even though my primary is now medicare.
If children check out Ashley Home Furniture's Hope to dream program will help children get quality new mattress sets with foundations and complete bedding. Also it's a memory foam mattress set very nice. Also medicare & medicaid will help get beds/mattresses, medical equipment for you if eligible.
Basically it's all quite timely and time consuming. And often seems unfair as I receive $3 too much a month to receive a premium free medicaid for my daughter, and also spend down free medicaid to help pay the 20% medicare doesn't, and do not get food stamps because my ssdi is $ 3 too much a month.
Also if you have minor children make sure the social security office is aware and your child gets half of your ssdi/ssi amount paid to help also. often office the chamber of commerce office can refer you to food banks, agencies that will pay your electric and gas costs, churches, clothing, furniture, holiday assistance, etc.
I've found some don't get why you have a cell phone but need help paying for electricity, in my case due to mobility issues as I do drive and by the grace of God now walk. I prayed and prayed until finally once I fully believed there is God and I finally years later took my first step without needing to hold on in the pool.
My doctors said my chances of ever walking again was 1 in a million. To Christ he can provide miraculous healing but I had to fully believe first. I had no feeling or movement for two years from the waist down. I slowly could move but not feel.
Finally in the water I learned to walk without complete feeling. I basically then paced the pool daily. I now have at most 50% feeling in some areas below the waist with many areas no feeling. But I'm sure my faith healed things doctors could never have fixed. Also water is symbolically represented with life if you think of being baptized, being born, the living body etc.
I hope this somehow helps you too. I'll pray for you and your family to find some sense of real living again. have a blessed day. At least in heaven one day we'll all be healed free of pain and the problems associated with our Earthly lives.
August 28, 2013
1

found this helpful
I will be moving very soon, my teenage daughters will be needing dressers sets. I will be needing sofa set. I'm also in need of a car I'm not picky at all. I will appreciate whatever you bless me with. The only income I have is SSI. Thank you.
February 9, 2014
0

found this helpful
I need help with a car. I'm walking all over and taking a cab
April 23, 2017
0

found this helpful
Gina what area are in Dee
June 4, 2017
0

found this helpful
I would love to have a giftcard, mostly a bed.
June 10, 2017
5

found this helpful
my aunt just passed away i have 1 queenscomplete bedroom set in great condition plus 2 single beds with headboard and dressers to match for free just want to give it a good home, sentimental reasons. if interested contact me 732-525-0412. you must make arrangements to have the furniture pickedup. can not provide that.
June 18, 2017
0

found this helpful
I am a survivor of domestic violence and had to leave Pennsylvania for several years and moved out to Oklahoma. I finally came back to Pennsylvania this month but due to my troubled and scary marriage,I lost everything and am literally having to start from nothing. I promise you , if you choose me yontevieve your item, they will be well taken care of, especially with the sentiments begins that..please contact me at your earliest convince . Thank you for being such a blessing to others
June 28, 2017
0

found this helpful
Hello and good morning. If you still have the items available I am very interested and I can pick them up asap. My name is Katherine and I will be calling you first thing this morning. God bless you.
June 28, 2017
0

found this helpful
Was wondering if this was still available
July 21, 2017
0

found this helpful
Where are you location
July 23, 2017
0

found this helpful
Is this furniture still available
July 27, 2017
0

found this helpful
Location? Still available?
June 10, 2017
5

found this helpful
have a queen size bedroom set in great condition you can have for free just have to pick it up
June 15, 2017
0

found this helpful
In desperate need of anything that will help I am on ssi and had to move and throw everything away because of bed bugs please help
Linsey 815 670 9147
June 16, 2017
1

found this helpful
Where are you located
June 20, 2017
1

found this helpful
Would you still have this item?
June 22, 2017
1

found this helpful
Do you still have those furnitures
June 26, 2017
0

found this helpful
I'm looking for my nephew. He's a college student who has a place. However he has had a lot of hardship lately. He needs a bed especially. We would appreciate any help. Thanks!
June 26, 2017
0

found this helpful
Is this available
July 3, 2017
0

found this helpful
where are u located
June 15, 2017
0

found this helpful
Need bed I don't have one I'm on low income I don't have money get bed I sleep on floor
June 29, 2017
0

found this helpful
I had a Aneurysm in 2010.Im trying move forward in my life after I was put out of my ex boyfriend house.It's really hard for me.I walked away with nothing.
July 7, 2017
0

found this helpful
Former homeless veteran back on my feet through hud/bash. Please help me with furniture assistance
July 16, 2017
0

found this helpful
that would help a lot!
July 26, 2017
0

found this helpful
I'm searching for someone to plz help me with furniture for my apartment. I'm a single mom. Nd the only source of income i have at the moment, is my daughters childsupport. I'm under Drs care nd I'm unable to wrk at the moment. This is my first time asking for help.. anything is greatly appreciated..thank you.. ms. Alvarez