I have a 6 year old dog who is potty trained. We recently moved into a house 5 months ago, and he is peeing in one spot of our new place. Pretty sure he knows his not suppose to. Why is he doing this, and what actions can I take to make him stop?
By Vanessa from CA
Answers:
Previously House Trained Dog Has Started Peeing in House
1) Infection or Illness?

Of course it can always be a bladder infection or another medical condition, so you should have your pet checked out by a vet! Dogs and cats behave differently, but with our cat, we found that besides infection or illness, here are several more reasons a pet will suddenly started doing this:


2) He smells pee: If he smells other animal's pee (or his own pee) most dogs will continue to keep going back to that spot! When my mom moved to a new house, the previous owner had other dogs that had peed in that spot before (we found out exactly where, when we pulled the carpeting up). You will need to buy an "enzyme-based" pet cleaner from the pet store and saturate the rug and the rug-pad so he won't smell the pee anymore. After applying the enzyme cleaner, cover it with plastic (a new flat garbage bag works well) and leave overnight. The enzyme cleaner only works when it's wet, the plastic helps keep area wet. For more details, read below:
Cleaning Pet Messes: (read my post towards the bottom) thriftyfun.com


3) Marking Territory: Like if a new animal came into your house or even outside.


4) Fear: Our cat was afraid to go outside because another cat attacked him.


5) Wild Animals: and Staying safe indoors: This is fear too. We found a raccoon in our back yard and we figured that our cat must have seen or smelled him too!


6) Bad Weather: If it snows or rains, my cat hates to go outside!


7) Ammonia Cleaners: Never clean with ammonia inside because ammonia smells like pee and makes the animal want to pee where you used the ammonia.


8) Dirty Litterbox: for Cats, a dirty litterbox can make them pee elsewhere.

I would recommend you buy one or more of those boxes with plastic "turf" on top, made of plastic with holes under the turf that the dog pees through and you dump out the urine daily and rinse in out weekly (they sell these on TV for small or large dogs). With a cat, we simply got 2 more cat-boxes and placed them where he liked to pee. You might also use potty pads in these places. Once we did this, our cat eventually lost his fear of outdoors and started going back outside to go.

But a year later, we got a second cat and then he started "marking" his territory (to leave his scent). So what we do now is: Keep an eye on him for at least an hour after he has eaten his morning meal (which we add water to) and at night we put him in a huge cage with all his comforts, then in the morning when we let him out we make sure he goes outside and pees first thing. You might have to use a crate at night. But, every time your pets goes, be sure to remove any trace of urine smell from your carpeting, because it is "calling his name". The enzyme cleaners work by speeding up the normal bio degradation process. I recommend "OUT!". It's sold at Walmart and K-mart for under $5.
U.V.or Black Lights: To find out if there is pee in your carpeting, buy a black light. Pee will glow under U.V. light. Some types work better than others. Read the reviews on Amazon before buying so you know you are buying a good product. If you have a pet that sometimes pees indoors, a black light will be worth it's weight in gold.

Self Rinsing Porch Potty: For those who live in an apartment and are not home all day, your dog can use this Porch Potty to "go" out on the deck. It comes with it's own sprinklers which can be put on a timer to self-clean. I think this is one of the best on the market because it has no expensive under-pads to keep buying, because it rinses clean using water from built-in pop up sprinklers and a gravity fed drain hose (and you'd have to be careful where it emptied if you lived upstairs). There are cheaper models you can buy (from $39), but they require buying under-pads, so in the end, you'd likely spend more. It costs from $225 for a smaller one to $279 for the largest. There are 4 sizes: porchpotty.com
* For other brands simply Google "indoor doggie potty". (04/24/2010)

By Cyinda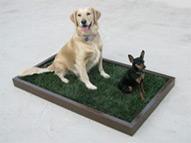 Previously House Trained Dog Has Started Peeing in House
Vanessa, your baby is probably going through a type of separation anxiety from the older home. Do not rub his nose in it as it never works, confuses them and is abusive. If he is peeing in the same spot then place a puppy pee pad there to protect your floor. Also, do a door trick where you go out the door and come back and slowly take more time coming back in. This way he knows that you are coming back and not leaving him alone in this strange new place and give him extra love for reassurance. It will work out with patience.
Deby (04/26/2010)

By YORKIEPOO