June 18, 2010
0

found this helpful
I have a Lean Mean Grilling Machine. I've had it for a few years. I don't use it much, but the non-stick has been coming of for some time now and food has been sticking as of late. In addition the lower plate no longer heats up. I like the machine, but must repair it. If I remember correctly these machines had a lifetime warranty. Am I correct? If not where do I get parts for it?
Bob
Answers
June 18, 2010
1

found this helpful
My George Foreman manual states it has a two-year warranty. For parts you can call 1-800-738-0245.
To keep the food from sticking while it's cooking, try spraying it with a cooking spray such as Pam before placing the food in it.
June 19, 2010
0

found this helpful
I am on my 3rd George Foreman Grill. I still have the first one but the teflon coating came off. I simply line the grill with foil, top and bottom, spray the foil with Pam and grill away. Works fine (got that idea on this website!) The second grill lost a heating unit on one side.
Too difficult for me to replace so I pitched it. Someone picked it up at the curb. The 3rd one is relatively new and working fine but it doesn't have the timer option so I only use it occasionally. Good luck.
June 20, 2010
0

found this helpful
I found the best way to get immediate attention, and if the company is on Facebook, write to them on Facebook. It worked for me! How quickly I got a message from someone at the company, and the problem was resolved. Be truthful in your statement, but make it strong! It works!
June 20, 2010
0

found this helpful
I see tons of George Forman grills every time I go the the Goodwill. Might be a great way to get replacements.
June 20, 2010
0

found this helpful
Same here, go to the 2nd had stores, they always have them & they aren't very expensive!
June 19, 2016
0

found this helpful
I have George foreman grill and I let someone use it they damaged the Teflon coating on it, can I repair this by myself and how?
August 30, 2016
0

found this helpful
My George Foreman rotisserie will not come on when it's plugged in.
Answer

this Question

...
June 6, 2011
0

found this helpful
My children bought us a large George Foreman grill for Christmas a few years ago and I just tried it out. Low and behold the bottom of the grill does not heat up. It barely gets warm. What can I do to resolve this problem?
Evelyn
Answers
June 7, 2011
0

found this helpful
Are you talking about the electric indoor/outdoor kettle type grill on a stand? That's what I have and the bottom of the grill is not supposed to get hot and only the grill plate itself is supposed to get hot. That's why it's safe to use indoors and outdoors. Even the lid doesn't get so hot that it will burn you like regular outdoor grills would if you accidently touch it. This also gives you the option to remove the kettle from the stand and use the kettle on a countertop or tabletop inside or outside if you want to.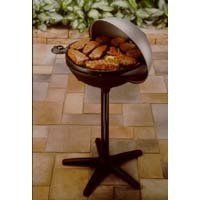 June 8, 2011
0

found this helpful
Replacement appliance parts of all kinds at www.goodmans.net
June 8, 2011
1

found this helpful
We have the G-5 grill (the red one with changeable plates. The same thing happened. My husband carefully took the bottom section apart and found that one of the contacts had slipped out of it's socket. He pushed it back in, reassembled it and it works great. It's happened a couple of other times and he's fixed it this way every time.
Here's some links about this problems:
http://www.fixy _g5_indoor_grill
May 25, 2017
0

found this helpful
this is the foreman i have and it won't heat up for me anymore. just died out on me a few days ago is there anyway i can fix this really cheap or something like that cause i live in a apt and also am on disability, so don't have the money to go buy a new one.
Read More Answers
April 22, 2014
0

found this helpful
The top grilling plate on my model GRP99 keeps falling down. It never seems to lock tight in place. Can the grips be disassembled for repairs? Any solutions appreciated.
By Giacomo S.
Answers
February 18, 2015
0

found this helpful
If you have the grill completely open, you will notice 2 screw holes at the bottom of the top grill plate. 1 of mine was missing and I took the 1 screw out to find another 1 that matched for the other side. Once I replaced the 1 that was missing my lid no longer falls down.
May 30, 2017
0

found this helpful
I have the same problem with my grill - the top just disengages and makes a mess when I try to get the food out - both of the screws are in place on my grill. Any other ideas? I can't use it this way - it's very dangerous - have burned my hands several times and decided to to use it anymore.
Answer

this Question

...
October 22, 2010
0

found this helpful
I have a George Foreman Grilling Machine model #GR18BWR, S/N #0223. Can I repair the non-stick surface of a 7 year old unit?
By Ken from Allentown, PA
Answers
October 26, 2010
0

found this helpful
You might want to ask at:
http://www.Grou ge_Foreman_Grill
Also, they send out two recipes every day, with healthy recipes on Friday.
October 26, 2010
0

found this helpful
I haven't researched this, but I think that if a non-stick surface is peeling, it is time to toss the machine. You may be able to replace the grills, but you would have to check with the manufacturer. If the grill looks fine, and just seems to have lost its non-stick properties, it maybe possible to do something with it. I am not sure what sort of non-stick surface we are talking about.
Answer

this Question

...