July 6, 2009
1

found this helpful
Top Comment
I have a friend that buys old sheets then tears them into strips & using the largest crochet hook you can buy, crochets them into throw rugs. I've used them for curtains, made summer dresses for myself & my granddaughter & I use several dark green sheets as tablecloths at my Saturday Market Booth. They work great because the launder so well & rarely fade. When they get to beat up to use for anything else they make wonderful drip cloths & absorbent rags for cleaning windows & mirrors.
July 7, 2009
1

found this helpful
Top Comment
I have sheet curtains in my house. Also pillow cases. I have made throw pillow covers out of them. I made a shower curtain out of one.
You can even make a cover for your comforter out of sheets. You are only as limited as your imagination. If it can be made out of fabric, you can make it out of sheets.
July 8, 2009
2

found this helpful
Top Comment
Mine is also a rug craft; I split them into strips (especially flannel sheets) and make braided rugs.
July 28, 2010
1

found this helpful
Top Comment
Yes, just think of sheets as very wide fabric. I've done many of the suggestions here, and made a summer kimono out of one once that was lovely. I think the idea of retro dresses is lovely, you might even be able to squeeze out a mother/daughter sundress set.
July 6, 2009
0

found this helpful
I use them to make aprons as gifts for friends. They also make good table cloths for outdoor/park picnic tables.
July 7, 2009
0

found this helpful
My 22 yr old daughter has been using them to sew beautiful floral retro summer dresses for herself and friends. Women stop her all the time to tell her that they love her dresses. They are one of a kind!
July 7, 2009
0

found this helpful
I have found that using old sheets when making Duvet covers is a great idea as well. Also I have made shower curtain swags out of them as well as covers for footstools.
Lots of times I find fabric at garage sales or Value Village stores here in Canada,and I use that instead of buying material. Some great ideas in the Feedback section. I love this website. GailDarlene
July 7, 2009
0

found this helpful
I made a rag rug out of old sheets.
July 8, 2009
0

found this helpful
Make some simple grocery tote bags using this tutorial
www.lazygirldesigns.com/.../?p=913
I am making some now, you can use sheets or any other fabric you like.
You can make one in about an hour or less and make them larger or smaller, whatever size you want.I find that 30" for the top and 40-45" for the length makes a good size bag for groceries.The lining is simple,just fold half the bag into itself.Well you'll see when you read the tute!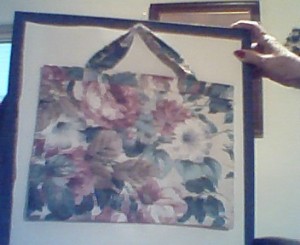 July 8, 2009
0

found this helpful
I saw something recently where somewhere where somebody took an old sheet, a curtain rod, and rubber bands and made an interesting looking valance. With a used piece of material and some rubber bands, it is a practically free decoration for your house. Because it is so inexpensive, most people could afford to change up the color on a whim.
I use old blankets over the windows in my living room to insulate against heat (cold in the winter) because I can't find any of those old foil backed drapes to put in my house. My windows are 23 inches wide, a weird size, so I think I will be hunting in thrift stores for a good while. I don't think they make them anymore.
July 10, 2009
0

found this helpful
Sheets are good for quick curtains. We have a sliding glass patio door that I leave uncovered in cool weather, but in summer its too hot. I make quick curtains out of flat twin size sheets, just put the rod through the wide hem.
Sheets make a good cover for the sofa. Just spread it on and tuck in. Not the prettiest thing, but it keeps your sofa clean. Good when kids and pets are around.
July 28, 2010
0

found this helpful
This is my post dated 10/03/07
August 28, 2010
0

found this helpful
Make rag rugs out of them. It may take a few though. Oops! I didn't didn't see the similar post below about rag rugs.
August 28, 2010
0

found this helpful
Besides all the other great ideas listed here, I would love to use a pretty sheet as a picnic tablecloth spread out on the ground at the park or beach. Since my best friend of 43 years and her brother are coming to visit in a couple of weeks and we were already planning a picnic I am going to try my luck finding a pretty one at Goodwill on Monday morning. ;-)