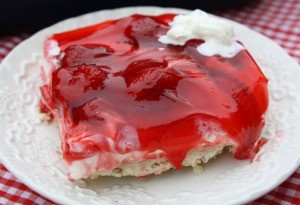 This is one of my favorite desserts and perfect for summer. This recipe starts with a buttery pecan shortbread cookie crust that is baked and then topped with a creamy filling made with cream cheese and Dream Whip. Top with strawberry pie filling.
Ingredients:
Crust:
3/4 cup real butter, softened (1 stick + 4 Tbsp.)
1 1/2 cups all purpose flour
3/4 cups pecans, chopped
Filling:
1 8oz pkg cream cheese
1 1/2 cups powdered sugar
1 envelope Dream Whip, prepared according to package
(21 oz) cans strawberry pie filling, or your own favorite recipe
1 tsp. vanilla extract*
*The vanilla extract is added to the Dream Whip (Follow packet directions)
Directions:
Preheat oven to 350 degree. Prepare crust by adding the butter and flour to a bowl and blend using a large fork or pasty blender. Add chopped pecans and mix. Press mixture into the bottom of a 9 x 13 inch pan. Bake at 350 degrees F for 18-20 minutes or until light golden brown. When done remove from oven and let cool.
While the crust is cooling, prepare the filling. Prepare Dream Whip according to package directions, whip until soft peaks form then set aside. Mix the cream cheese and powdered sugar together using a electric mixer. Add prepared Dream Whip to cream cheese mixtures.
When the crust is completely cooled add the cream cheese filling on top of the crust and spread evenly. Top with strawberry pie filling and chill for 12 hours. I never chill that long. I usually prepare this dish in the morning to serve that afternoon or evening.
Cooking Time:
18-20 Minutes
Source: Mommy's Kitchen
By Tina from Royse City, TX