Julia
Bronze Post Medal for All Time! 146 Posts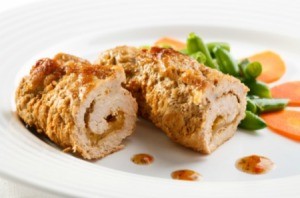 This is another of my Father's favorite home cooked meals. My Mother made the best buttermilk biscuits and cornbread and that is what we had on hand as a rule. If we didn't have enough leftovers of those breads she'd simply make special pans of each just for the stuffing. If it was between Thanksgiving and Christmas, we'd have plenty of fresh cranberries to make the sweet-tart sauce that we all enjoyed.
The recipe is simple and easy enough to prepare even for the most inexperienced of cooks. Don't be afraid of trying. This is not a "quick fix" meal by any means. You're going to have to pretty much remain in the kitchen, so while you're in there, you may as well throw together a delicious sweet potato pie. Right?
Ingredients:
6 center-cut pork chops (2 inches thick), cut pockets in each or have your butcher do it for you.
10-12 cups day old breads (a mixture of cornbread and homemade. Biscuits is the best, but if you're a little short, then use a yeast bread (crumbled, then toasted) to make enough.
4 Tbsp. butter (for sauteing vegetables)
1 very large onion, chopped
3 ribs of celery including leaves, chopped
1 bunch green onions (green and white parts (chopped)
1 tsp. salt
1 tsp. black pepper
2 tsp. dried sage
2 tsp. poultry seasoning
Chicken broth (about 4 cups)
More Broth or Hot water (if needed)
Directions:
Read the directions from start to finish so that you'll know when you start just where you are going to end up. It's the best rule I know for making the fewest mistakes in the kitchen. It will also save you more time than you can imagine.
Salt and pepper the prepared chops. Set aside.
Line a bake pan with aluminum foil, then lightly butter the foil. You will want the chops to all fit in one layer with a bit of room left over. Don't crowd them too much. Set aside.
Preheat oven to 325 degrees F
Crumble the bread into a very large mixing bowl.
Chop the vegetables and saute them in a large skillet (using the 4 Tbsp.butter) until tender. Add seasonings and broth to the skillet and bring to a boil. Remove from heat and pour over the crumbled bread.
Cover the mixing bowl and allow it to sit until broth is all soaked into the crumbled bread (about 10-15 minutes) Remove cover and stir to mix everything together. If it appears too dry to work with, add more broth or hot water. If you do this add just a little at the time until it's the way you want it to be. If it seems a bit wet, then simply add a little more crumbled bread. Allow it to cool so that you can handle it with your hands.
When it's cool enough for your hands, stuff each pork chop, and place it in the prepared pan. If you have stuffing left over, make it into orange-sized balls, cover, and refrigerate.
Cover bake pan with foil and place in preheated oven. Bake until chops are at 155 degrees F when tested with instant read thermometer or stick a fork into them to check for doneness. They should have baked about 45 minutes.
Remove from oven, uncover and drain all the pan juices into a medium size sauce pan. Keep pan juices warm. You may use a turkey baster to do this, or if you're like me, you just hang onto everything at one time and pour the juices off. You still have them pan covered except for one end, hopefully. (You can also be very safe and remove chops onto a platter, then pour off the juices, and replace the chops afterward).
Add the stuffing balls that were in the refrigerator to the pan with the chops, placing them around the chops as best you can.
Cover and return the pan to the oven for 30 more minutes. Remove cover and continue baking for another 10 minutes to allow chops to brown slightly. They should be done, and will test at 160-165 degrees F interior temperature. I like mine to be right at 165 degrees F, but the new temperature rules say 160 degrees is safe these days. I am sticking to my 165 degrees F. Just call it stubbornness.
Recover the pan and keep chops warm while you make the sauce or gravy.
If you want just plain sauce, heat the reserved pan juices to boiling. Add more chicken or vegetable broth if you need to. Bring back to a boil and allow to simmer for 10 minutes. It's ready to use. If you want to turn it into gravy, add some flour mixed in water (depends on amount of gravy you're making), to the hot pan broth and stir until it's thick and the flour has the raw taste of flour cooked off. Add seasonings to taste. (A good ratio would be 2 cups pan juices/broth to 2 Tbsp. flour in 1/2 cup water).
My family has always insisted on having mashed potatoes even though that makes two starches. (Stuffing and Mashed Potatoes). They can make up for that error in judgment tomorrow.
They all love fresh asparagus, but usually get it canned. Creamed peas were our second vegetable of choice for as long as I can remember.
I make the cranberry sauce since we can now keep fresh frozen cranberries all year long. Just 5 cups of cranberries and 2 1/2 cups of sugar and 2 Tbsp. of orange marmalade. Cook over medium heat until cranberries burst and sugar is all dissolved. Taste and add more sugar if you need to.
Hey, Soup's On !
Servings:
6-7
Time:
30 Minutes Preparation Time
2 Hours Cooking Time
Source: My Grandmother Bryan who raised 9 children on this type of good wholesome food.
By Julia from Boca Raton, FL
Read More

Comments