Candleberry, Old Yankee and Home and Hearth candles never seem to lose their good scent, no matter how old or low they have been burnt. Don't throw them away - RECYCLE into new!
What you will need is: old strong scented candle scraps which you have cut up into chunks, a box of Gulf Wax (clear parafin), wicks with an attached end to hold in place, hot glue and mugs, jars, or small candle holders to fill.
Using an old skillet and a large can as a double boiler, (use a heatproof container inside to hold the wax), fill the skillet with water and put a small amount of wax in a large vegetable can (the bigger the better).
Do not let your water in the skillet boil dry or leave this unattended. Can be a real potential fire hazard.
While wax and candle is melting prepare your jars or mugs for filling. Heat in a barely warm oven to prevent cracking when hot wax is poured in. When war, hot glue the wick in the center of the jar or mug bottom. Also have ready a popsicle stick or tongue depressor with a small hole in the center (This will be set in top of the mug to stabilize your wick while drying).
When wax is melted, fill your mug or jar. Leaving the wick long, pull it through the hole in the depressor stick and lay it on top across the mug. Make sure the wick is still centered before it begins the drying process.
Drying will take a while. Make sure it is sitting in a level and safe spot to dry. When completely dry a hole will sink in the middle of the candle, and in order to level it you must add more melted wax, fill the hole, plus a little extra to level the top. On occasion this process must be done a third time to fill the middle and level the top.
Tarts can also be made using tiny tart molds made of metal. These are quick to make and can be placed in the freezer for 5-10 minutes and these will pop out when inverted.
These make nice inexpensive gifts, using your recycled strong scented candles. Often you can find old candles and mugs cheap at yard sales and thrift stores.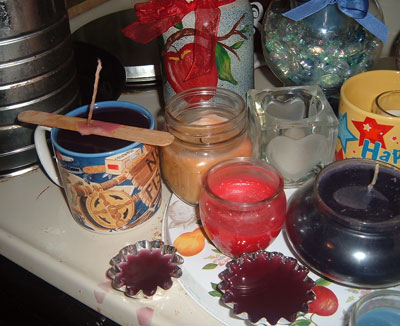 By Sharon Shearer