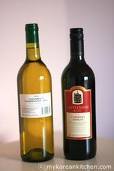 My husband and I are wanting to eat healthier and we're trying new recipes. The problem is when some of the recipes call for a little red or white wine, we have no clue what to use.
Standing in front of any wine display is like standing in front of a pain reliever counter. There are dozens and dozens to choose from? Which one do you choose? We know nothing about wine.
By SusanLee from Waynesville, GA
Answers
May 25, 2011
0

found this helpful
I use wine in some my cooking recipes. Don't use the cooking wine that is sold in the grocery stores, they are laden with salt.
Purchase regular table wine that can be purchased from liquor stores.
I borrowed a paperback book from the library entitled "Wine Tasting for Dummies." It might not be the exact title, but it's pretty close. It explained the different types of wines and what they are used for.
May 25, 2011
0

found this helpful
Wines are based on ones taste pallet. White is fruity while red is dry. I use red when cooking beef & white when I cook pastas, white meat & seafood. Realize that the alcohol will evaporate and so the flavor left behind will enhances the flavor of the dish. There is also red & white wine vinegars. I would buy small bottles and just experiment. But what ever you do, do not buy "cooking" wine. It has additives and high levels of salt.
have fun experimenting.
Read More Answers
What is the least expensive, and best tasting, white wine to cook with?

Sharon from Florida
Answers
June 21, 2008
0

found this helpful
White Rhine. I use this nearly all the time in anything I cook from turkey to soups. Its the cheapest when bought in gal size, it keeps well in refrig and use as you need.
June 22, 2008
0

found this helpful
Apple Juice. An equal amount works great for taste, color and texture.
June 23, 2008
0

found this helpful
I don't know if it's the least expensive, but it's definitely in the lower category of expense.
L'Epayrie french table wine.
Pronounced "L'Perrier" - but if I were you, I'd write it on a piece of paper and show it to the clerk because no one here knows how to pronounce it.
A friend told me about it (she's been using this brand for years). I am a good cook, but the flavor of my cooking was vastly improved when I began using this brand. They also make a red wine which I use just as frequently.
You certainly can drink it, but the flavor when used in cooking is quite different from the flavor as a beverage.
By guest (Guest Post)
June 24, 2008
0

found this helpful
Cook only with a wine that you would enjoy drinking from a glass, avoid "cooking wines" They taste NASTY. $3 Chuck (Charles Shaw) or we have Matthew Fox in our area, both are about $3.00 bottle are are very nice to drink or cook with. Choose a varietal you enjoy.
Like bargains? Love freebies? Me too! To find our more: www.freebiesforever.nocashever.com and take the free tour.
Get the free toolbar for freebies delivered to your desktop for no cost ever.
June 30, 2008
0

found this helpful
I don't drink wine (it always tastes like vinegar to me, no matter how good it's supposed to be) but I do cook with it. I just ask in the liquor store. I tell them I want something good to cook with and they are very helpful without over-selling.
By guest (Guest Post)
July 7, 2008
0

found this helpful
White grape juice - Enjoy!
Answer

this Question

...
If you have a recipe calling for red wine will any red wine do or are they different? I have never cooked using wine before.
By Patricia
Answers
March 11, 2011
0

found this helpful
Any kind but don't use "cooking wine". All chefs say not to.
March 11, 2011
0

found this helpful
I use L'Epayrie. Reasonably priced, comes in red or white, and has certainly improved the flavor of my cooking!
Known as 'French Table Wine," it can also be drunk as is. Not made specifically for cooking, so does not have the high sodium problem. Frankly, I don't like the taste of most wines straight out of the bottle, but when I cook with this one, something magical happens. I started using it when a friend recommended it, and she's been using it for years.
A couple of weeks ago, the newspaper featured it as a "Best Bet". "
This information if from www.dallasnews.com:
L'Epayrie Red Table Wine, NV, France (Panel pick)
"1.5 liter bottle is equivalent to two bottles. $9.99; widely available.
This easy-drinking wine was the clear favorite of the tasting, offering good quality for the price. It's neither too subtle nor too bold. It's a reliable, good value red that many guests will enjoy, with or without food."
March 11, 2011
0

found this helpful
If it's something drinkable, any red will do. Even a cheaper sangria is fine ( on chicken and fish, I even prefer that because as it reduces and carmelizes, there's a fruity kick).
Heartily agree with Lilac, stay away from the "cooking" wines. They're loaded with salt and taste that way right out of the bottle; when they're cooked that saltiness is even more intensified and can overpower whatever seasonings your dish has, not to mention blowing your daily sodium requirements (maybe even a couple of days' worth!) all to Hades.
March 11, 2011
0

found this helpful
Any full bodied red wine will do. And, in a pinch, even fine chefs will use cooking wine and simply not add the salt the recipe calls for to compensate for the cooking wine saltiness. ;-)
Answer

this Question

...