Value of a Vintage Dining Room Set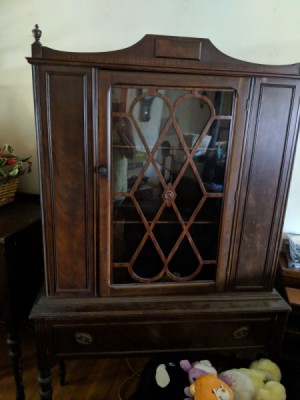 We have a full dining room set that we purchased from a private owner 35 years ago. It was manufactured by Mount Airy Mantel and Table. It was purchased from Shoor Brothers Inc. out of Hartford, Connecticut. We have moved to Flordia and our children want to buy their own things. The pictures reflect damage to veneer on edge of table. We purchased it that way with intent to fix, but never did. The furniture needs a good cleaning and polishing, but is still a very handsome set. We would like to know value of it.
Add your voice! Click below to answer. ThriftyFun is powered by your wisdom!
July 4, 2018
0

found this helpful
Furniture, especially older furniture like yours, has very little resale value. We gave away one relatives set and will probably do the same with a second set. Keep in mind, you will have to pay someone to get it out of the house, as it is heavy furniture. You could try asking $500 for it. Many years ago I purchased a set that was only a few years old. It retailed for over $6,000 and I got it for $1600.
July 4, 2018
0

found this helpful
Pretty pieces!!
You may want to see if this set matches yours and watch the auction to see if it sells and for how much to give you a partial value since it the table and chairs only.
www.ebay.com/.../292566343873?hash=item441e5020c1...
Right now, I see no sold auctions that match any of the pieces. Sold auctions are a great way to learn the values of things. If you are selling, you will need to factor condition into the price. Usually 15-20% less than a pristine set.
I hope this helps with starting to figure value.
July 5, 2018
0

found this helpful
Old/used furniture is hard to sell, and yours is showing that it is well used. Try doing a search on "google" to find out the going price. Also try selling it on Craigslist or even eBay to see if a same piece is possible to sell. Or you could donate it to a thrift shop and get a tax deductible receipt.
July 6, 2018
0

found this helpful
This style furniture and especially very dark wood is not very popular and very difficult to sell, even at low prices.
eBay is a good site to check for value of most things but this set does not happen to be one of those items.
Even finding sets on eBay you will find that most will not do shipping and that means the buyer would have to be in your area as it is "pick up only".
This limits the size of "audience" a set would get as the size and make-up of your city would have great influence on the selling value of your set. No two cities would be alike in that respect.
You might try checking your local sale sites (Craigslist, IOffer, LetGo, OfferUp, 4Sale and many others) and see if anyone has anything similar (even under another name as Mount Airy Mantel and Table co is not a sought after name) listed for sale. You may have to recheck over a period of several months.
Considering the overall condition (judging from the pictures), the style and dark wood, I would venture to say you may have trouble selling your set for $100-$150 but that is just my opinion from seeing similar items at local auctions, estate sales and even yard sales.
Your city may be an entirely different clientele and people may like everything about the set.
You may benefit from getting an official appraisal as potential buyers like to see an appraisal and this could bring you more money and a quicker sale.
Here is a link that has sites that offer free appraisals so maybe you might check one out. You will need several pictures that show chairs as well as the sideboard and style of legs - otherwise, most sites will not help you.
Here is a link with a little history about the company. Some aspects of the company was eventually taken over by Bassett sometime in the 80's I think.
Add your voice! Click below to answer. ThriftyFun is powered by your wisdom!
Related Content