December 15, 2010
0

found this helpful
To early to tell. He looks like a Bull Terrier.
August 8, 2018
0

found this helpful
I pretty sure hes a black Australian Kelpie like my dog your dog has a white mark on chest like mine and is black when my dog got older she had ears that stood up butt Im not positive.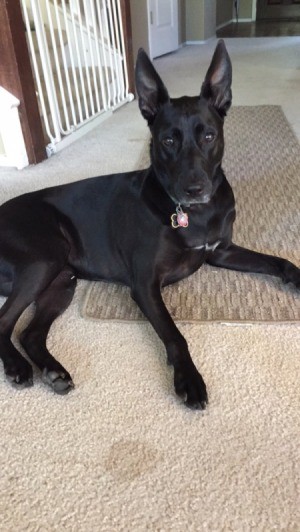 December 15, 2010
0

found this helpful
Rosanna, Staffordshire Bull Terriers and Pit Bulls are similar breeds as they both come from the original breeding between some kind of Bulldog and some kind of Terrier. As I understand, in the 1800's, (Nineteenth Century) Staffordshire Bull Terriers were first bred in England. What most of us now label and lump together to call Pit Bulls come from the original cross breeding between Staffordshire Bull Terriers and various breeds of Bulldogs and Terriers OR a particular breed of Bulldog and a particular breed of Terrier that are not the exact same mix as the original Staffordshire Bull Terrier.
I'm sure my explanation is as clear as mud (my apologies) but if you do a bit of research on both I'm sure it will make more sense. My point being, it's not uncommon for the puppies of any of these breeds or mixes to look physically similar. I agree with Erin62 that the puppy is too young to tell by appearance alone. Long, gangly puppy legs can grow into stout adult legs and snouts and heads can thicken with age.
Do you have "papers" on him that verify the breed? In the States, these papers can be verified through the American Kennel Club. I honestly don't know what the British standard is as I've never been "across the pond" of the Atlantic Ocean! :-)
Regardless, your puppy is adorable. Hope you both share a long and happy friendship!
December 16, 2010
0

found this helpful
Not sure what kind of doggy he is but I wanted to tell you that he is super cute! I want to pick him up and hug him!
December 17, 2010
0

found this helpful
He looks like a lab to me.
December 17, 2010
0

found this helpful
A Staffordshire Bull terrier is a Pit Bull. The breeding name is Staffordshire Bull Terrier but they are more commonly referred to as Pit Bulls. Pit Bull is attached to the Staffordshire Bull Terrier, American Staffordshire Terrier, and American Pit Bull Terrier. Please don't be turned off by the name pit bull, they are very gentle creatures if you train them to be.
However they are entergetic dogs and need lots of exercise if they do not receive this exercise they will be overwhelming. They are guard dogs and instinctually will get between you and any other dog or family member. If he feels you are in danger he will put his body against yours and try to herd you away from danger.
December 17, 2010
1

found this helpful
I respectfully disagree with your comment, Lizard.cfd1. Think of it this way: All Coca-Cola is soda pop but not all soda pop is Coca-Cola. As well, all Staffordshire Bull Terriers are pit bulls, but not all pit bulls are Staffordshire Bull Terriers. The American Pit Bull Terrier and the American Stafford Terrier, for example, are offshoots of the original Staffordshire Bull Terrier and developed (were bred) years later than the SBT by separate breeding programs. "Pit bull" is a generic term describing various crossbreeds of various breeds of Bulldogs and Terriers.
We do agree, however that pit bulls can be good pets if well trained and well cared for.
Edited update from Cindy: After doing a little more research on this topic I'm learning that this subject isn't quite as cut and dried as I thought. Apparently there is ongoing debate between the American Kennel Club and the United Kennel Club as to the exact definition of a Staffordshire Bull Terrier (not to mention, ongoing debate between individual owners of the SBT, American Pit Bull and American Staffordshire and other breeds of pit bulls.) I had no idea this was such a contentious issue - and people wonder why World Peace can't be achieved?
Long story short, Lizard.cfd1, I guess we are both correct! Sorry if I inadvertently "got my hackles up". :-)
December 19, 2010
0

found this helpful
Sorry to say-don't know, but dang, he's cute.
December 20, 2010
0

found this helpful
My first thought was a pit bull. No matter what he is, he is adorable! Enjoy him!
October 25, 2012
0

found this helpful
If you purchased him from a registered breeder he would have pedigree papers. But he has not becaue he is a "mix" just love him for the sweet puppy he is and care for him all the days of his life.
March 19, 2018
0

found this helpful
He does look like a Pit. So pits have a lot of muscle and some dont some are slender. Definitely looks like a pit
March 22, 2018
0

found this helpful
Staffys are classified as pit bulls. And yes, your puppy looks like a Pit. And a damn cute one at that
September 14, 2018
0

found this helpful
No, he's not a Pit Bull or mixed with pit bull. But rather Black Lab and Great Dane or possibility of boxer, looking at those beautiful ears and his stance.
One definitive way to determine the Lab in him is if he loves to swim and dive into the swimming pool after his favorite toy.
June 27, 2018
0

found this helpful
My,son adopted a puppy from a shelter
His mother is a pit
But they don't know what,he is mixed with
He is about 3 months old
Slick black fur. Kind of long body big floppy ears.long legs, big feet
July 18, 2018
0

found this helpful
Pit bull
July 21, 2018
0

found this helpful
I had a pit/lab mix that looked exactly like this when he was a puppy.
Best dog I ever had :)
August 8, 2018
1

found this helpful
I think it looks like a part black Australian kelpie thats what my dog is she has that same white mark on chest and is black but when she got older her ears started pointing up.