May 20, 2010
0

found this helpful
Looking at this, it looks like my retriever mix...it has a wider head like a rhodesian ridgeback, but mostly retriever.
Such a wonderful thing to get this one off the street.
Put an ad on freecycle.org or have someone take it to the nearest humane shelter where they will give it meds and food and water.
Put a little money down on it so that the person who will eventually adopt it will not have to pay as much.
In the event that no one will adopt it... anesthesia overdose is a humane alternative to the many horrible things that can and do go wrong for a pet animal out on the streets!
Bless you for rescuing this baby.
That is how we got started!
http://sites.go … fosterfurbabies/
This website is under construction
Robyn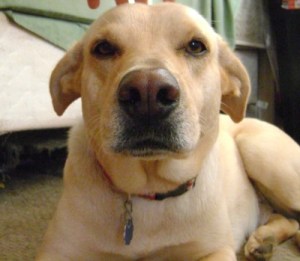 May 20, 2010
0

found this helpful
She certainly doesn't have the eyes of a Pit Bull.
Not at all. She looks to be a mix perhaps, of
English Shepherd along with Labrador, either of
which make wonderful family pets. I do not
see any feature that spells Pit Bull.
Pit Bulls can be good family dogs, depending
on how they are treated when they're babies more
than anything else.
If they are mistreated and rough-treated, then they
can be killers. Your girl looks like a real sweetheart.
MisMachado
May 22, 2010
0

found this helpful
I don't see pit. If she were it should be a blessing because they are wonderful family dogs. It is only people that make bad dogs. I have always said better to have 2 dogs then one. They keep each other busy that way. Better for the children to have the responsibility to care for them with a watchful eye by Mom. Wonderful that you got her off the street but please do not drop her at the pound. Too great a chance that she will be euthanized. My best friend adopted an unwanted pit bull about 5 years ago. So far that dog has saved her from a naked man who had heavy things on his mind, a robbery at work, and caught a man who had broken in. never bit once. Just made an appearance with gusto.
May 22, 2010
0

found this helpful
I cringe at the way people jump back from even the word "pit bull". The word is not, i repeat not, the dog. Each dog should be evaluated for it's own personality. My youngest son had a beautiful 100% red nose pit bull that his two youngest children were raised with. She unfortunatly died recently, but her son, tigger, lives on.
These dogs, with very few exceptions, are loving, loyal, protective, but friendly to one and all, if taught to be. It is the owner who makes the rules. That is not hard to do, just be that way yourself. If this dog scares you, then you need to take a second look at the German Shepherd, which has been used, trained and very successful as attack dogs with police and military. So, it is all in the training, and the trainer. Hope this makes you rethink the stereotypes and decide to look at the heart of the dog, not the maybe. The best from Loretta in Theodore, AL
May 22, 2010
0

found this helpful
Update: We have decided to keep this sweetheart. Nobody has responded to the signs that were put up in the neighborhood. But everyone has fallen for her, so I'll add a couple more photos to see what other responses we get.
Thx.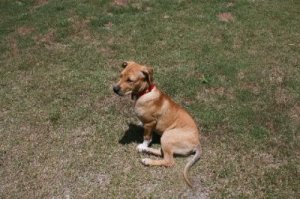 May 22, 2010
0

found this helpful
another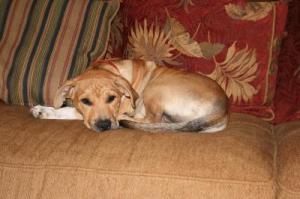 May 22, 2010
0

found this helpful
I see retriever, golden and/or lab. I also see rhodesian ridgeback or chesapeak bay in the coat and her head. All wonderful dogs. She should be a delight.
May 25, 2010
0

found this helpful
She has ears and flat head like a pit, but the jaw not quite broad enough. I'd say maybe retriever/hound/pit. She sure is a sweetie! Beautiful color coat and gentle brown eyes. I have a german shephard/pit mix. He's my baby. I rescued him off the streets also. I have spoiled him rotten!
May 25, 2010
0

found this helpful
Looks like it may have a little Pit in it but that shouldn't deter you if it has a loving nature. We took in a Pit off the street and never found its 'owner; he is such a love! Gets along great with our other dogs and loves the grandchildren. He slipped out of the garage today and the little boy next door brought him home. Please don't be afraid of Pits just because they are Pits. I know so many who have wonderful Pit pets.
Pat
May 31, 2010
0

found this helpful
I don't see pit bull at all, and I have been around them a good bit of my life, not my choice but my neighbors (not that I really have a problem with it). First I want to tell you what I do see: if there is any kind of bulldog in her its more than likely American Bulldog, cause I see no pit what so ever. She seems to have some retriever in her. Regardless! Congrats on your baby and Good Luck!!! <3