July 10, 2014
1

found this helpful
Best Answer
He probably isn't mixed with anything! He looks like a pure bred Chi to me. Many people have a preconceived notion of what a Chi is supposed to look like and any that deviate from their notion simply must be mixed with something else.
The fact is that Chihuahuas come in a variety of colors, shapes and sizes. There is two pound Chis and 12 pound Chis, apple heads and deer heads, tall slender Chis and short stocky Chis. The "original" Chihuahua that came from Mexico these many years ago looked very different from today's Chihuahuas.
Breeders have made them even smaller than they already were. They have tried to breed in the round "apple" head and the "bug" eyes because people thought that was cuter. The fact is that only the show dogs really look like the show standard any way.
I love Chihuahuas and have had Chis since I was 12 years old. I am not a breeder, I could never go that route. But I do know Chihuahuas. I have a brindle Chihuahua which admittedly is not a common Chi color. And she is a larger Chi at around 9 pounds. I know that she is 100% Chihuahua but I don't have to prove it to anybody. LOL
I have had people that I don't even know ask what she is mixed with. Its none of their business, so I usually tell them that she is half Chi and half Pit Bull. I don't even think that would be possible, but some probably believe me. LOL
Don't worry about "IF" your baby is mixed or "WHAT" he might be mixed with and just enjoy your beautiful little one.
December 5, 2019
0

found this helpful
you did not said what mixed is he
November 25, 2015
0

found this helpful
I raised 6 puppies from a full blood 12# chocolate Chihuahua, when I was 5 I had one just like her only bigger that was 51 yrs ago songs that's how Chihuahuas looked back then. I had the father he was a skinny 5.5# tan runt and all the puppies had his colour and I think the mix of two colors caused a pigmentation to occur in the pups. They looked just like yours.
January 17, 2016
0

found this helpful
Your pup looks just like mine, I swear mine is mixed too! He's almost 4 months and weighs 6lbs.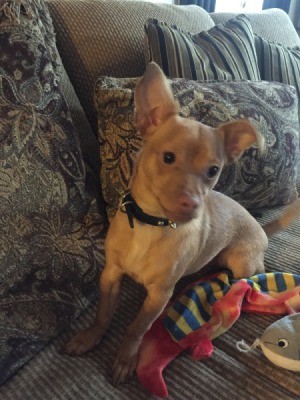 December 28, 2019
0

found this helpful
Yours also looks like its mixed with Min Pin
December 28, 2019
0

found this helpful
That dog is most definitely mixed. The previous answer is very wrong. Chihuahuas are not many colors and shapes. If it is a unique color it is mixed. The shapes the other user refers to are mislabeled by back yard breeders as being different types of purebreds.
Any shape besides Apple is mixed. Look at photos of un cropped Min Pins. Your dog has Min Pin ears. The wrinkling in the face is not Chi or Min Pin so there is at least 1 other breed. The coloring does not look like Chi or Min Pin, either.