Finding Free Plants
Solutions
Share on ThriftyFunThis guide contains the following solutions. Have something to add? Please share your solution!
This spring, I put a request for perennial plants on a site called freecycle.com and received so many replies I picked up more plants than I could use. The extras, I shared with friends and family. Examples: Hosta - an entire full size station wagon full; day lilies - several colors; Butterfly bush - taller than my station wagon is long; daffodils - ready to bloom. All I had to do was pick them up and plant.
I estimate having received well over $300 worth of plants. I felt blessed and the givers felt good about giving and recycling. This site has many other items free for pick up. You can also give away any unwanted items. Examples of items on site: furniture, toys, magazines, boats. Everything is exchanged free. For me, it has also resulted in a new friendship with a giver.
Please, always use caution when going to a strange home or having someone pick items up at your home. Women, go in pairs and/or with your husband. Men can be vulnerable, too.
By EIW from Lancaster, PA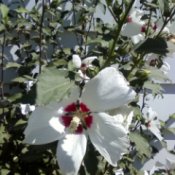 I usually ask friends and family for starts off their plants. When I go to a nursery or store that sells plants, I look on their floors. A lot of times you can find broken stems that can be rooted in water, or flower heads that can be dried for seeds to start your own plants. Check craigslist, a lot of times people want to thin out their flower/plant beds and will let you get diggings for free. Go to yard sales and just ask the people for a start off theirs, most will comply.
By kathleen blakley from Shelbyville, IN
Get Free Hedges And Plants By Propagating Your Own
I live in an area where I need privacy but can't afford to buy all the plants I need to grow a hedge, so I decided to propagate my own plants for free! All you need to buy is a container of rooting hormone (under $5) and several bags of playground sand.
Take a shallow box that's about 4 to 6 inches high then put the box inside of a plastic garbage bag, then poke holes for drainage. It's important to have good drainage. I prefer to use old soda-pop crates. The kind they use to deliver pop cans in, but wooden boxes will also work as well as cardboard ones in a pinch. You'll need to put your propagating sandbox in a shady place out of direct sun. This box will be heavy and hard to move, so find a place you'd like it to stay or put the box in an old wagon if you think you'd like to move it later.
Now, all you have to do is to find the kind of plants you'd like to propagate. I chose English Laurel because it grows very fast at 1 - 2 feet per year and it's also evergreen, but you can propagate many types of plants for indoor or outdoor use. You can find plants that grow in the wild, and sometimes you can get cuttings off of plants at businesses (always ask first!) It helps to keep a jug of water and a pocket knife with you "just in case"! And of course, there's your friends and neighbors. They are usually very happy to let you take several cuttings. But what I do is to wait until I know someone is trimming their hedges or pruning them, I'll then ask if I can help them by taking away their mess and use this to take cuttings from.
After you have your plants, put them into a vase of water overnight. I cut the tops off of 2 liter plastic pop bottles and use these as propagating "vases". Your propagated plants will not have roots to get their own water from for weeks, so you need to make sure they are well hydrated to start with. After your plants have sat for 1 or 2 days in the clean water, cut the bottoms off leaving 5 or so leaves so the plants can make chlorophyll and are no more than 8 inches high. Dip the bottom end of the plant into water to moisten it, then into rooting power and lastly, put the plant into the sand and into a hole you've just made with a stick. Try to keep as much rooting hormone power on to the small plant as you can as you are planting it. After you've planted as many cuttings as you'd like be sure to water them well. With some plants it's best to take cuttings in the spring, and with others it's best in the summer or fall.
Here's links with more detailed information:
By Cyinda from near Seattle
I found a website that has free plants: freetreesandplants.com.
Read More...
I go to the home improvement centers and some have plants that have been returned or wilted a bit at 90% discount, I just picked up some hanging basket flowers with basket, and all for less then $1 each! All the need is a little TLC.
January 29, 2009
0

found this helpful
When buying any type of plant; vegetable, bedding plants, or houseplants; always count the number of actual plants in the container.
Read More...
October 1, 2013
0

found this helpful
What do you do with all of those plant pots that you have stored? I have a windowsill in my basement bathroom that is great for growing plants.
Read More...
When we moved into our new house, we sent out a message letting friends and people in our area know we were looking for plants for landscaping our yard.
Related Content