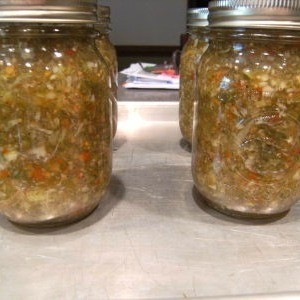 Ingredients
3 quarts cukes
3 cups green sweet peppers
1 1/2 red sweet peppers
4 cups onions
3 Tbsp. salt
6 cups white vinegar
7 cups sugar
2 Tbsp. celery seed
4 Tbsp. mustard seed
Directions
Grind veggies through coarse blade on food grinder. Mix with the salt and let drain in plastic drainer overnight.
On the next day, combine remaining ingredients in saucepan and simmer 10 minutes. Add veggies and simmer 20 minutes. Place in clean hot jars and process 5 minutes in boiling water bath.
Yield:7-9 pints
By Karen from Clemmons, NC
Does anyone have a good recipe for making sweet pickle relish? I don't like the store bought sweet relish because it's loaded with preservatives and artificial colors, it tastes yucky. I'd like to start making it at home. I know it's just cucumbers, vinegar and sugar, but it seems like it might be hard to make it come out right.
Christy from Balto, MD
Answers
July 15, 2008
0

found this helpful
Try allrecipes.com or Food Network tv
By Mary (Guest Post)
July 15, 2008
0

found this helpful
Find a bread and butter pickle recipe that you like and grind the ingredients. My mother did that and it makes a marvellous relish.
July 15, 2008
0

found this helpful
Ditto what Mary said below. :-)
My mom canned some relish that I believe was bread and butter pickle relish that lasted for years & years. When that ran out she ended up taking cucumber chip pickles we had and chopping them up in the food processor with a little bit of the juice. Tasted just as good. We only use it for hot dogs so it made sense not to have a shipload of it around.
July 16, 2008
0

found this helpful
Christy, if you will e-mail me I will send you an old time recipe for the relish that is out of this world.I have made it for years and will never change to another recipe. Karen busdrivr AT alltel.net
July 16, 2008
0

found this helpful
Here is the recipe I have used for years. It is from the Ball Blue Book.
4 cups (960ml)chopped cucumbers
2 cups (480ml) chopped onions
1 chopped green pepper
1 chopped sweet red pepper
1/4 cup canning salt (DO NOT USE TABLE SALT) will make the cucumbers limp
3 1/2 cups sugar(840ml)
2 cups(840) cider vinegar
1 Tablespoon (15 ml) celey seed
1 Tablespoon mustard seed.
Combine cucumbers, onions, green and red peppers in a large bowl. sprinkle with salt and cover with cold water. Let stand 2 hours. Drain thoroughly; press out excess liquid. Combine sugar, vinegar and spices; heat to boiling. Add drained vegetables and simmer 10 minutes. Pack hot into hot pint jars, leaving 1/4 inch (16mm) head space. Adjust caps. Process 10 minutes in boiling water bath. Yield about 4 pints.
*I have a note on my recipe that this amount of liquid makes enough for a double batch of relish. Do not Double the mustard seed though.
I use an old fashion grinder to chop vegetables.
Read More

Answers
I am looking for a recipe for hot dog relish like the kind you buy - eg. Bicks. I have tried several but they are all on the sweet side. Anyone have such a recipe? Thanks.
Gloria from Saskatchewan
Answers
By tina (Guest Post)
August 18, 2008
0

found this helpful
I grind up;
1 peck of Hungarian yellow wax hot peppers
6 green peppers
6 onions
10 just turning tomatoes
Grind them all as you grind them put in a colander-in the sink to drain. after it is drained put into a large pot cover with apple cider vinegar about 5 cups of sugar. Bring to a boil then let it simmer. To the thickness of your choice. Put in containers and freeze or bottle it. For me it is easier to freeze-enjoy hot dogs or hamburgers. My husband loves it on spaghetti.
August 18, 2008
0

found this helpful
You can simply reduce the amount of sugar used in the recipes. I reduced by half and found it came closer to commercial versions.
August 19, 2008
0

found this helpful
Exactly what kind of relish are you looking for? Just a hot dog relish with a sour taste? Maybe I can help.
August 19, 2008
0

found this helpful
Here in the U.S. you can buy dill pickle relish. Sometimes you have to look carefully for it on the grocery shelf, though.
August 19, 2008
0

found this helpful
I'm looking for a recipe using cucumbers, dry mustard and has a bit of kick to it.
Thanks for all the ideas.
August 19, 2008
0

found this helpful
I don't have a recipe for relish with a mustard taste. All of my recipes are sweet relish as I can't eat anything very spicy. Sorry!
Read More

Answers