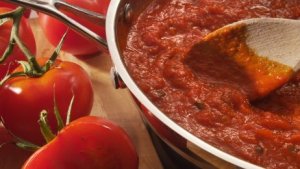 Easy to make! Delicious to eat! Serve with cold meats or on sandwiches. Can be made with either green or ripe tomatoes. Overripe tomatoes (sometimes cheap to purchase) are ideal for this.
Ingredients:
1.5 kilo (3+ lb.) large green or ripe tomatoes
4 large onions
3 cups sugar
5 cups white vinegar
1 Tbsp. salt
1 Tbsp. curry powder
1 Tbsp. mustard
1 Tbsp. turmeric
1 cup plain flour
Directions:
Cut the tomatoes and onions into walnut size pieces and put in a pan. Add 2 1/2 cups sugar and 1 cup vinegar. Heat, stirring until sugar is dissolved. Bring to boil, and simmer 5 minutes.
In a separate bowl, mix the remaining sugar, vinegar, salt, spices, and flour.
Combine flour mixture with tomato mixture, and stir over medium heat until thickened and smooth (about 10 minutes).
Allow to cool, ladle into jars, and seal. Refrigerate until required.
Cooking Time:
15-20 Minutes
By Lorraine from Perth, Western Australia